When someone tells you they've wanted to be a veterinarian ever since they were a little kid, you almost never have to ask why.
Ninety-nine percent of the time the first person they ever found a friend in was their childhood pet, and that relationship is what made them want to turn their passion for animals into a career.
But for our interns, there's another important reason why most of them aspire to be a vet.
"I really like helping people," says Zoey, a junior at Lee's Summit West completing an internship with us through the Southland CAPS program. "And I love what we do here, providing for people who really want to provide for their pets."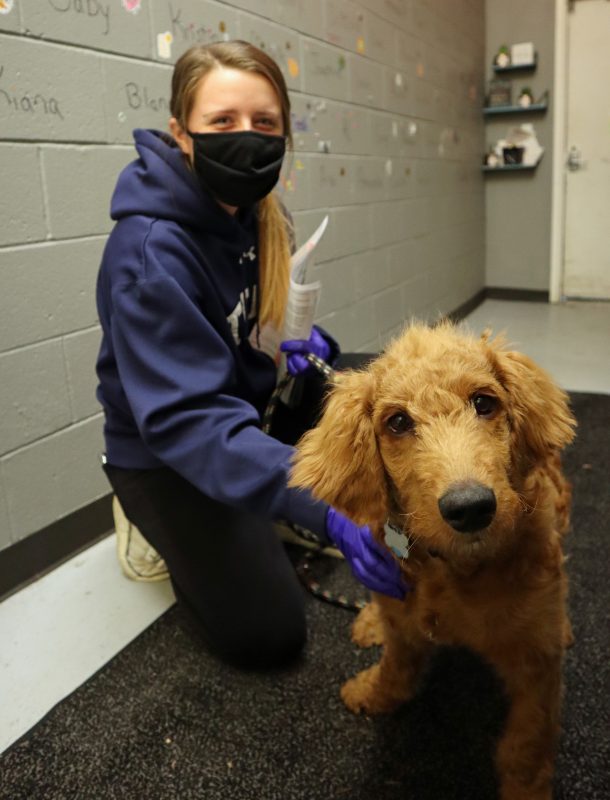 Zoey is one of nine high school interns this year, the most we've ever had at PRC since implementing our internship program five years ago. She works at a veterinary clinic in Lee's Summit, so this isn't her first go-around in the field of veterinary medicine. But it is, however, her first experience working at a high-volume clinic that also puts a heavy emphasis on community outreach.
"It's bittersweet because we get to make it affordable for [pet owners]," she says. "But it's sad to see some people who don't get to have all the resources they need to provide for their pets. It's awesome that we can do that."
Zoey says there's no better feeling than the satisfaction of knowing that she's able to help a pet and their family every single day she's here.
"[The PRCKC staff] isn't just getting to do what they love. They get to do what they love while doing outreach, too," she says. "I've definitely learned that if I do go to vet school, I would want to do something like this … It's really cool, especially when I'm running [pets], to see all of the community we impact every day."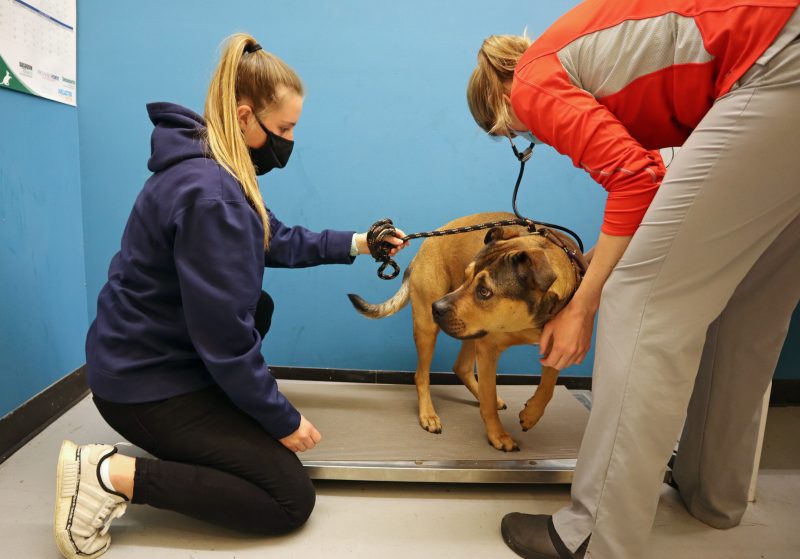 So no, we don't send our interns out on coffee runs or have them make dozens of unnecessary copies like the movies suggest. These young professionals are responsible for carrying out a variety of tasks that keep our mission alive, and they get real-world, hands-on experience while doing so.
Take it from Toni, another one of our interns who is a junior at St. Michael.
"The first or second day that Zoey and I started running, there was a woman outside in her car, getting out and kind of confused," she says. "I came in and was like 'I don't know what's going on out there, but she seems like she needs help.' All of the sudden, five minutes later, they're carrying in this big dog in a kiddie pool, and she's giving birth."
That dog's name was Brownie, and our veterinary team successfully delivered three out of five of her puppies that morning after one of them got stuck in the birth canal.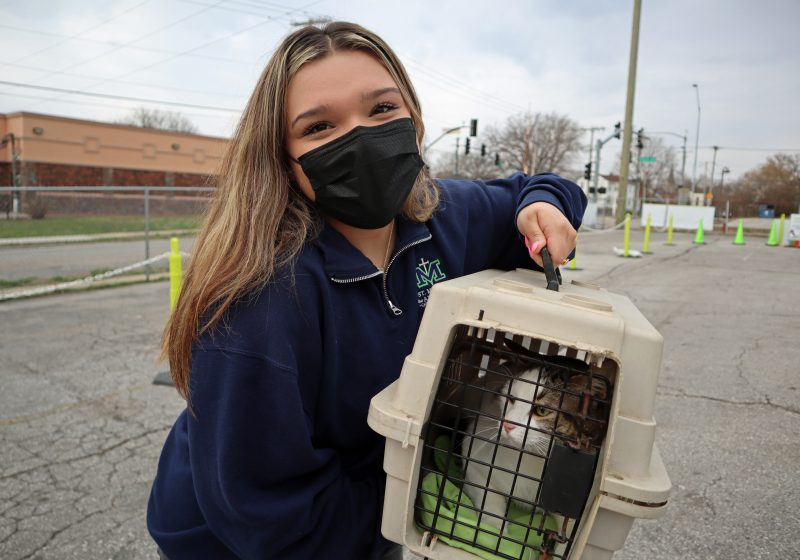 As if that wasn't enough first-hand experience to account for the entire semester, another highlight of her internship was when Dr. Andelson invited her into the surgery suite to shadow her while she performed spay and neuter surgeries.
"The first five minutes I was like 'Oh, there's so much blood!'" she goes on. "It's kind of scary, but then after I warmed up, I got closer, they answered my questions and I got more comfortable."
She learned about the several different knots and ties vets use during the procedure that cater specifically each pets' needs and was even encouraged by Dr. Andelson to practice them on a banana while she sat nearby to help guide her along the way. Toni has never once doubted the field she wants to go into, so it was reassuring to finally have that experience and get a head start on all the different things she'll learn while in vet school.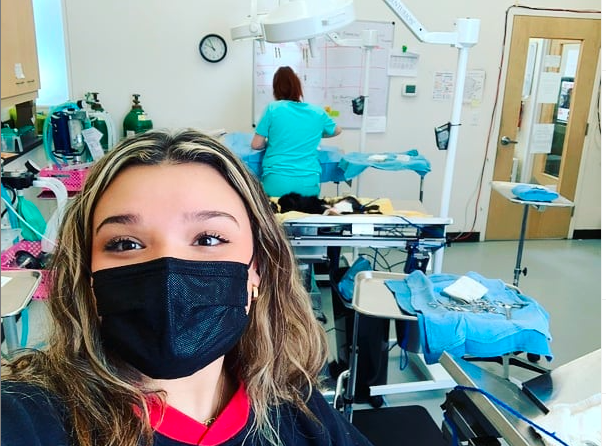 Despite their young age, our interns are always eager to learn and never back down from a challenge. For that reason, Toni isn't the only one crossing her fingers, wishing for the opportunity to come back again next year.
Jaysiana is a 15-year-old freshman at Cristo Rey, and although only students 18 and older can handle pets or shadow in surgery, the roles she takes on, such as prepping medical supplies or attending to kennels, has only intensified her desire to become a veterinarian and do more research pertaining to this field outside of her time here. She's hoping to get more experience next year and be more hands-on so she can get one step closer to achieving her dream.
Again, she's only 15.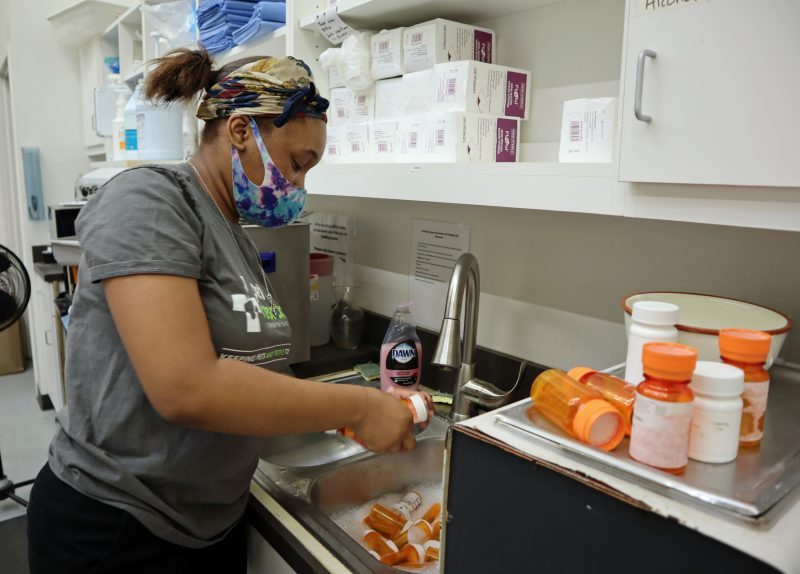 This group of interns has already proved to us they have what it takes to lead the next generation of veterinary experts, but to do so with kindness and compassion. The work we do here would be impossible without their willingness to do what it takes to not only keep pets safe and healthy, but to keep them in homes with the people who love them.
Thank you Zoey, Toni, Jaysiana, Renee, Gloria, MiKyla, Cailyn, Eridany and Bryant. Wherever you end up going in life, we're confident that you'll lead with love.