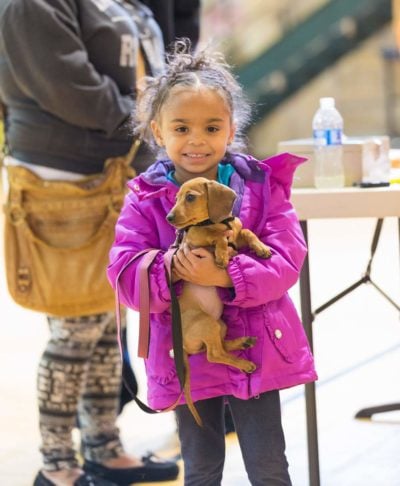 Dogs have shared their lives with humans for more than 12,000 years, and that coexistence has contributed substantially to humans' quality of life. Today, dogs and cats are found in millions of households nationwide. Our outreach program provides education, wellness, and resources for pet owners in the most underserved areas of Kansas City.
PRCKC formed it's outreach program in 2005 when it was still known as Spay and Neuter Kansas City. It was the first shelter intervention program of its kind in the region and was focused on keeping pets in the homes with families who loved them.
These days we feel like our entire organization is part of a big outreach effort. That's because each person is here to serve our community and make sure pets and people have what they need to stay together.
Over 95% of our outreach clients tell us that their pet is family. With most of our clients living below the poverty level, each family is overcoming unique obstacles. We do not judge pet owners based on limited financial resources and we do not take animals from their homes; because families are better together.
Our actual outreach team utilize a boots-on-the ground approach to neighborhood engagement. Staff, volunteers, vets and vet techs work in underserved communities to provide vaccinations, supplies and resources, education and assistance. The goal is to make sure people have what they need to keep their pets happy and healthy … and in their homes.
No special skills required, unless you consider compassion to be a trained skill. These are people just like you who want to make a difference in the lives of pets and their owners in the areas where help is needed the most.