You might have seen our vans cruising the city once or twice before, delivering pet resources to clients or rescuing strays. But recently when we've been hitting the streets, we've had a new agenda. And that is bringing our veterinarian team to our clients' homes to vaccinate their pets.
We want to assure that our clients, staff and volunteers all stay safe during the pandemic, so we've modified our services to maintain as little contact as possible with our community while still helping the pets and people who need it the most. That unfortunately meant we had to say goodbye to our community clinics temporarily – a service that was very popular for those who still needed help but relied on the convenient location closer to their home.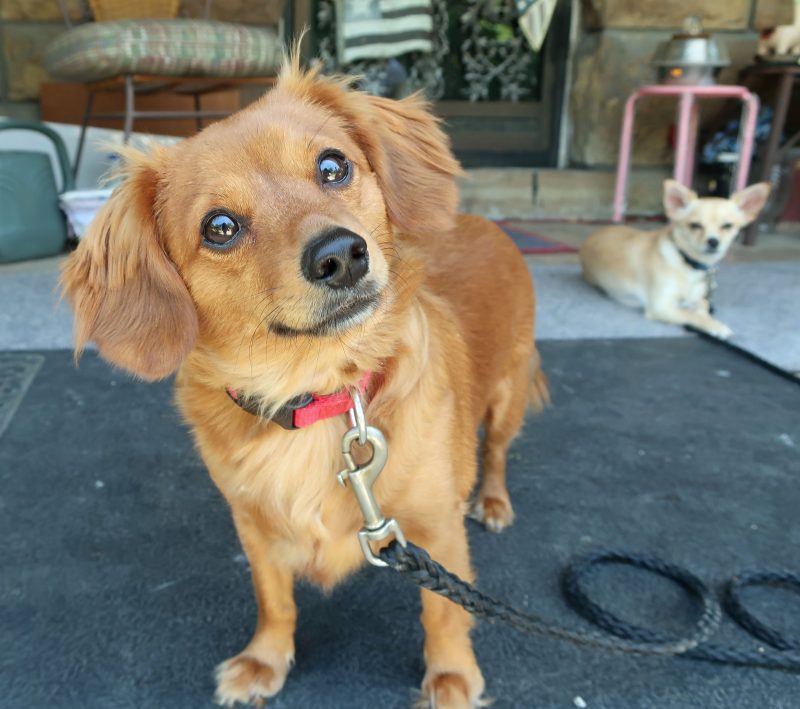 We knew we needed to find a way to continue serving those who regularly attend our community clinics, so we decided to take our services to them. But what we didn't know is how strongly we would have an impact on their lives during this difficult time.
"Thank God for y'all," Gina N. praised as we lifted a heavy weight that she'd been carrying for a long time off her shoulders.
Her two cats, Ajmal and Zanub, were vaccinated through the mobile service, and she has also been a Pet Food Pantry client of ours for many years. She and her family have been dealing with some setbacks as a result of COVID, so she was very humbled and grateful that this service came at the perfect time. Ajmal and Zanub do not like being in their carriers, so mobile vaccines also helped to keep them comfortable and less stressed out during their visit.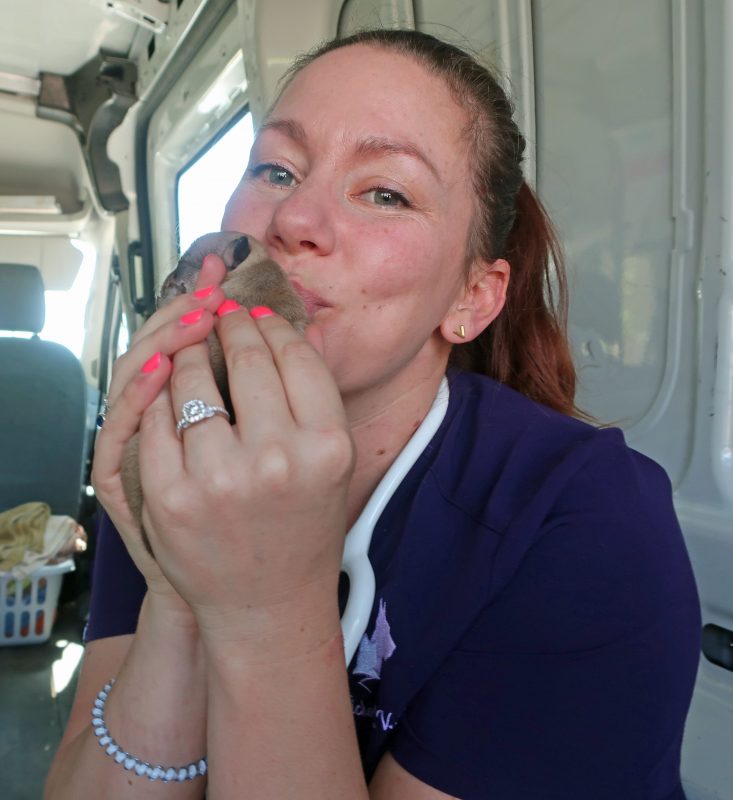 In order for us to be able to provide this service, we had to transform one of our vans into a mobile exam room with all the supplies needed to complete the vaccinations safely. That meant having an exam table, a scale, a cooler to store the vaccines, other medical supplies and, of course, a dedicated team that consists of a certified veterinarian, at least one vet tech and typically a member of our outreach team – all individuals who will care for pets with compassion and love.
Once our team arrives at the destination, they honk the horn to let the owner know we're outside. The owner is expected to bring their dog to us on a leash or their cat in a carrier, and we will bring them inside the van to issue the vaccines. We ask that the owner stay outside of the vehicle until the services and paperwork are complete, and then we are off to the next house.
Clients like La'Charrie S., who are without transportation, wouldn't be able to vaccinate their pet if it wasn't for this service.
"I don't have a car," she said. "And it's hard for me to find a ride in the first place, especially someone who is okay with having a dog in their back seat."
But that is just a part of her story. She took in her dog, Bruno, after her brother was shot and killed eight years ago. He sheds a ton and also has dermatitis mange, but it's clear that he means everything to her. And she is very thankful SNKC exists to help assist with the services and resources Bruno needs so that the two can stay together.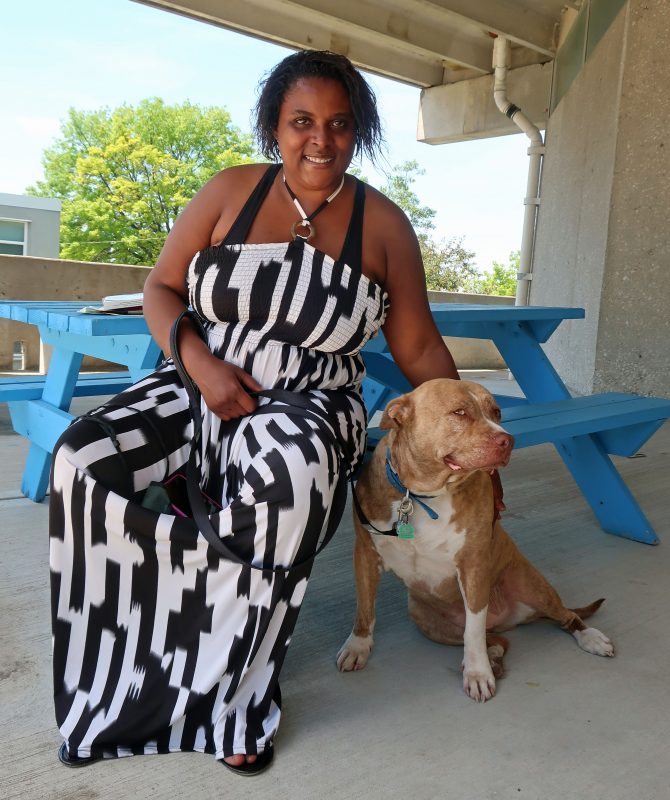 The whole process only takes minutes depending on how many pets are being vaccinated in the household, which is perfect for dogs like Chop who do not like being out in the elements for too long.
"I thought [doing mobile vaccines] was very good," said Chop's owner, John. "It's a lot better than standing out in the heat with all the dogs barking."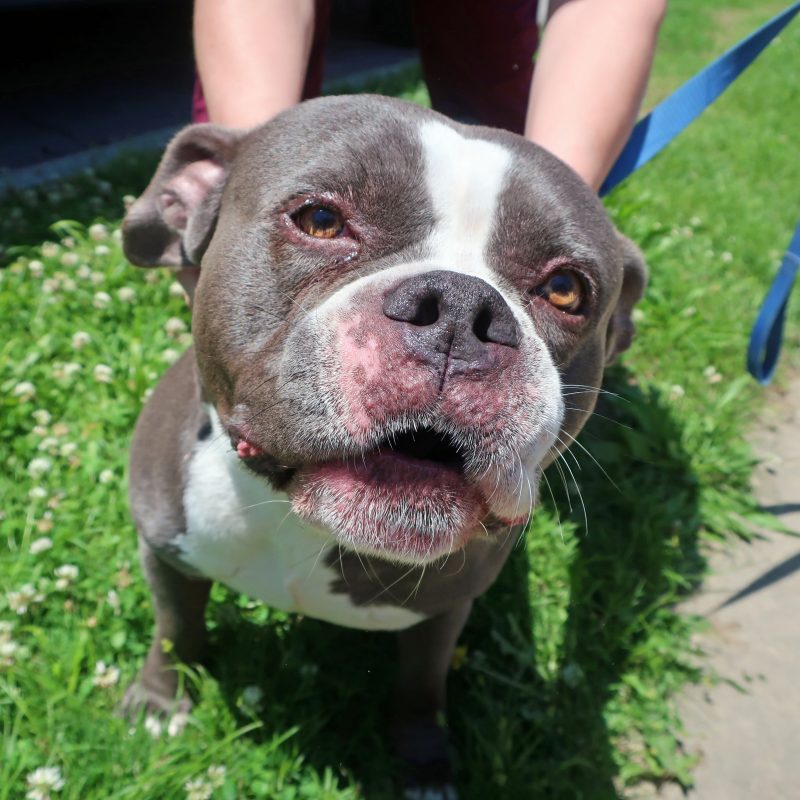 And that is exactly why doing mobile vaccines was the perfect solution for all of us during this time, inside and outside of our organization. Not only is it convenient for the owners, but it's also a positive experience for pets. And our team would do anything to be back out in the community helping as many pets and people as we can.

Mobile vaccines take place Tuesday through Friday from 10 a.m. to 2 p.m. by appointment only. This limited service is only available to clients who regularly attend our community clinics, are on Pet Food Pantry, have a disability, no transportation or low income and live in specific areas. Prepayment is required prior to the appointment. Please call us at 816-353-0940 to learn more about mobile vaccines and if/when our team will be in your neighborhood.