The respect and appreciation I have for my coworkers, the veterinary clinic assistants who keep this place running and the kind humans I'm proud to call my friends, grows every day. But, if I were to put myself in their scrubs, I honestly don't think I could do the work they do. This is why.
"A lot of people think it's just playing with puppies and kittens, but, really, it's not," says Renee. "That's what I like about it."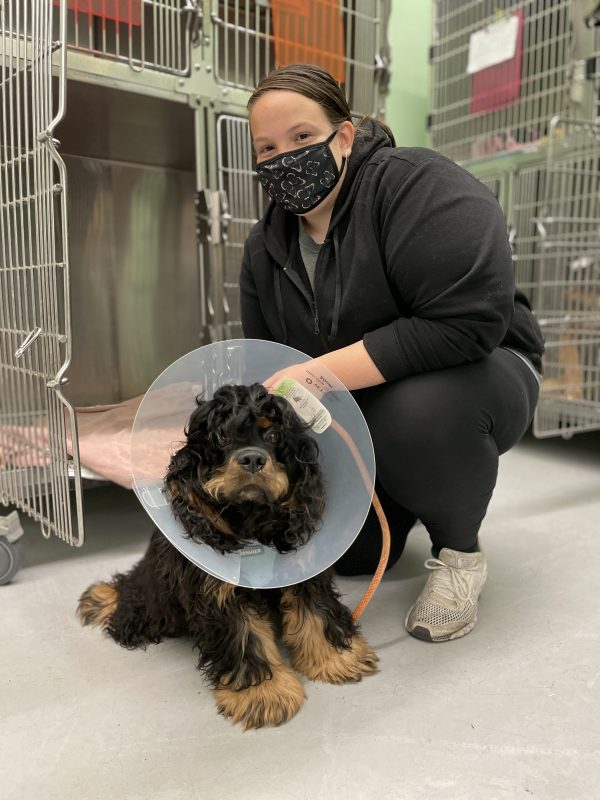 Their 9-hour days start at 7:45, just 15 minutes before they start shuttling, on average, 60 pets into the building for spay and neuter surgeries. One of the first things they do is gather to set team goals, which is crucial to having a successful day when another 100 pets are expected to walk through the door for vaccines and other services.
Once the meeting is over, this compassionate team divides and conquers the day.
Spay/Neuter Clinic
On a day when we're fully staffed, this team is made up of four vet assistants and two veterinarians.
"The days are a little chaotic," says Kiana, our lead surgery vet assistant. "But I like the fast-paced work environment. Since we're high-volume, we get to see a lot of pets."
It starts with bringing all of the pets from the parking lot inside the building, which can take up to an hour and a half. The techs weigh them and assist with the pet's physical exam. Once they have a weight, our vet assistants calculate how much anesthesia they need and administer it. They prep the pet, placing catheters and helping with intubation, and scrub in during the surgery to monitor the pet's TPR (temperature, pulse and respiratory rate) to make sure they are stable. They're responsible for keeping a close eye on them after surgery and know the signs if they need to reverse anesthesia if the patient's heart rate drops too low. When they aren't working directly with animals, they're preparing surgical tools and packs, maintaining equipment, educating clients about post-care and so much more.
"Being able to see so many pets and do so much for them makes you feel like you made a bigger impact when you go home. We get to help regardless of finances, which is a huge reason I'm here versus at a full-service vet. We're truly here to help with whatever resources we can come up with together. And, you know, that's pretty dang cool."

-Raegan, Medical Operations Supervisor, RVT
It's a lot to take in, but the way Kiana looks at it, it's not 50 pets on the schedule. "It's 50 families that we're helping, which means a lot more."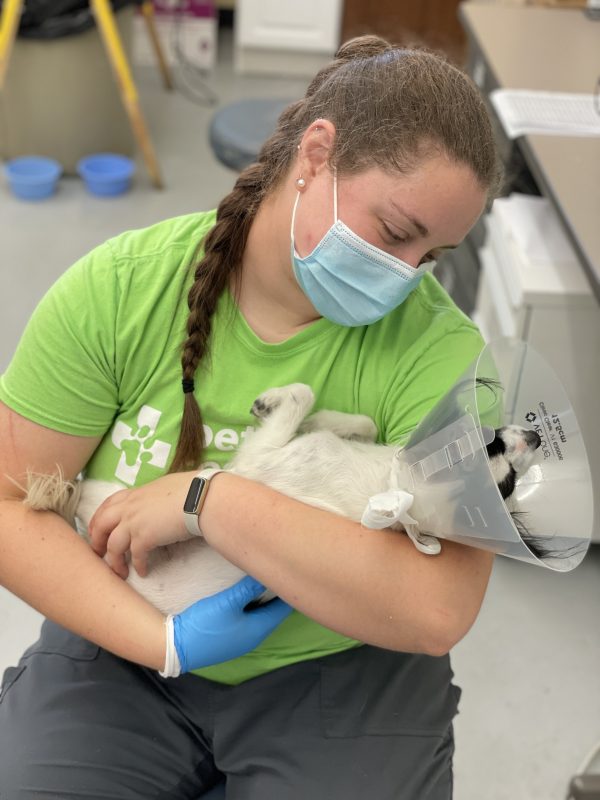 Even though there are dozens of pets on the schedule every day, giving each one of them personalized care is a priority to our techs. This, however, isn't as clean cut as it sounds. Most of the pets who come through here are nervous or scared to be out of their element, which is why our vet team is keen on taking the extra time to make a pet feel as comfortable as possible while they're here for surgery or vaccinations. The feeling is mutual for their owners, as well, making this job as people -oriented as it is pet-oriented.
"Once a pet sees their owner, their tails start wagging and they get all excited," Erin says. "But the owners are super excited, too. They've been nervous all day and then they see their dog is walking fine and excited to see them. That's my favorite part, for sure."
Wellness Care Clinic
It may surprise you to hear that our wellness care clinic, one that sees 80-100 pets a day in just the six hours it's open, operates smoothly and regularly with only two vet techs and one vet. But it's true (and that's exactly why there is such a thing as Vet Tech Appreciation Week)!
Even though this clinic doesn't open until 10 a.m., their preparation starts the moment they get here, pulling up vaccines during the morning meeting and helping check in surgery patients shortly after that. Once those pets are settled in, the techs dive head first into helping the line of cars that is mushrooming in the parking lot, which means they have to move fast. Most are here for vaccinations, but there are also folks bringing their pets for triage appointments, medical examinations, bloodwork or just here to pick up resources, preventative, medication and so on.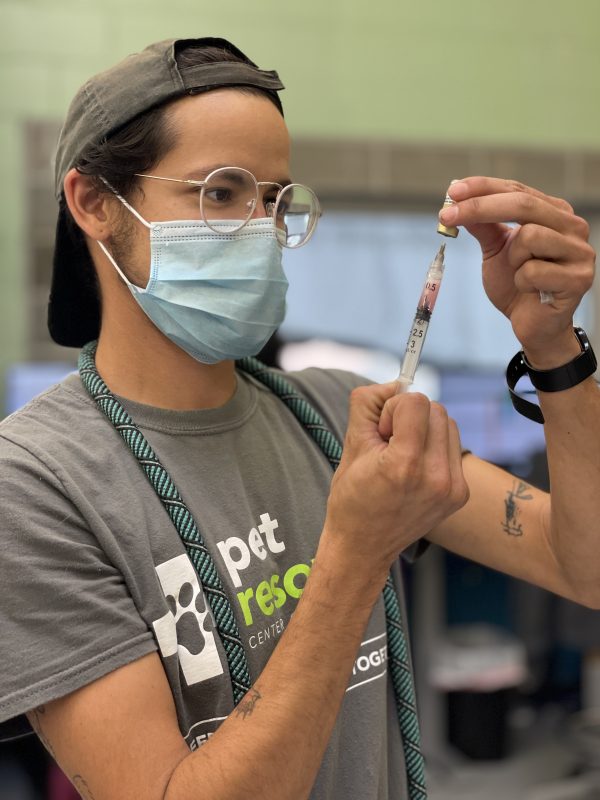 They're constantly running out of the building with a pet in one hand while juggling invoices or boxes of parasite prevention in the other. They are treasure troves of information and can answer almost any questions you may have about your pet's health, whether it's in regards to allergies, flea and tick infestations or the benefits of spay/neuter. And, regardless of the speed at which they are moving, providing the best care is always their aim.
"Being a vet tech is lots of fun," Ian says. "You get to interact with a lot of animals, which we are all passionate about here. But, on the other side, it's really nice getting to help people and just let them know that we're here to help no matter what."
In order to have the biggest impact possible, they rely heavily on teamwork. It's the only way we're able to maintain the life-changing impact we have on pets and people every day.
Mobile Unit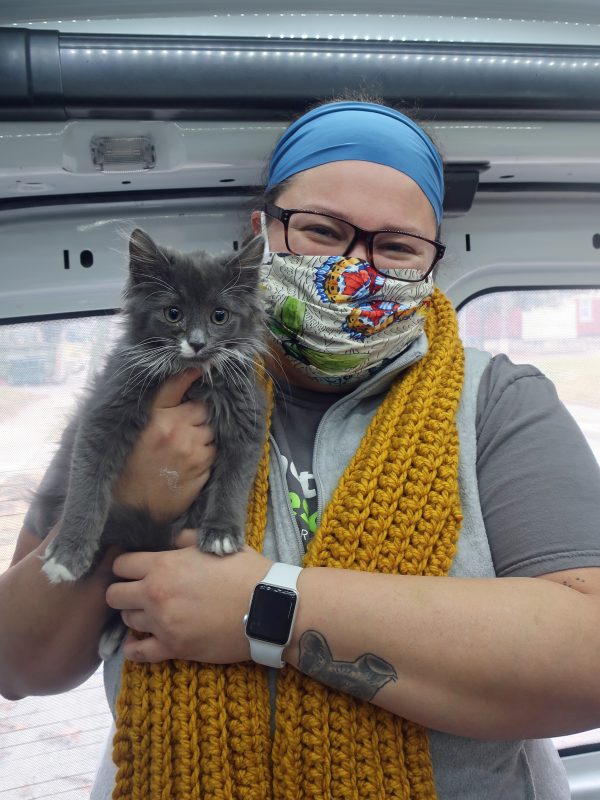 We can't forget about our techs who go out into the community and bring all of the wellness services mentioned above to the families with pets who, for whatever reason, can't make it to us. Four days a week, and every other weekend, they manually load our mobile units with bins full of supplies, prevention and resources to take to areas beyond our headquarters at 59th and Troost. There's not much space inside the van, and it's definitely not the most comfortable setting in the sweltering heat or frigid cold, but, with their positive attitudes, they press onward and do what it takes to improve the lives of pets and people. That's what I call dedication.
Mary Reed Treatment Center
In the midst of maintaining efficiency in our spay/neuter and wellness clinics, our vet techs also work alongside our veterinarians to do dental cleanings and extractions, heartworm and parvo treatments and other emergency medical procedures when we have the resources to carry them out safely.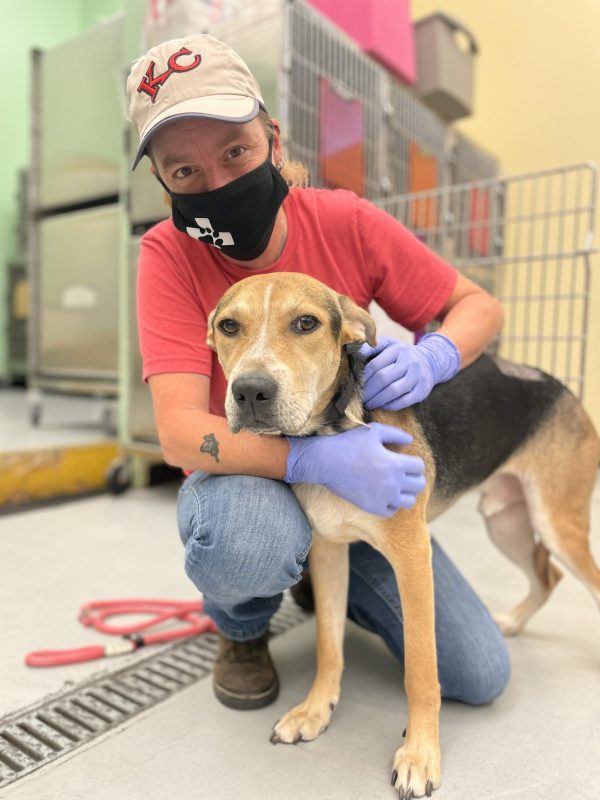 "Medicine in science changes so much," Raegan, our medical operations supervisor, says. "It's important to keep up with things that are changing and make sure that we're doing everything by the patient correctly."
This is one of the things I love most about them.
But Why?
Now that you know what it truly means to be a veterinary technician, you probably have a better understanding of why I said it's not for everyone. It's one of the most essential jobs out there, but it's also one of the hardest. They're nurses, teachers, janitors, customer service reps and all the other myriad titles in between.
Why do they do it?
I think Erin speaks for all of our veterinary clinic assistants when she says, "I know I'm helping those that really need it. It's very rewarding to know that the pets we help might not get care otherwise."
To our techs, we want you to know you are valued. We couldn't do it without you, and, for that, we thank you!