We've known Robin and Beast for going on three years now, but our last visit may have been the happiest we've ever seen them. And that's something they both deserve more than anything.
Earlier this week, six of us, with an itch to get our hands dirty and do good by this family, dropped by to deliver a special gift that would change their lives forever: a 10 foot by 10 foot dog run for Beast, with another run on it's way for his brother, Riff Raff.
"This is just beautiful," Robin said with a beaming smile. "It's so much better than what I'd imagined."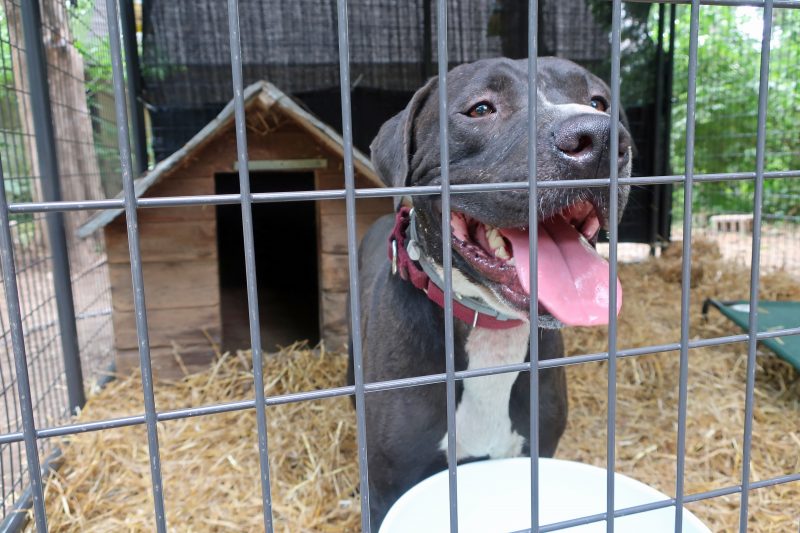 …
Three and a half years ago, Robin suffered from a stroke that left him in very fragile condition. During his recovery, two stray dogs walked into his life at the perfect time like they knew Robin needed to be saved. And he was going to let them.
Once he claimed them as his own (or they claimed him), Beast especially knew that Robin was sick and would lay in the middle of his bedroom floor by his side, showing his compassion by simply just being there.
"[When I was sick], it was really hard to take care of them," he said. "I thought I was going to lose them."
Now, the obstacle was that both of the boys loved to be outside, but Robin doesn't have a fenced yard, so they spent a good chunk of their days out on tie outs in the backyard where they could burn off some much needed energy. You could also imagine how much effort it took for a stroke survivor to take care of two rambunctious 70+ pound dogs. Robin didn't have access to the resources he needed, so we stepped in.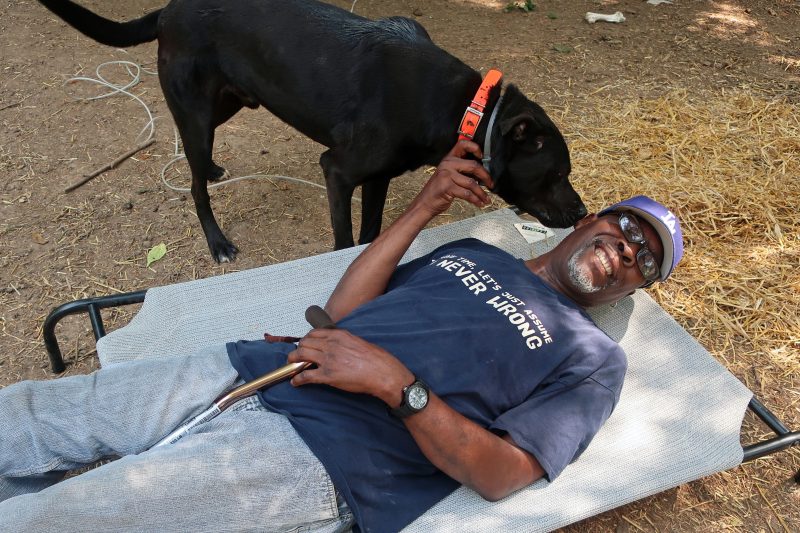 But Beast has his name for a reason. He has proven to be an expert at breaking every single lightweight tie out we give him, so the only other option for him was a durable chain – well, so we thought until he broke that recently, too.
The last thing we wanted to see was something happen to Beast or for Robin to be missing one of two beings that motivate him to get out of bed every day, so we knew we had to find another way to help.
That's how we found ourselves sweating in the midst of the July heat setting up his new dog run.
(To learn more details about their story, please revisit our previous blog How To Find A Companion.)
…
Despite the ongoing battle with his health, Robin headed inside to fetch us his tool box and six bottles of gatorade. He was happier than a little kid on Christmas morning and didn't hesitate to jump in to lend a hand, even though we told him, "Mr. Smith, we got this."
"I just want to say thank you," he kept saying over and over again. "Man, I'm so happy, so happy, so happy."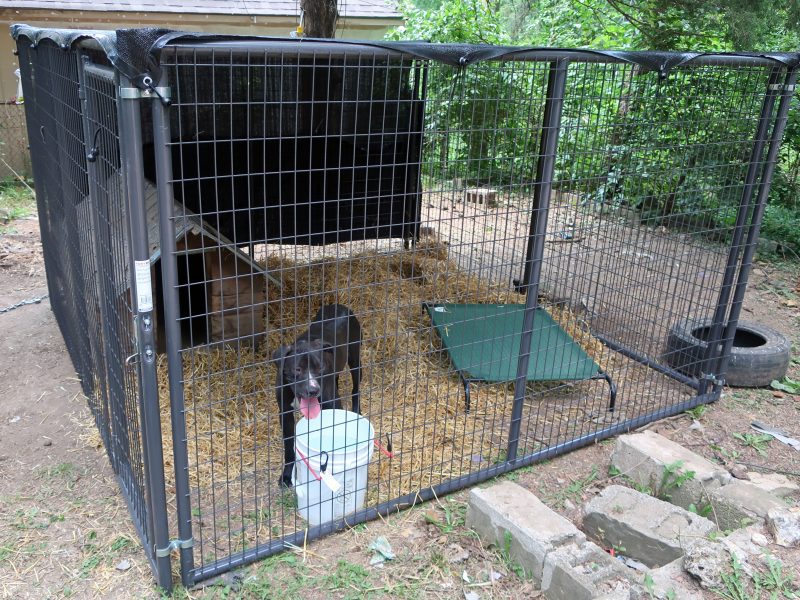 The installation took about two hours from start to finish. The run is made of heavy duty steel and is covered with a tarp that protects 70 percent of UV rays from coming in, making it much, much cooler for Beast while he's outside. The cover should also help keep him from climbing over the six-foot tall fence to go be with his lady friend, as Robin puts it.
Pointing his finger at Beast, Robin jokingly said, "Ain't no getting out of this, boy. That's called steel. If you get outta this, I'm sending you to San Quentin." And we'll be right behind him.
Meanwhile Beast waited patiently for us to finish, even though his curiosity got us tangled up quite a bit. We could tell by the smile on his face that he knew this "something special" was for him. He just didn't realize how special it was going to be.
Before we knew it, it was time for the moment we had all been waiting for… We were ready to unleash the beast.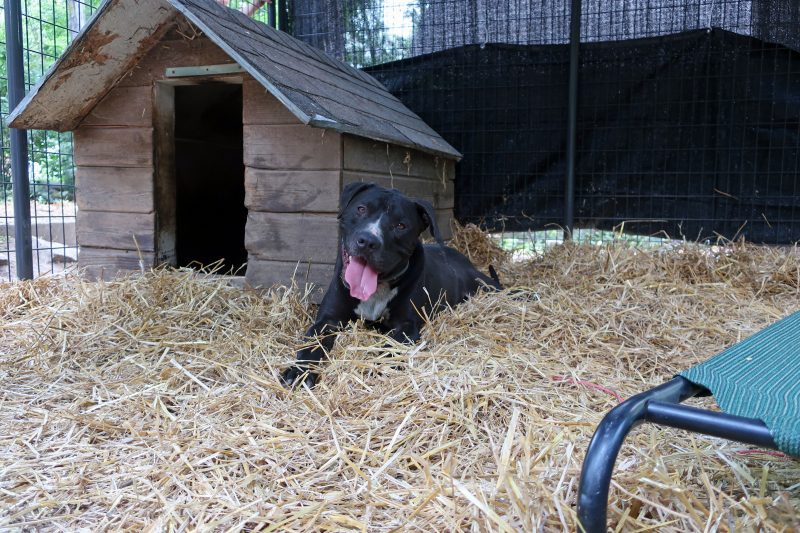 Jaime, our community engagement coordinator, had the honors of taking off his heavy chain while we all gathered around. After putting him inside the run, he galloped around, nose-dived into the straw and rolled uncontrollably on his backside, tossing the straw up into the air like falling confetti. He was clearly elated, as were we. This freedom was long overdue.
Being on a chain wasn't Robin's malintent by any means. It was simply the only temporary solution that worked for him while he was recovering. We know, and we're reminded every time we visit them, just how much he cares about his pets and that he was just trying to do the best he could to keep them in his life. It was just a matter of not having access to the right resources.
"You know, if it wasn't for the donations that [PRCKC] gives me… I couldn't make it," he admitted candidly. "I would have to give them up. And that probably would crush me more than anything."
This, all in itself, explains every reason why we do what we do.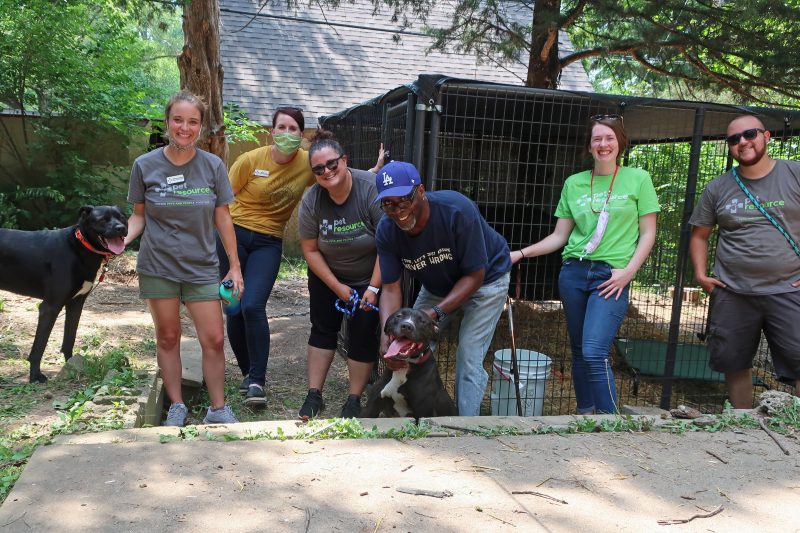 "They mean a lot to me," he goes on to say. "But I don't think they understand how much."
Well, Robin, Beast and Riff Raff mean a lot to us, too, and we don't think they'll ever understand how much either. The same goes for the rest of the clients and their pets that we help every day in our clinic, as well.
Thank you to all of the wonderful individuals that donated money so that we could get Beast and Riff Raff all set up in their new runs. You made two dogs and one thankful man very, very happy.