Choosing a vet is a big decision.
Pets are members of the family, so it's important to pick a veterinarian who you know will take great care of your pet and always keep their best interests in mind. And, more importantly, love them like their own.
That's why we wanted to give you the chance to get to know our doctors at Pet Resource Center of Kansas City. They're kind, capable and compassionate, and the love they have for this job shows in everything they do.
Meet some of the people responsible for helping more than 35,000 pets in the Kansas City area.
Q: What made you want to become a veterinarian?
Dr. Jessica Nichols: I always wanted to do medicine because it fascinated me. I volunteered at a human and veterinary hospital when I was young and fell in love with the intimate medicine and the animals at the clinic.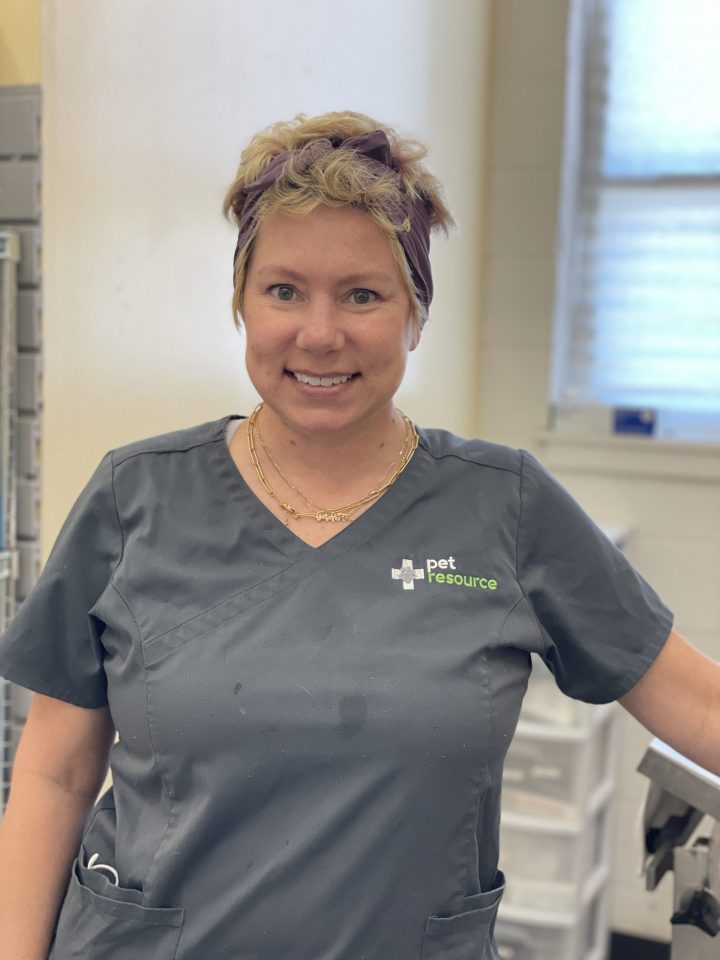 Dr. Melia Washington, PRCKC Chief Veterinarian: I have always loved animals and teaching. I think I get the best of both worlds as a vet, and I love the challenges that come with helping animals.
Dr. Cynthia Goldston: It is always what I wanted to be, ever since I could remember.
Dr. Elin Maki: I've always loved animals, but I'm a little bit of a "late bloomer" when it comes to veterinary medicine. I started volunteering with a pet rescue in my late 20's and fell in love with the work, especially watching animals with medical needs improve with access to veterinary care. I grew so passionate about my volunteer gig that I decided to go back to school for a veterinary degree so I could do this work full time.
Dr. Kady Lake: I have always wanted to be a veterinarian. Animals have always had a special place in my life and I wanted to pursue a career where I get to help them.
Q: What did you do prior to joining the team at PRCKC?
Nichols: I worked at a very busy, full-service veterinary hospital that did a lot of emergency care. I loved it but got frustrated when owners couldn't afford the cost of services because I wanted to be able to help more and offer low-cost care. Now, I'm able to do that here at PRCKC.
Washington: I worked primarily in shelter medicine and private practice in Houston, TX.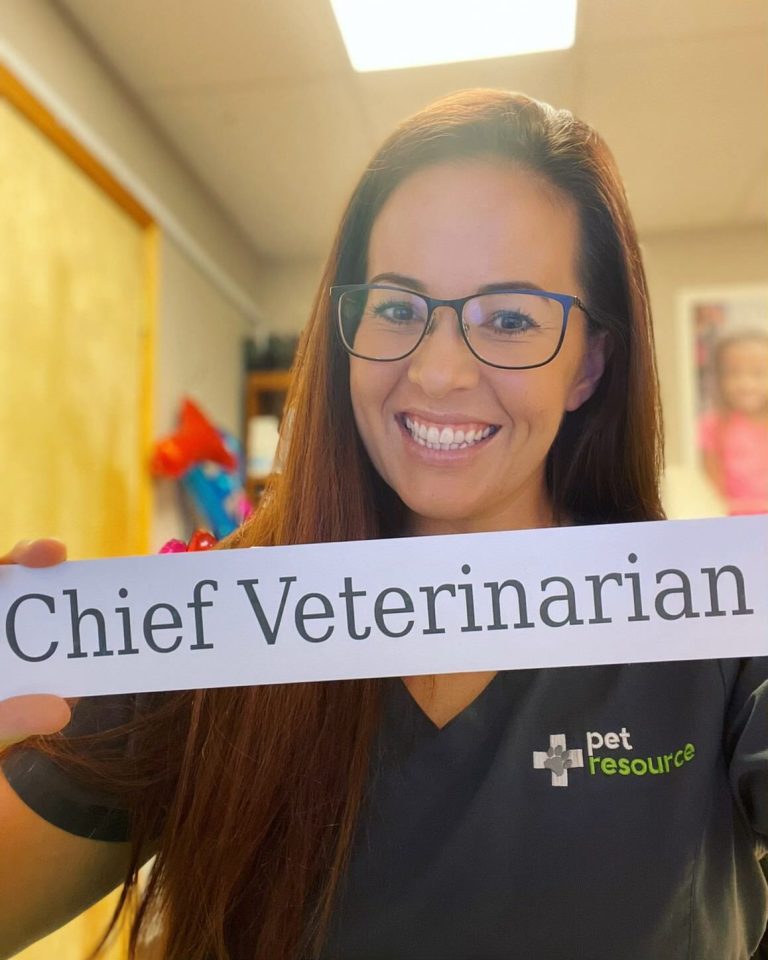 Goldston: I worked at the Humane Society of Greater Kansas City.
Maki: I spent the last four years completing my Doctor of Veterinary Medicine (DVM) at Kansas State. Before that, I worked in an entomology lab for the federal government.
Lake: I have worked mostly in animal shelters: one in Texas, then The Humane Society of Greater KC and Wayside Waifs.
Q: What stood out to you about this organization, and what are you looking forward to the most?
Nichols: Help no matter the circumstance. I love to think outside the box and offer creative veterinary care tailored to what the pet is in need of the most. The most memorable case is saving two pit bulls who were suffering from heat stroke and on death's door. We were not set up as a full-service vet yet and had to get supplies from a neighboring vet. Our team banded together and volunteered to check on them throughout the night. They survived against all odds, and they were the most adorable dogs once they got better.
Washington: The diversity of departments and being inspired to help keep animals with their owners. With most of my experience being in shelters and seeing the effects of owners being separated from their pets, I loved being able to help prevent that from happening and help to keep animals out of the shelters. I also love our food pantry and resources/mobile departments.
Goldston: Being able to help those in the community that need it! I love working with an organization that can offer help where it is really needed. And the amount of surgeries we are able to accomplish each day is amazing.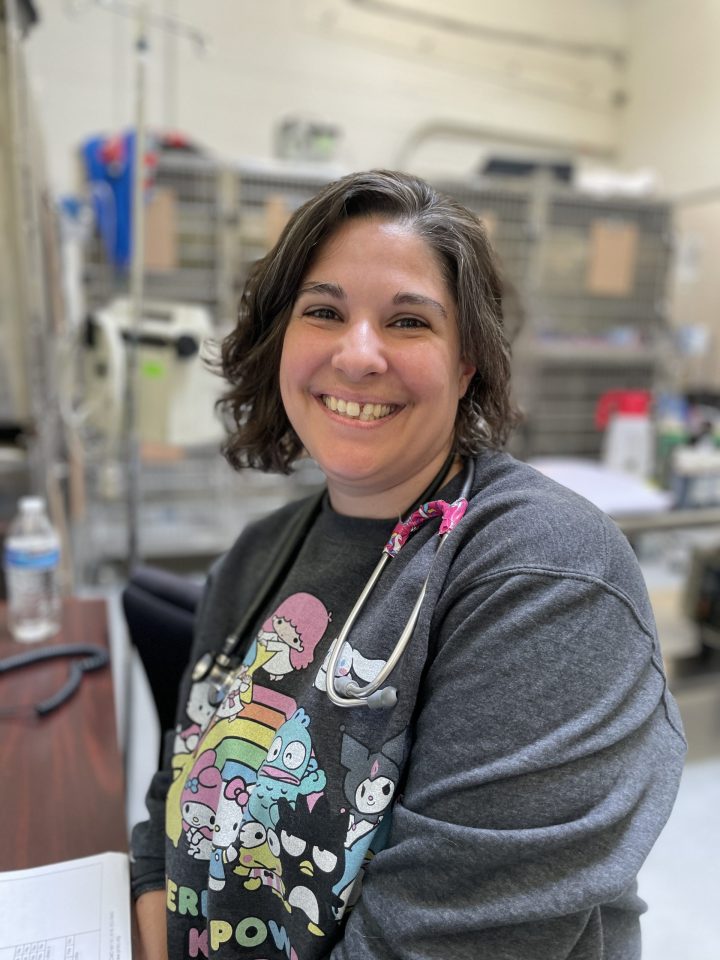 Maki: What stands out to me the most is the incredible variety of services we are able to offer. On the veterinary side, I am most excited to watch our urgent care and dental services expand; there is such a huge need for them. But I also think the resourcefulness of our mobile and outreach programs is amazing.
Lake: I've worked in some shelters that struggle every day with overpopulation. The only way to prevent animals from going into shelters is by spay/neuter and providing healthcare at an affordable cost so that the animals can stay in their homes with the people who love them, so being able to see emergency cases and help for a lower cost than a traditional practice is pretty awesome. I like that we're able to work with people and get their pets the care they need.
Q: What would you say is your biggest passion in veterinary medicine?
Nichols: I love emergency medicine. I love the feeling when you're able to save a life against the odds. Unfortunately, it also comes with some losses, but the wins feel so good.
Washington: Helping new veterinarians understand the wide variety of career options and the importance of a practice like ours in the communities they serve. Animal shelters tend to be forgotten about and can really struggle with funding and proper staff. Veterinarians have to work together with low-cost clinics and shelters to improve the animal welfare in their community and educate pet owners.
Goldston: Helping the animals that don't have someone to advocate for them, such as shelter animals.
Maki: Accessible veterinary care! I think PRCKC is doing a fantastic job in expanding access to veterinary care in our community.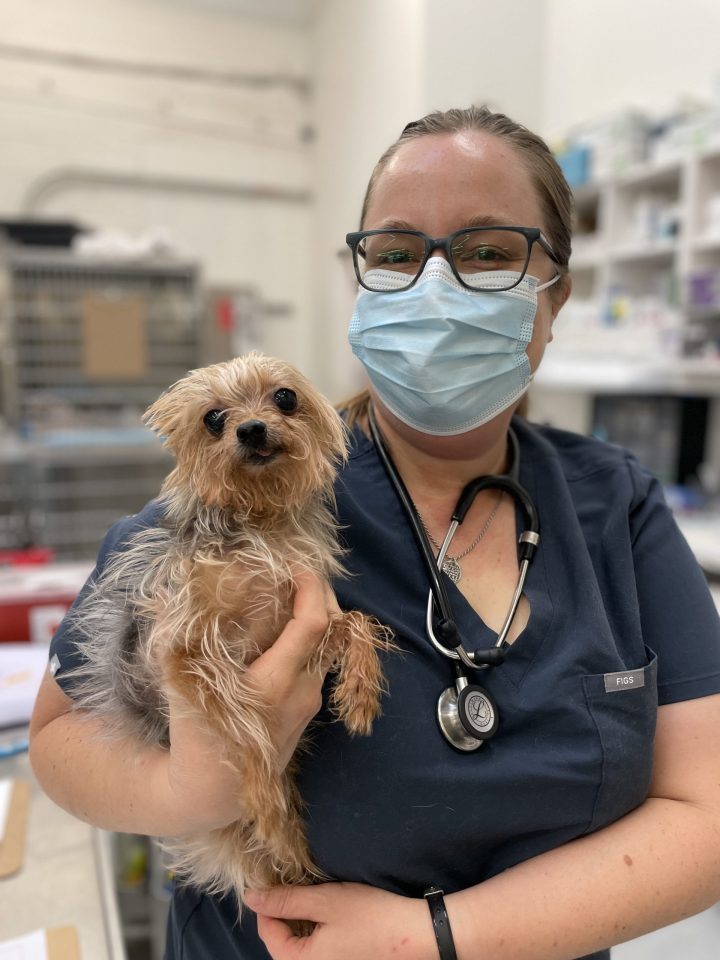 Lake: I really enjoy surgery. A day of just doing spays and neuters is really fun, but I also like to mix it up and do other soft tissue surgeries, especially eye surgeries and even dentals. I like being able to fix things and I get to make a lot of pets feel better with surgery.
Q: Tell me about the pets you have at home.
Nichols: I have two senior dogs, Finn and Marley, who love to lay around all day. I have a very special cat named bacon who I adopted after the owner couldn't afford veterinary care. He thinks he is a dog and will go on walks with us and even pee!
Washington: Nika is a 10-year-old lab mix. She and her brother were found as a stray on a playground, and I took her home when she was 6 weeks old. She loves her human brothers and loves to run, play in water and catch treats. She's been an amazing dog for us and has a lot of spunk left! I also have my horse, Star, who is 27 and he lives on my parents farm in western Kansas. He is my soulmate in animal form, and I've had him since he was a yearling. He was my rodeo horse, trail-riding buddy and has helped all of my kids learn to ride.
Goldston: I have a border collie mix named Ruckus who's about 3 years old. He is best friends with my 4 year old! And two Feline Leukemia-positive cats named Cracky and Smacky. Cracky is sassy and annoying, and Smacky is the sweetest little Sun Bear.
Maki: We have two elderly big dogs, Timber the greyhound and Willy the border collie mix. Timber is the boss of the household. We also have two cats- Paolo and Olli. They are opposites, Olli is our athlete and Paolo is basically Homer Simpson in cat form.
Lake: I have two dogs: a 7-year-old Catahoula mix named Daisy and a 2-year-old German shepherd mix named Finn who are best friends. I also have two FeLV+ cats named Gary and Jellybean; they have a love/hate relationship with each other.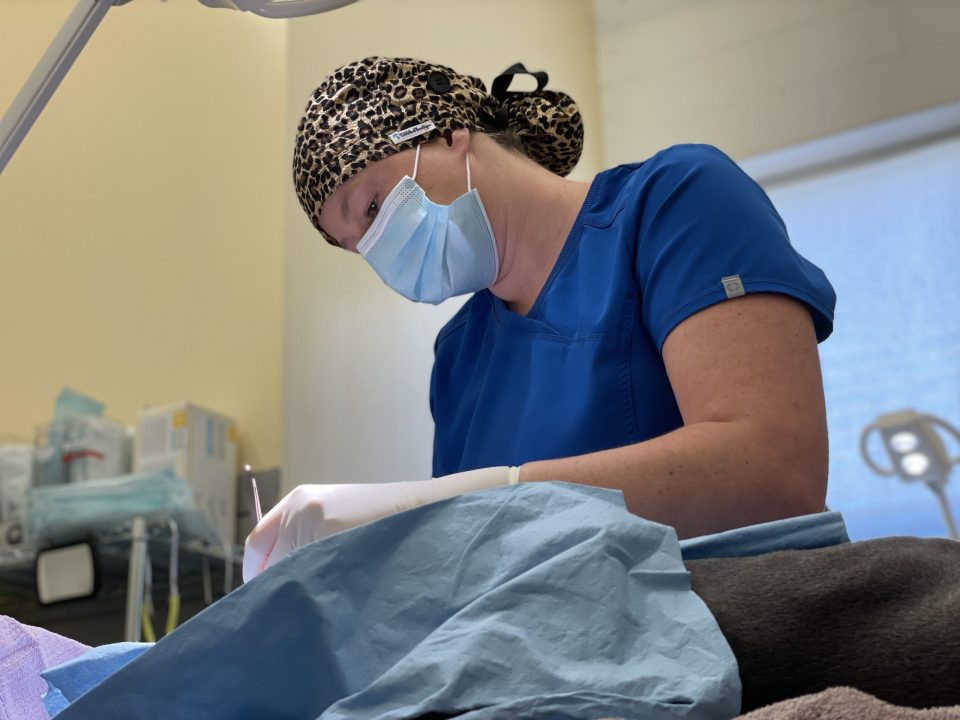 Q: In your opinion, what meaning do pets have in our lives?
Nichols: They mean everything. They are family.
Washington: Constant support, love, protection and forgiveness. Animals provide such an amazing source of strength and unconditional love. The bond I have seen owners experience with their pets is indescribable and is something that I'm blessed to have with my own animals.
Goldston: They bring us joy and remind us not to take ourselves too seriously.
Maki: Some of the most meaningful relationships in our lives are with our pets. They provide companionship, relief from stress and a sense of safety.
Lake: Pets are members of our families. They bring so much joy to peoples lives. I can't imagine not having pets.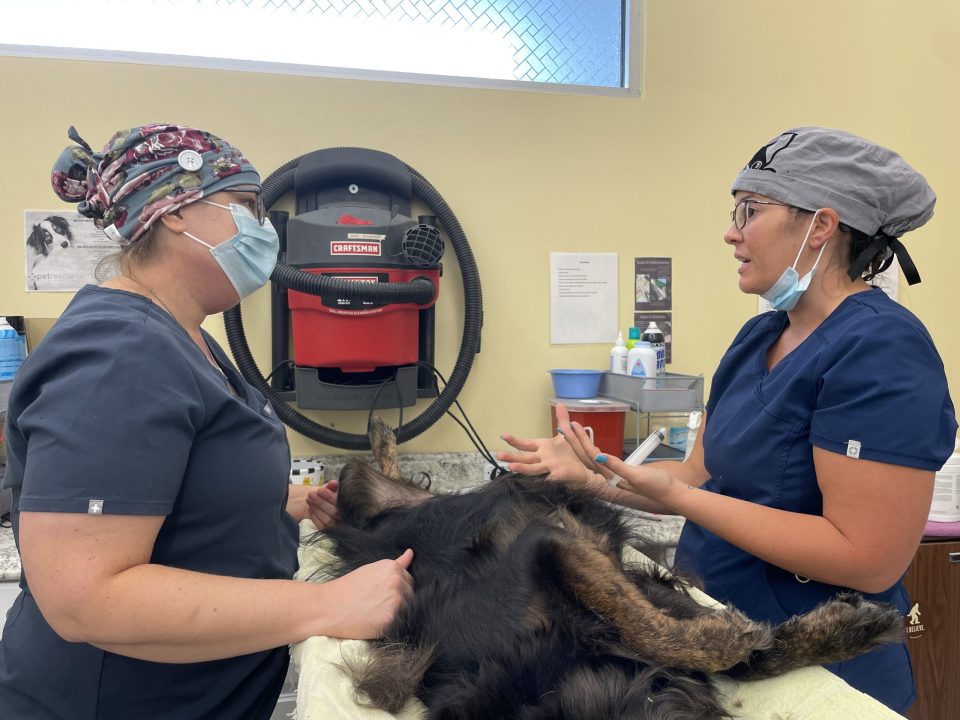 Q: What is one thing you want clients to know about you?
Nichols: That I will always hold out hope and be optimistic for all pets, no matter how sick.
Washington: I am a mother, a wife, a friend and a doctor. Not always in that order. I live for my job (when I am at my job), and I truly love the work I do. I treat my patients as if they were part of my family, and I will do absolutely anything I can to make the best medical choices I can for their pets. I appreciate all of our clients, and I hope we can work to build an even more successful organization with their support.
Goldston: I LOVE your dog and cat—fat, old, crusty, gooey. Doesn't matter. I make so many best friends at my job!
Maki: I think most of your pets are the cutest ones I've seen that day.
Lake: I will always have your pet's best interest in mind. I treat them all the same as I would my own pets.