It's the circle of life. That's what I tell myself when I think about to that little dog we hastily named Moo.
But not in the way you might think. Not in the "Lion King," living, dying and rebirth narrative that we ascribe to nature as a way to explain (and perhaps feel better) about what can seem absolutely random and incredibly harsh (even if it is true).
This is the circle of life narrative those of us in animal welfare – and those who support animal welfare – live for.
Timing is Everything
I was with Rae, one of our Families Better Together outreach team members. We had just left a family's home after talking to them about their dog, Lucky, who'd lost a leg (you can read his story here). We were driving down Minnesota Avenue, in Kansas City, Kansas, when Rae blurted out "there's a puppy."
I whipped that van around as soon as I could without disrupting traffic or putting us in danger. That meant about a block and several agonizing minutes. The entire time I was terrified the little dog would end up in traffic, hit by a car, and we'd find her lying flat on the busy stretch of road.
When we returned, there the puppy sat, beside the trash cans she'd been investigating for food when Rae first spotted her. I was happy and sad simultaneously. I was glad she was still there, but at the same time, I felt bad for her; she had to scavenge for food in the trash for survival. For people or animals, hunger is an awful thing.
We parked just a few feet from the dog and very slowly walked toward her. All of the sudden, she bolted. Luckily we were lined up between her and the street so she took off through a vacant parking lot. A good samaritan saw it all, stopped his truck cockeyed on Minnesota, and joined the effort.
In a flash our newest ally was belly crawling toward the dog across the parking lot. To my amazement she just watched as he got closer and closer. I felt a surge panic as he got within reach, but in one move, he grabbed her, stood, and hoisted her into a gentle bear hug.
"You promise you won't hurt this dog?"
When our new-found friend brought the dog over, he wanted us to pledge our loving support before he would let loose. I agreed.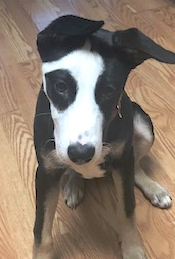 I immediately thought she looked a bit like a black baldy in the face. Those of you who grew up in rural Missouri like I did will be familiar with the hereford angus cross calves that dot the rolling Missouri countryside. That's why I started calling her Moo.
Before we left with Moo, we canvassed the area to make sure nobody was missing a puppy that escaped accidentally. While knocking on doors, Rae managed to find several pet owners who needed our assistance.
With our suspicions confirmed, we left with Moo, who laid her head between us in the van and accepted all the attention we could give. As we had supplies in the van, some food was presented and gently accepted.
Not A Shelter
It's important to point this out. Though we tell people we want to be a resource for them, our focus is on reducing pet homeless at the source through our spay neuter program (over 11,200 surgeries in fiscal 2018 alone), making sure animals are protected from disease (over 11,700 pets in fiscal 2018 for vaccinations), and providing resources when pet parents get into trouble so they can keep their dogs and cats at home.
We partner with shelters and rescues when we end up with animals. This time, a call went out to Unleashed, who agreed to take Moo. It was an emotional day for me when she left; I always felt connected to her in a way I haven't been with other dogs we come across every day. Likely because I helped rescue her and then got the world's biggest hug from such a scared little pup as I carried her from door to door.
At Unleashed, a foster named Mary agreed to take Moo – now named Josie – and work with her. It wasn't long before a classmate of Mary's, Suzanne, saw Mary's Facebook posts about Josie and fell in love. And shortly after that, Josie had a new home.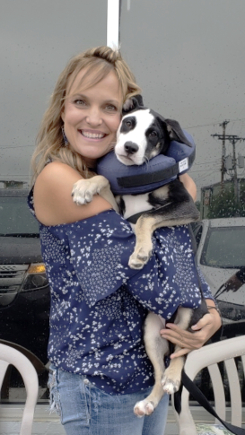 It's Suzanne's first dog in 20 years. Her family, she says, has had cats but when her daughter left and took the last cat, they felt like they needed another animal to love.
"She's so attached to me," Suzanne says. "She leans on my when I'm working on meals in the kitchen. "She's a really good puppy."
Her children Ashton and Nathan have become very good friends with Josie. "They play together and the kids are learning responsibility. They are such good friends. Josie wants to be around them and them around her."
Suzanne also admits that Josie is a minor star because of her cuteness. "When I put a picture up on Facebook I get more likes than when I post pictures of my kids."
The Full Circle … of Life
Someone we work with regularly – Scott Poore – said recently that the wins in animal welfare aren't long-lived because we have to move on to the next thing pretty quickly. And that's true. Every time something good happens we all let it soak in just a bit, maybe even shed a tear of relief and happiness, then we get back on it. Because animals like Josie are out there and they need our help.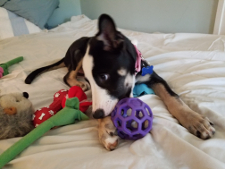 If you're reading this, you know that already. I suspect that you're also a part of the large family of big-hearted folks who help make so much of our work possible. It takes a village to have a big impact, the kind you get when you spay or neuter over 110,000 animals in 16 years. But what really brings it home is when you can find a homeless puppy on the street, work with another organization, and ultimately see that puppy end up being loved. And giving that love right back to people who deserve it.