"You'll never know, dear, how much I love you. Please don't take my sunshine away."
These were the final words Meka sang so tenderly to her dog Loula after she passed away unexpectedly. But she also made sure to promise her one last thing – to find all nine of her 4-week-old puppies a loving home.
…
Meka's world came crashing down the day her parents rushed Loula to our clinic because something was desperately wrong, and they had nowhere else to go. Our veterinarian thought she could have possibly been suffering from a mammary infection or emaciation from having so many babies, but unfortunately we weren't able to pinpoint the diagnosis because she passed away seconds after her family frantically carried her through our doors.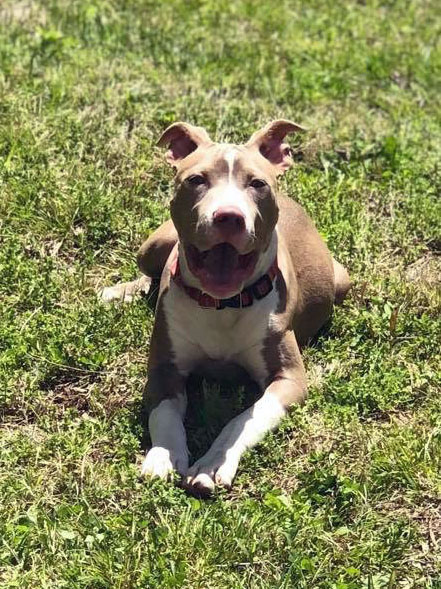 The pain of losing a companion animal is unbearable by all means, but Meka knew she had to stay strong for the nine newborns that called Loula 'Mom.'
"They knew their mama wasn't there, but they were still as playful as ever," she said.
We arranged cremation services for Loula, but we knew we had to do more to help this grieving family raise almost a dozen pups on their own. We delivered formula and cans after cans of wet puppy food to give them one less worry, and we made sure to assist them with the cost of vaccinating all the puppies as they got older.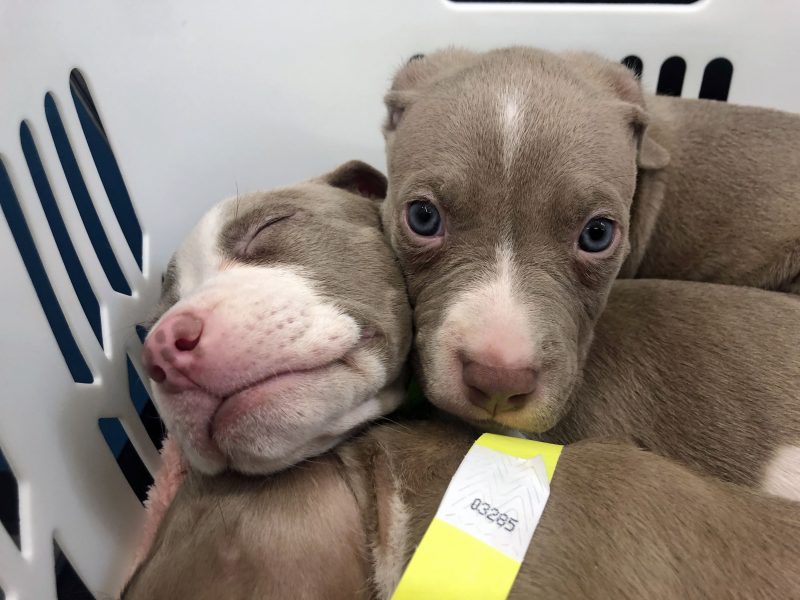 "I thought I was going to have to do it all by myself," Meka cried after the pressure of holding back her emotions finally boiled over. But this is a safe haven, and we are here to help people, especially in hard times when emotions are high. It's why we exist.
The next few weeks consisted of many sleepless nights, taking turns every four hours or so feeding the puppies in mama's absence. But it was all worth it in the end.
In the time Loula got to share with her babies, Meka said she was a great mother and companion that loved everybody, pets and people included. She was very smart and playful, too.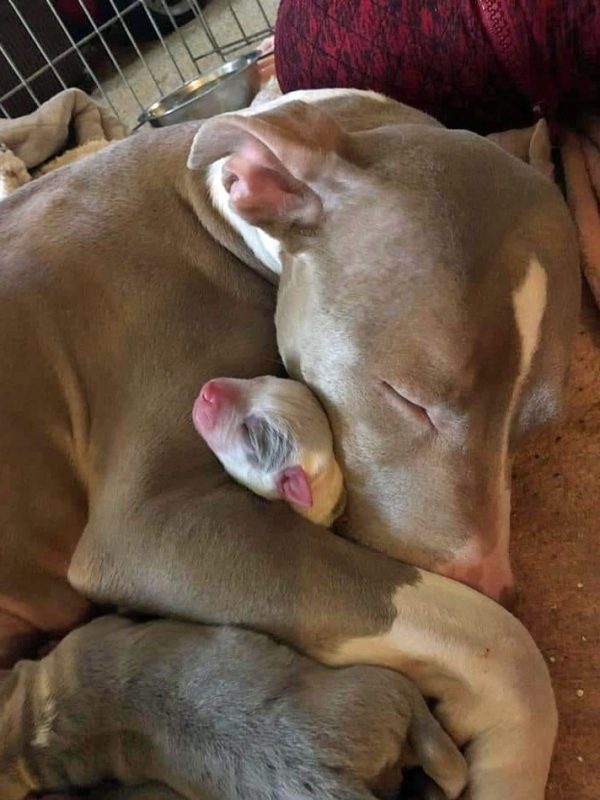 "She didn't have a mean bone in her body," Meka said.
Loula wasn't legally certified as a service animal, but she helped Meka work through depression and anxiety. Meka has a military background and showing emotions isn't always easy for her. But vulnerability is something you can't avoid in this situation.
"She always wanted to be by your side," she recollected with a soft-yet-sore smile. "She was my world. And she helped me through a lot."
From the first day she met Loula, she couldn't help but fall in love. She had gone to visit a friend whose dog just had a litter of puppies. Meka mentioned she'd been saving up money for something else, but apparently that thing she needed just couldn't compare to the precious moment when Loula, with her eyes closed and barely learning how to walk, crawled over to Meka and laid her head down on her foot. She knew right then and there that she had to make Loula hers.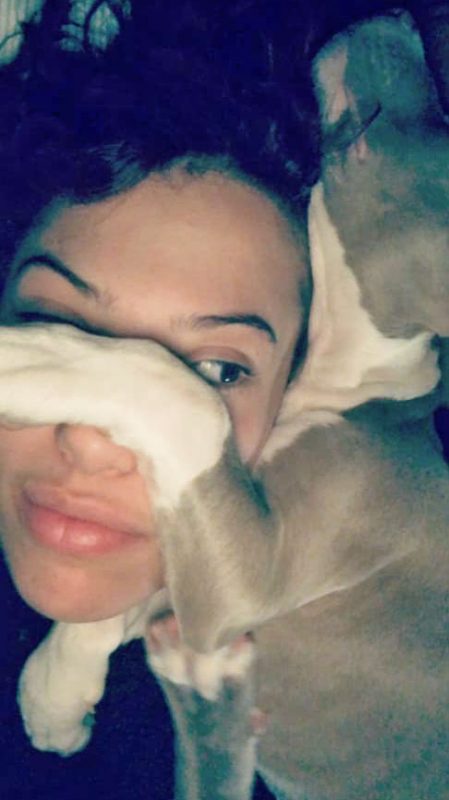 She went on to tell me about all of the cherished memories they shared: jumping in bed to cuddle, sneaking lunchables from her mom (especially the turkey ones) and singing their favorite song together, My Little Sunshine.
And she has already begun making new memories with the little ones that are spitting images of their mother. The family has decided to keep a couple of the puppies, but Apollo stole Meka's heart just like his mama did.
"There was just something about him," she said. Sounds familiar, huh?
The puppies have grown up to be a handful, biting toes and going crazy for the food we gave them, and constantly reminding Meka of her Loula girl.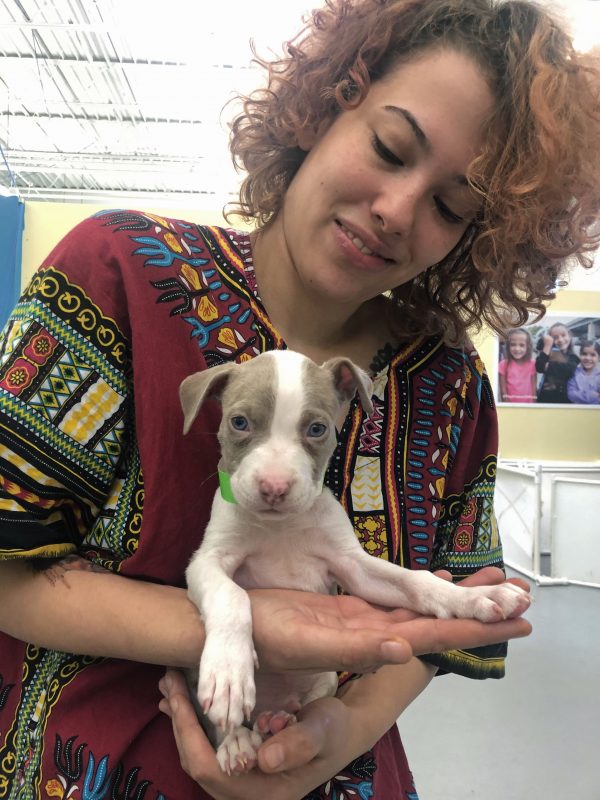 Before all of this happened, Meka had no idea who we were or what we did as an organization. But more importantly, she is now able to better understand the importance of spay/neuter surgeries and vaccinations because she knows that potentially could have saved her from the heartbreak of losing her one and only best friend.
"I don't want someone else to have to go through what I did with Loula," she said. "I will offer support to whoever has my baby's babies."
Meka knows the decision to spay or neuter the pups is officially up to the new owners, but she is highly recommending it and not sending a male and female into the same home for this reason.
"I have had protection over them," she explained. "My dog's legacy is not going to be tainted by others."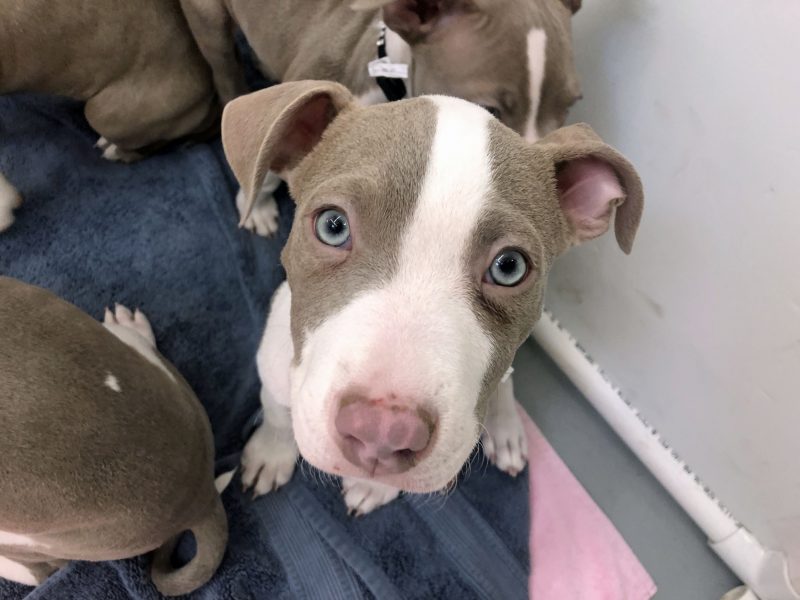 She vowed to be there for the families, whether that means helping with resources or caring for them again if life unexpectedly gets in the way… Anything to make sure they are well taken care of and stay in loving homes. All of the owners understand everything Meka has gone through, so they are constantly going to flood her phone with pictures and have made plans to have play dates at the dog park in the future.
Being prepared for a storm like this is impossible, but in Meka's world, it didn't take long for the sun to shine again. The new little sunbeams in her life will always shine a light on their mother's memory wherever they go.