Even if nothing on their schedule goes as planned, every day in our outreach department is a success.
And although each day brings its own challenges, Ramona, Rae, Chris and Jaime walk out of these doors feeling grateful to have had the opportunity to positively impact at least one pet or person that day even if their tired eyes say differently.
"A day in outreach is an everyday attempt to connect with our community," says Chris. "It's about making those relationships whether it's a brief interaction with an owner while I'm vaccinating their pet, helping a lost dog get back home or things of that nature."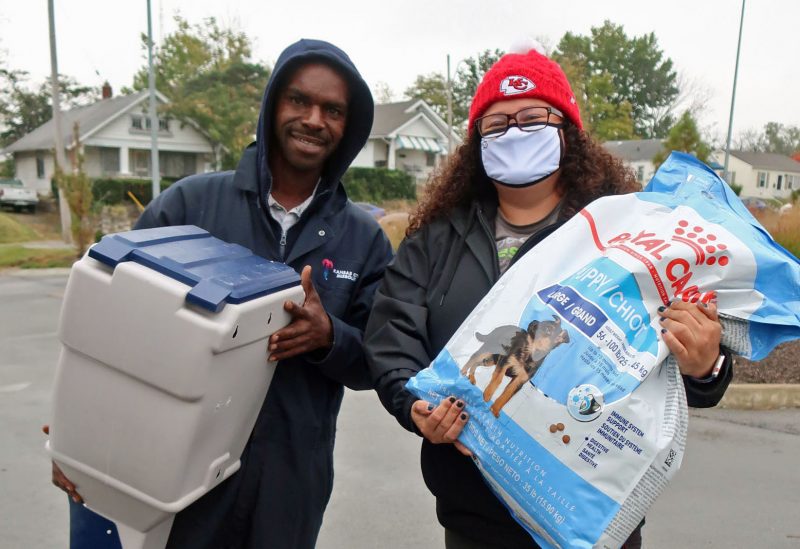 Jumping right in and helping someone in need is easy to want to do, but making it happen is what can be difficult. Everyone's situation is different, and working in outreach requires a ton of labor, expertise and persistence to figure out exactly what someone needs to keep their pet in their life.
Most days, the team gets here at 8 in the morning eager to see what the day will have in store for them. But, again, keep in mind no day is ever the same in outreach. There will be days when one of them might have to be here at 7:30 a.m. to do a transport for a surgery patient whose owner is disabled with no transportation. Or when another is coming in closer to 9 or 10 o'clock because they stayed two hours late the day prior trying to coax a scared, homeless dog into the van for warmth, love and security. Or when someone isn't here at all because they spent their Saturday vaccinating over 200 pets at a drive-thru clinic in Raymore, Missouri.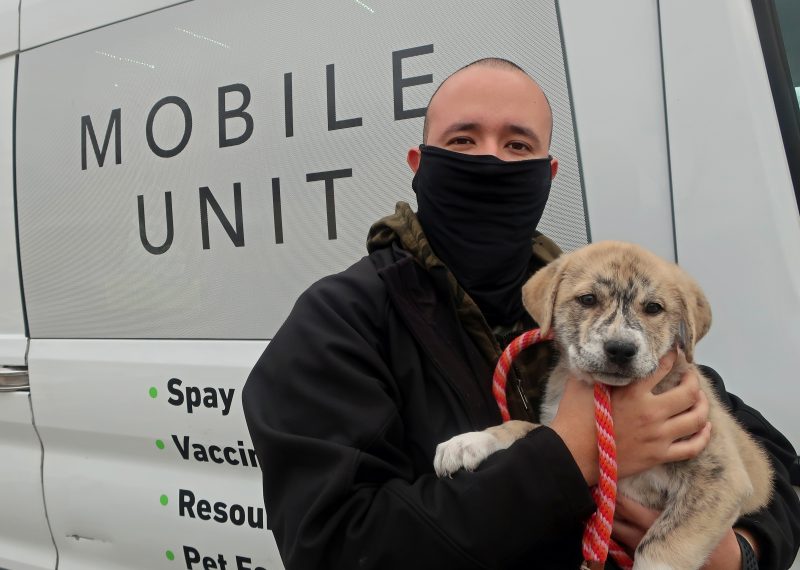 "Every day is different," Rae says. "Everyone's needs are different, and I like the challenge of figuring out what the need is [in our community]."
There are many acts of kindness that fall under what it means to be outreach here at PRCKC, and each team member has a specific role when it comes to helping pets and people.
Chris heads up our mobile vaccination program that reaches clients and pets who can't make it to our clinic for whatever reason – a disability, no transportation, in need of affordable services, etc. He also delivers resources or food to homebound clients when he's out in the community vaccinating or microchipping pets on our mobile unit.
Jaime coordinates our drive-thru clinics where we set up at a local spot in a different community every other weekend and vaccinate pets on our mobile unit for owners who aren't available during the work week or who are too far out from our clinic. He also manages our mobile puppy/kitten patrol program that vaccinates youngsters at their homes so they don't potentially get exposed to any diseases until their immune systems are fully protected.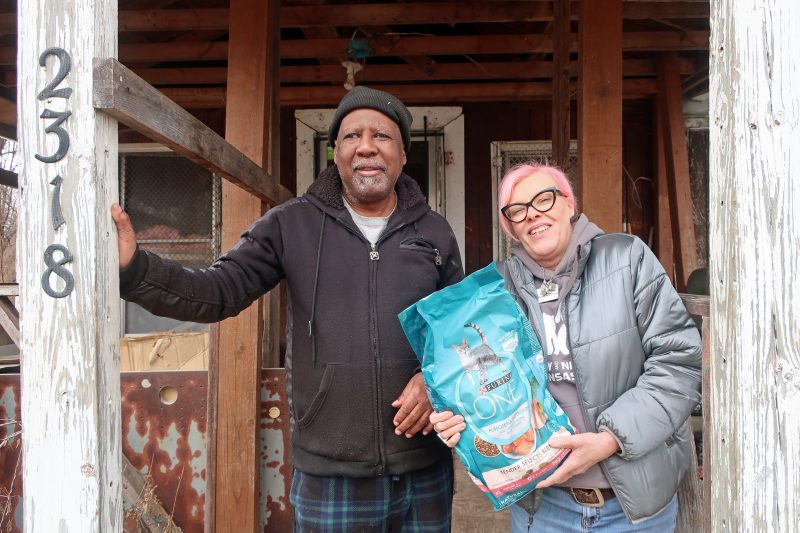 Rae is in charge of requesting donations from larger businesses and corporations so that we always have supplies to hand out to clients, community members or other animal and social welfare organizations. She oversees our volunteer-run pet food pantry, but also co-runs our Operation Winter Warmth program, which provides outdoor pets with shelter and/or straw, and attends outreach events with Ramona where they provide pet owners with resources, education and information about our services.
Ramona keeps up with resource inventory and manages the outreach call log and email, which see dozens of requests daily from those who need pet food, resources, mobile services, advice or who want to rent out traps to TNR (trap-neuter-return) community cats. When she's in the building and not in the field, she's preparing food for pick-up and also taking care of any clients needing additional assistance with resources for their pet while here for services.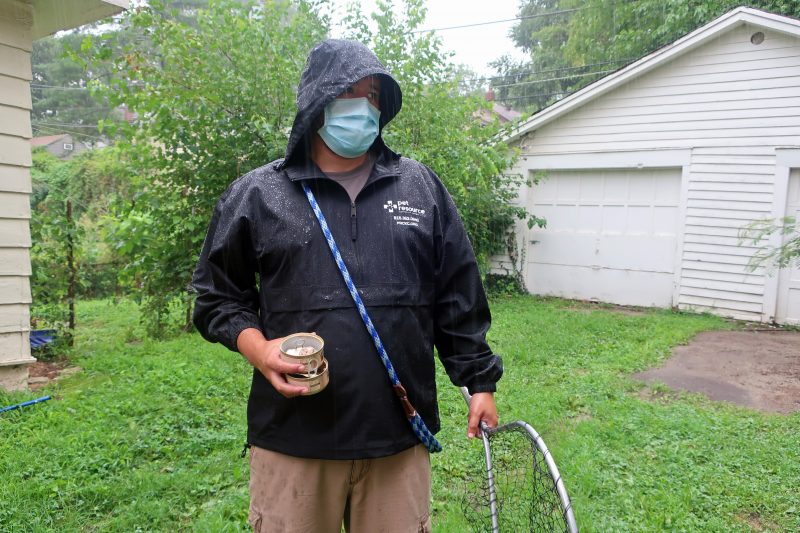 But outreach isn't just about being in the community and helping pets and their families with resources or services.
"It's also about education," Rae says. "Educating [clients] on why these resources work, how they work and how they improve the quality of life of your pet."
This right here is what keeps pets and people together.
The love this team has for pets is just as big as the love they have for helping people. And not just any people – these are our neighbors, our friends and our biggest supporters. With that being said, they don't stop until every one of them, including folks who see our van and stop them on the streets, has everything they need to continue loving their pets with their whole hearts.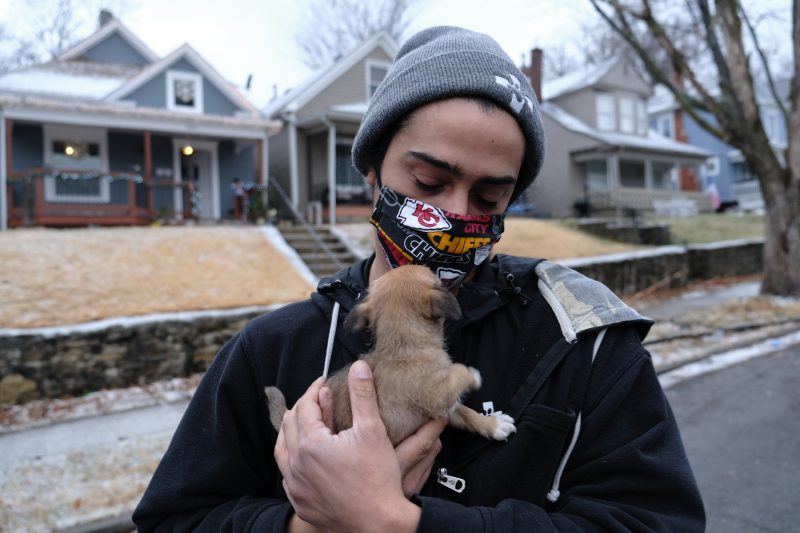 This is what Chris means when he says building relationships and connecting with your community is what outreach is all about. These four do whatever they can to support pets and people in our community, but they also support one another and the rest of our team.
If that's not outreach, I don't know what is.
"It's important to be out in the community because it speaks to what we provide to the city of Kansas City," Rae says. "When we're out, people know that the resources, the services and the programs we have are city-wide…not just here at headquarters at 59th and Troost."
If you need us, please reach out to [email protected] or 816-353-0940. Then you'll be able to see firsthand just how much passion this team has for bettering the lives of the pets and people in their community.