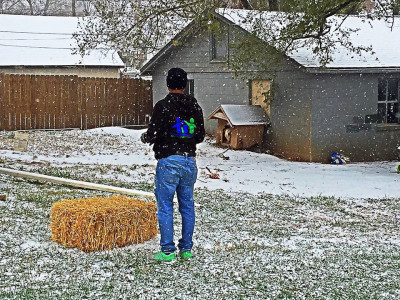 Winter brings on more than just cold weather. It brings with it the financial pressures of the holiday season, higher gas bills to warm your home, property taxes, and waving to you from just offstage is the hope of (or stress of) the approaching tax season. Tis' the season for all those things.
The winter months are stressful. The holidays are stressful. I mean, they're stressful for me, and I don't have kids or any family who lives in town. I spent many, many holiday seasons working retail, seeing bleary-eyed customers ambling through the aisles, carrying lists of prospective gifts in hand, faces gone pale with panic. The paper lists have mostly given way to notes in phones, or frantic text conversations with relatives about whether little Kaden/Jaden/Aiden would rather have this or that toy/video game/etc., but the feeling is the same.
Now, imagine this: you've been out of work for a month, but have managed to find a part-time job. The dilemma now is in deciding how to distribute the small amount of money you've managed to start bringing in. The holidays are coming up. You have brothers and sisters, nieces and nephews, and your parents, all whom you would like to purchase gifts for. You also have two kids who you'd like to give some sort of holiday cheer to. You have a big dog you got two months before you lost your job. Money is scarce and the budget is stretched then. You need to prioritize your spending.
Now that the weather is shifting, you know you should bring the dog in, but you don't have a kennel, and the last time you brought him inside at night he tore up the couch. You haven't had the money for training classes or the education to train him on your own. If you only had a garage or a dog house for him to be in when the weather isn't too bad. You're worried that if you don't get something for the dog soon, your neighbor is going to call animal control on you once the temperature drops. Then the dog might get impounded, and you'll have to pay a fine to get him out. You don't have money for that fine. You're risking losing your pet, possibly forever.
But you also have bills that have been piling up. One of your kids has a field trip in two weeks. The permission slip is sitting in a pile of papers in the other room; you haven't signed it because it you have to pay $25 for your child to go on the field trip, and that just hasn't been possible. In your mind, you're angry; your family deserves better than this. You're ashamed; why can't you provide for your family? Why haven't you been able to do any better than a part-time job? You find yourself staring out the window a lot, your mind racing with all the things you could have done differently. You're sleeping terribly; the house is extra cold because you've begun keeping the thermostat low to save money. There are extra blankets, but you've put them on the kids' beds. You don't want them growing up knowing what this has been like; they don't need to know, and shouldn't have to worry about it.
The truth is that it's not your fault. You're doing your best.
But what are you going to do?
That's the problem; there's nothing to be done. When you have limited resources, it's an unwinnable situation.
So think on this: take the stress you feel during the holidays, during your dilemmas about who to see and who to buy gifts for and whether or not there'll be enough time to get everything done, multiply it tenfold, then add to it the knowledge that there's no way for you to provide the things you need to provide. Then you begin to understand the calls we get during the holidays, the undeserved guilt at a situation that they feel like they should be able to get out of, but there's no light at the end of the tunnel, just a darkness they keep trying to move forward in because there's no other place to go.
That's why, when winter hits, we try to be ready to do what we can to alleviate some of that burden, to provide some small light. Our purview is pretty limited, obviously; we deal in pets, not children or debt relief or the root issue of poverty. And unfortunately, dog houses are one of the most expensive pet care items, so it's rare for people to donate them. Keeping a waiting list of folks who need dog houses, having donated kennels ready to go so that people can bring their pets inside, talking to the media to solicit dog houses and supplies, putting out calls on Facebook for donations, having dog house donation drives, referring our outreach clients to other agencies that can provide them relief for things we can't help with; these are all ways that we try to provide some small amount of relief for beleaguered, low-income families.
If you have a dog house or igloo that's not being used, consider donating it to us. Or consider making a monetary donation that we can use to buy dog houses and supplies for our outreach clients this winter. To know that there are people who care, who are working to help alleviate the burden of others, is a lifeline to those in need. It helps them know that they're not alone, regardless of how they feel in their worst moments. They deserve a happy holiday season like the rest of us. Not only are you spreading some holiday joy, you are truly making a life-long impact for a deserving family in your community. We often take for granted the simplest resources until we see someone who is struggling without. Help make this holiday season one to remember for pets and families in the metro area.