We fight to keep pets and people together because we know just how lost we'd all be without our own.
With that being said, we want you to meet some of the faces who are the reason behind our undying passion for pets. And the same ones who motivate us every single day to make the special bond we share with them possible for other people and pets.
Bartholomew and Ian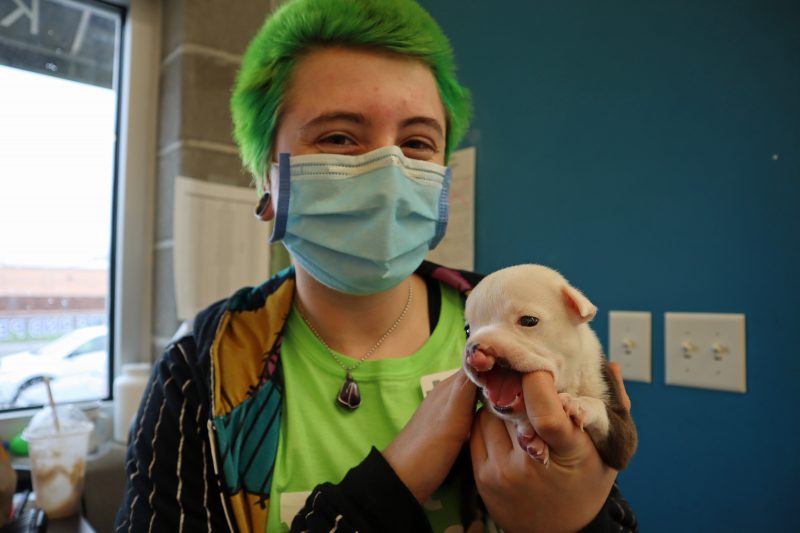 Ian isn't kidding when he says Bartholomew (Bart) literally fell into his lap unexpectedly. Just moments before Michelle, our CEO and founder, walked up to his desk with this newly-born pittie puppy with a cleft palate in her hands, Bart's mom was rushed inside our clinic in a kiddie pool where she received life-saving care after facing labor complications. Bart was one of three out of five of the puppies who survived (Mama is also okay).
"I immediately fell in love," he says. "I asked if he would be up for adoption and before I knew it, I had a puppy."
Ian has loved animals ever since he can remember. Growing up, he always had some sort of pet in the house, which is why he couldn't imagine his life without one. But, if you can't tell, there's a lot about Bart that sets him apart from other pets Ian has had.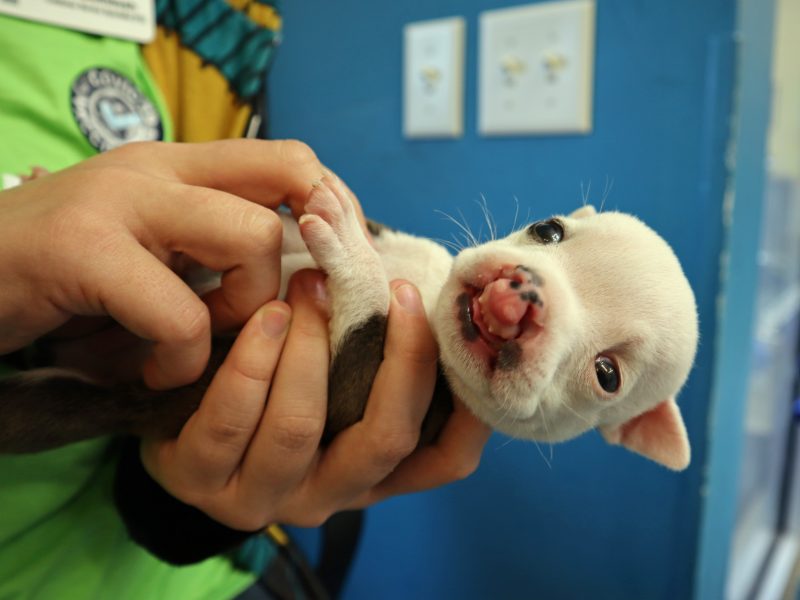 He has a cleft palate, which means he requires much more around-the-clock care than his other pets; he has to be tube fed every two to three hours until he's 8 to 12 weeks old and big enough to have corrective surgery. But every second Ian is able to bond with this little guy makes all the sleepless nights worth it. Plus, Bart's an "A+ cuddle buddy."
"He gives me such a sense of accomplishment because I look at him and all I can think is 'I did that,'" he says. "'He had slim chances, and he's beating them with my help.' It's a really beautiful feeling."
Knowing he's able to come to work every day and help others feel that same sense of wholeness is fulfilling.
"I've always wanted to make an impact in the lives of pets and people," Ian says. "And PRC has given me the chance to help in ways I had never imagined.
Charlotte and Beatriz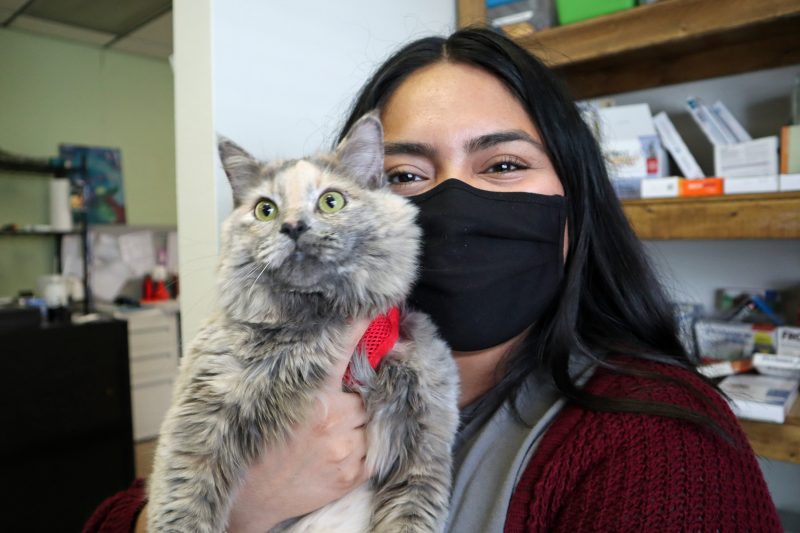 When Beatriz first started working here, she didn't have any pets. But when you work in a place like this, you're bound to take one home eventually. Oftentimes rescued pets come through here because people don't know where else to take them, and for two years Beatriz never found "the one." That is until Charlotte (Lottie) came along.
Michelle, who's always in the right place at the right time, brought in the tiny kitten, just shy of two pounds and covered in ticks, after a friend of hers saw it had been dumped on the side of a county road. Everyone in the organization was rooting for Beatriz to take her home, but she was still unsure.
"But by the end of my first day [fostering her]," she says. "I knew I couldn't let her go."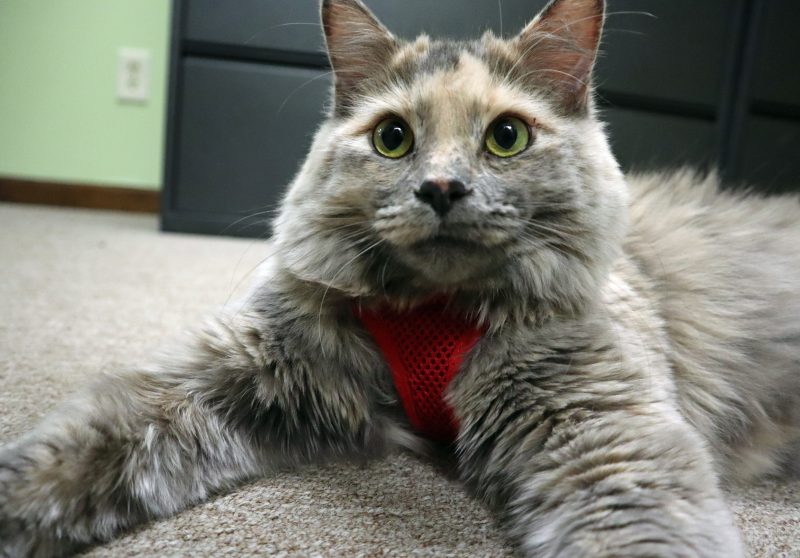 Every day Beatriz gets home from work, Lottie is waiting for her at the door ready to give her a hug; she reaches out her two front paws begging Beatriz to pick her up and carry her like a baby (which she can never resist). They love cuddling, naps, more cuddling and simply spending the whole day in bed enjoying the other's company.
"Of the few pets I've had, Lottie made her way into a very special place in my heart that I didn't know existed," Beatriz says. "I honestly can't picture my life without Lottie. She's not just my cat, but my best friend. My comfort."
Being able to see the bond other people have with their pets, and knowing she's helping them keep it that way, is one of her favorite things about this job.
"It's such a rewarding feeling."
Zero and Bre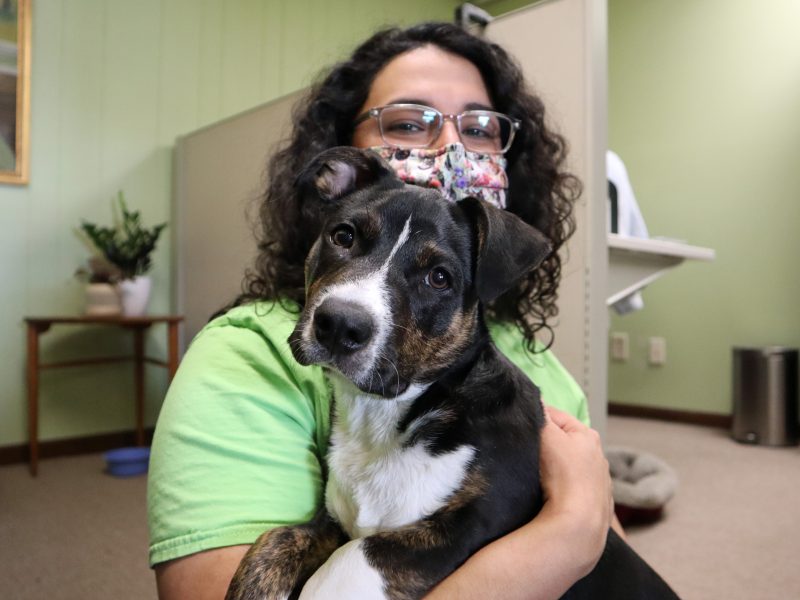 Bre and her husband had been talking about getting a dog for years, but never acted on it. The story of how she got Zero is bittersweet because he was originally supposed to be adopted by another coworker. When it didn't work out, she jumped on the chance to bring this Basset Hound pit mix home. Look at him, who wouldn't?
"He just seemed special," she says.
Dogs, cats, rabbits, birds, hermit crabs. You name it, Bre grew up with them. From a young age, she witnessed the therapeutic power of pets, how they could help heal the effects of trauma and deserve the best love and care possible.
Zero, however, is the first puppy Bre has ever had, and his gentle and easy-going demeanor isn't quite what she expected from a puppy. He loves running, playing tug of war and is a major snuggler.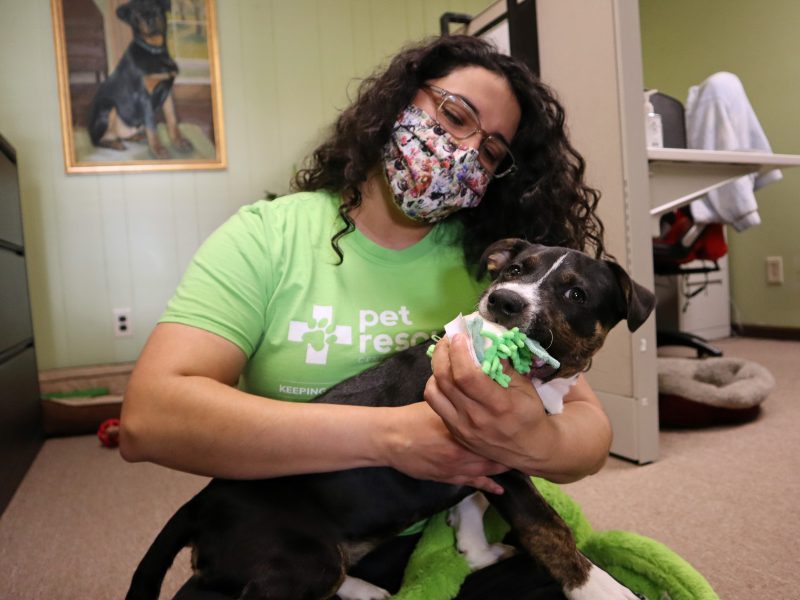 "He has already changed our lives in a big way," she says. "We're spending more time outside and being more physically active. Overall, I'm seeing symptoms of anxiety and depression starting to lessen. The power of pets is such a real thing."
But get this. Bre's background isn't in animal welfare, and she never expected to be doing this kind of work.
"But now, after almost four years of witnessing this team keep pets with their families and hearing stories about how much it means to them – sometimes literally a matter of life and death," she says. "I absolutely could not imagine doing anything else."
This type of work is purposeful and impactful, and makes her feel good to know she's a part of a team that truly makes a difference.
Squeaks and Dave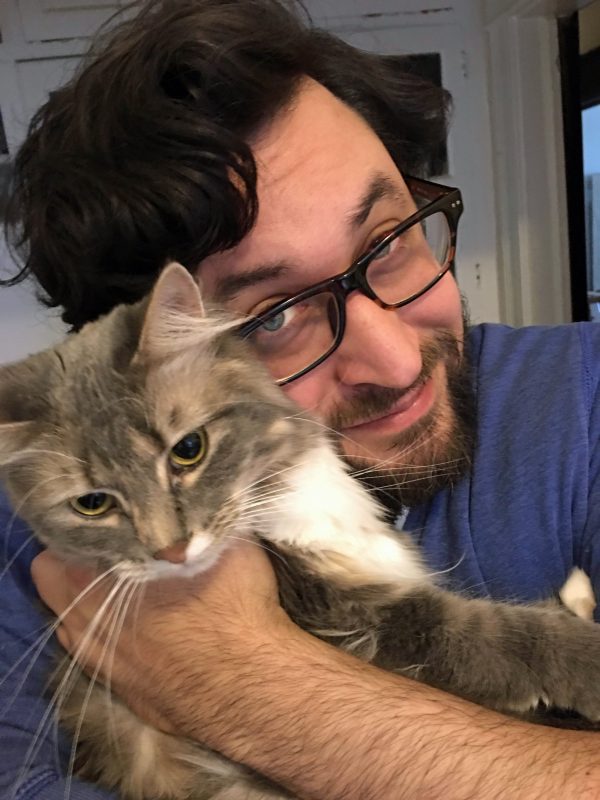 A friend of Dave's had a pregnant cat break into their basement and give birth to a litter of kittens. Among them was little baby Squeaks. After just having to put one of their other cats down, Dave saw her picture and immediately knew it was meant to be.
"My life would be a lot emptier without her," Dave says. "She's my constant companion, and she means the world to me."
Squeaks is the first cat Dave has ever had from a kitten and the first one he would end up calling his own. Their bond continues to grow after seven amazing years; when he's feeling down, she'll meow at him to follow her to her favorite spot where she likes to sit, get all the pets and hang out with her dad for a few minutes.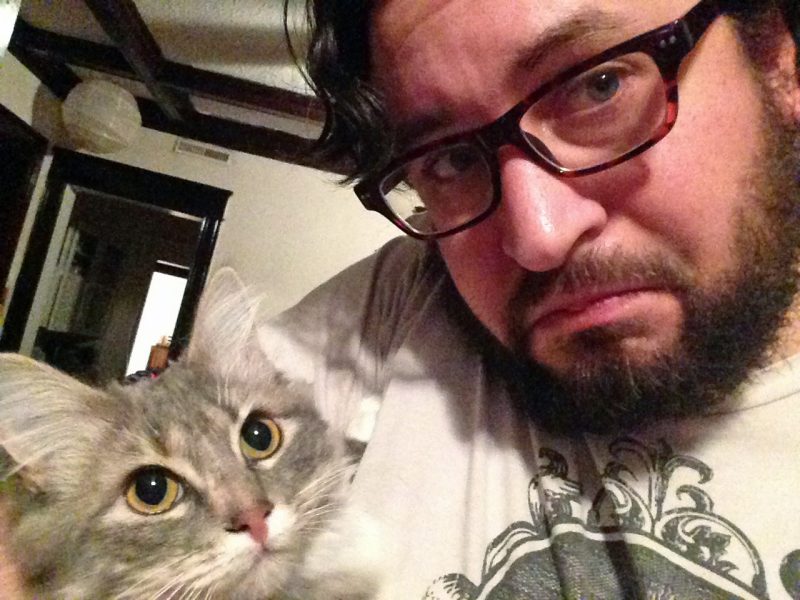 "She just knows when I need it," Dave says. "She knows that petting her fluffy self makes me feel better."
Dave didn't grow up with pets, however. His passion for them didn't develop until he met his wife and her two cats. As he grew as a person and started to really understand the bond between pets and people, his passion for helping folks with their own pets naturally opened up.
"It feels amazing to know that I'm helping people keep their pets happy and healthy so that they can be in loving homes where they have that same bond that I have with Squeaks," Dave says. "It feels good. It feels really good."
Candy and Amanda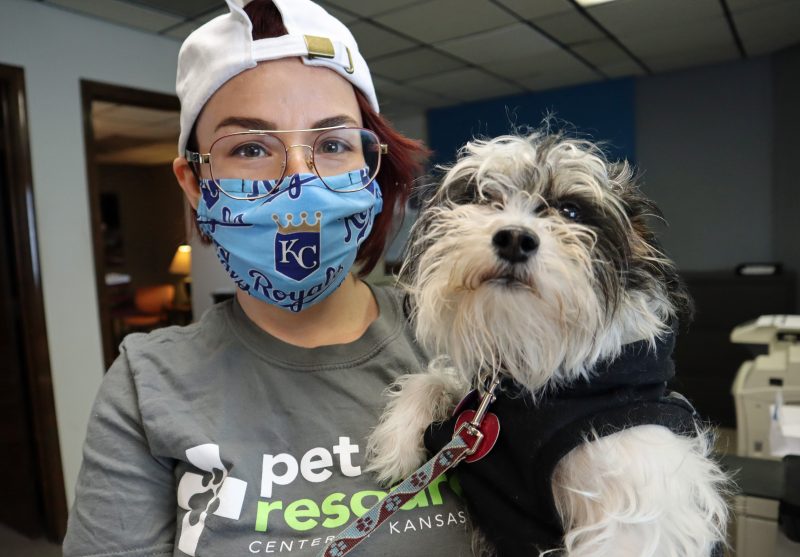 Amanda was not in the market for another dog when she met Candy. But when she went to a shelter with a friend who was looking for one, she saw this tiny thing shaking in the back of her kennel. Amanda moved closer, and so did Candy, who army crawled up to the door and put her nose up to Amanda's.
"I'm not an expert in dog law," she says. "But I got the impression it was a contractually binding snoot boop, so she came home with me."
They love to go hiking together, play disc golf, hang out at Bar K or just cruise around because Candy is a sucker for a good car ride. Her excitement about anything and everything is contagious. However, Amanda has never had a pet quite as chatty as Candy. That's a good thing though because Amanda knows Candy will always be there to listen (and carry on a full conversation).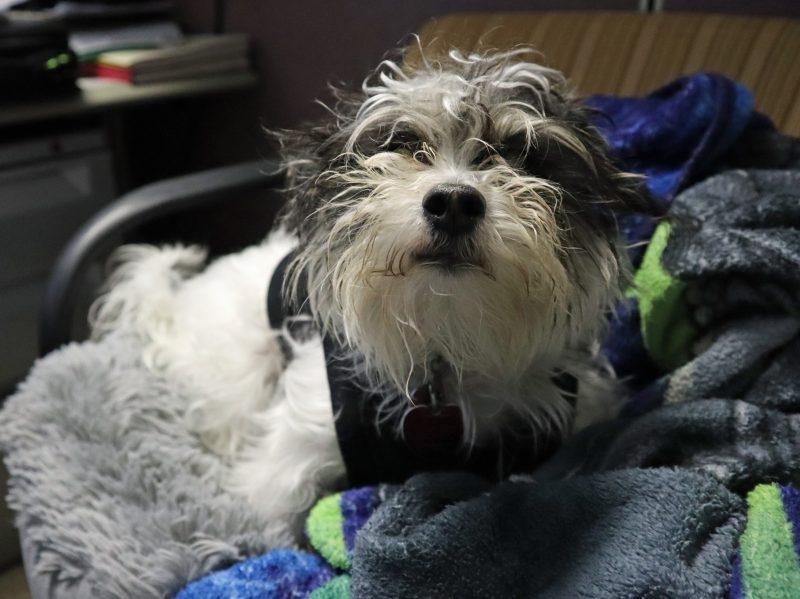 "That's one of the best parts about pets," she says. "They're so stoked to be in the moment with you. That zest for everything never fails to pick me up."
Amanda grew up with a ton of furry siblings because her parents could never turn down an animal in need; that's where she inherited her spirit of compassion and respect for all creatures, and that's what led her here.
"I honestly can't think of anything I'd rather do. As cheesy as it sounds," she says. "I'm thankful every day I get to wake up and do this."
And so are we all.