It's been a little over two years since Trenda lost her teenage son, De'Monte, in June of 2018. But his spirit follows her everywhere she goes because his dog, Chopz, hasn't left her side since the day he passed away.
"Whatever room I'm in," Trenda said. "He's there."
We first met the avid animal lover De'Monte after he started volunteering with our organization back in 2016. After catching up with his mom recently, I now know where he got his love for animals.
Trenda grew up with animals of all kinds: dogs, rabbits, hamsters, gerbils, you name it. She has nothing against cats though; she just could never have one because her brother was allergic. With a passion for animals running in their family, it's not surprising that De'Monte was able to convince his mom to let him get a puppy of his own.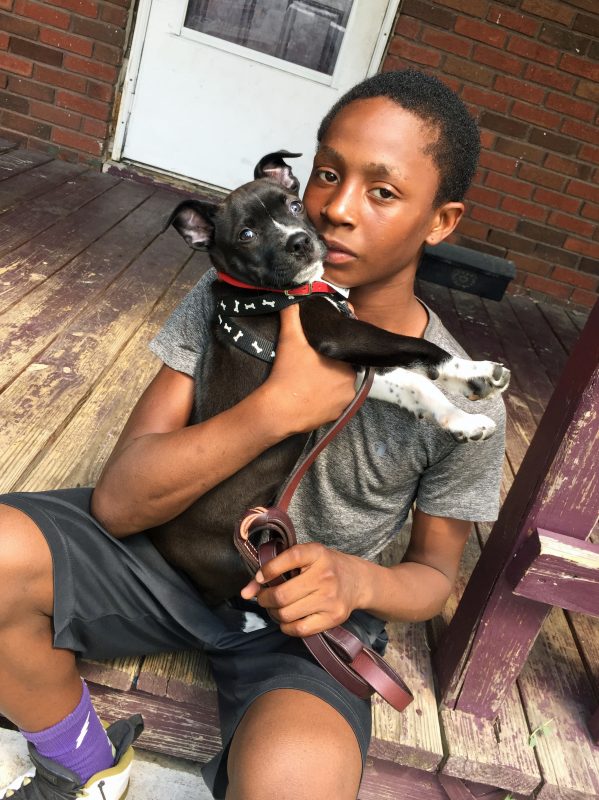 But with barely having enough money to put food on the table for her own children, Trenda told him no. That is until she received a selfie from De'Monte while she was at work one day, of course, holding an irresistibly-cute puppy that grew up to be the one, the only… Chopz "Booga Butt" Bear.
"Oh my God!" Trenda recalled saying after seeing the picture. "Is he going to be little?"
"Yeah, Mom. He's going to be little, and I'm going to take care of him and all that," De'Monte reassured her. And she couldn't say no.
However, he didn't grow up to be so little. And when it was time to buy his first bag of dog food, Trenda told him again that she didn't have the money to buy it.
"You need to figure it out," she said.
And so he did. With the help of our kindhearted, former director of outreach, Marlan, he pulled some strings and was able to give De'Monte a used, red Toro lawn mower, which he then used to mow his first lawn for $25. After that, he was off to buy Chopz's first bag of dog food and continued to do so for as long as they were in each other's lives.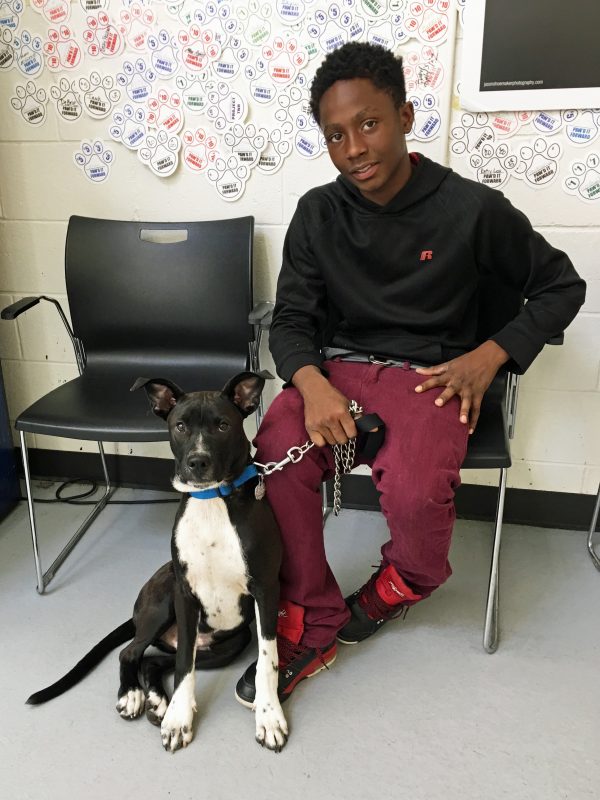 The two were absolutely inseparable. De'Monte would walk Chopz to our clinic all the time, and the two of them became honorary members of our SNKC family (before our name change).
Every single one of us was devastated to learn about De'Monte's passing, even if we didn't know him as well as the outreach team. And we wanted to make sure we continued to help take care of Chopz and Trenda, just as De'Monte did, so that they both had one less thing to worry about during the most difficult time of their lives.
Here our team is two years later helping out the pair that haven't stopped holding onto each other as tightly as they were before. And it's clear that Chopz doesn't plan on letting Trenda go anytime soon.
But Chopz, like Trenda, hasn't been the same.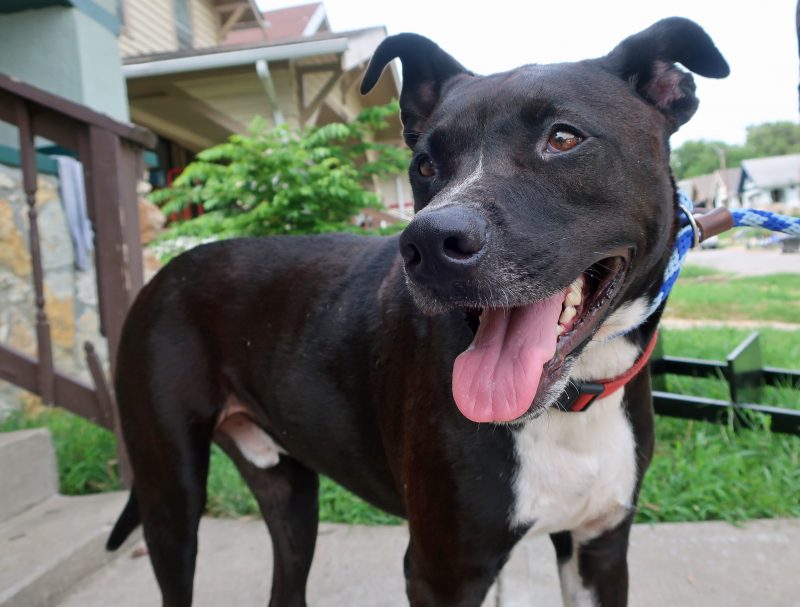 After his owner passed away, he became more protective and aggressive toward strangers because he just lost his favorite human of all time; that's more than understandable. Animals are the most sympathetic of us all, so it makes sense that he would do anything not to lose his second favorite human, Grandma Trenda, either. 
He was always fairly protective of those he loved, but never to this extent, Trenda said. When Rae, our community resource coordinator, would drop off dog food at their house on occasion, there Chopz was every time, barking fiercely behind the screen door and wanting nothing to do with us. We were sad to learn he wasn't the same friendly pup we used to know, but we didn't blame him for it either.
Fortunately, our last visit was different. He greeted us outside with a wagging tail, And although he was still a little skeptical of his old friends, we were able to pet him gently and get him current on vaccinations, which, if we're being honest, was something we weren't certain we'd be able to do. But that didn't stop us from trying.
It wasn't just your average mobile vaccination appointment. We visited with Trenda and her family for 30 minutes and made sure the two had everything they needed before heading out: treats, flea and tick prevention and even a dog house for her neighbor.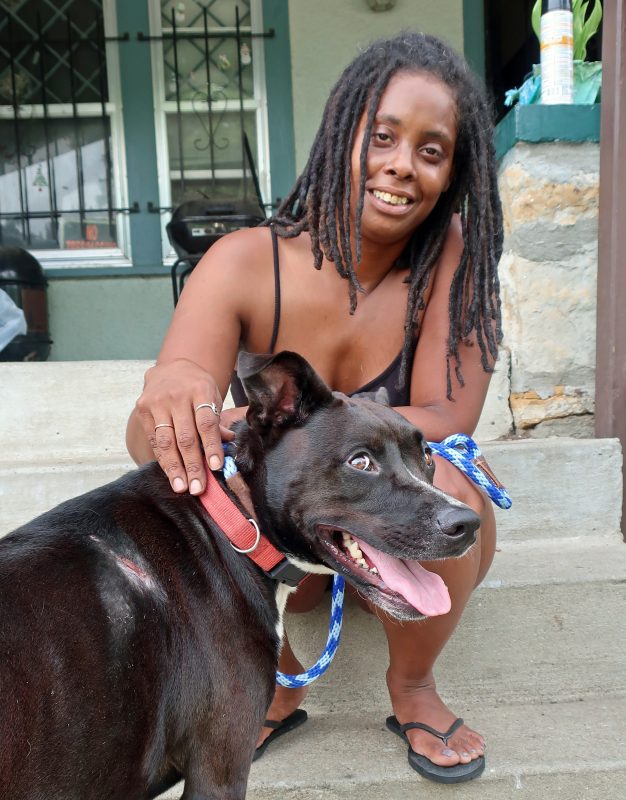 But my favorite part was seeing with my own eyes just how powerful the animal-human bond can be. The companionship Trenda and Chopz share is just as strong as the one he shared with her son.
"He dances with me, he wrestles with me," she told me as Chopz remained clung to her hip in the driveway. "And I'm single, so any guy I have come over, he's like 'Nope, not having it.'"
But one thing I will never forget is hearing about how that same animal-human bond lives on, even if a person or animal is no longer here on this earth.
"My son used to take one of [Chopz's] toys from him and run through the house. And he would run through the house after him," she said. "So now that's what Chopz does. He just runs back and forth through the house at top speed. And I'm like yeah, he's playing with Monte while he's doing that."
In many ways, Trenda knows De'Monte is and will always be there with them both. The protectiveness, the unconditional love, the silly antics that make her laugh…
"It could be Monte in him," she said. "Like his spirit."
#ThePowerofPets