After Gary lost his last dog, Frank, he wasn't in a place to even think about getting another dog. In fact, he thinks Frank's passing is why he had a stroke on the same day. There was no way he was going through that again, he thought.   
Enter Bear 
Gary is a disabled veteran. That's why he has a housekeeper who comes by from time to time. One day — knowing how much Gary loved dogs — she dropped by unannounced with a black ball of frenetic  puppy energy. She knew how good it would be for Gary to have another friend. It was the last thing he expected … but the timing was right and, well, a few seconds with Bear and you'd be hooked, too.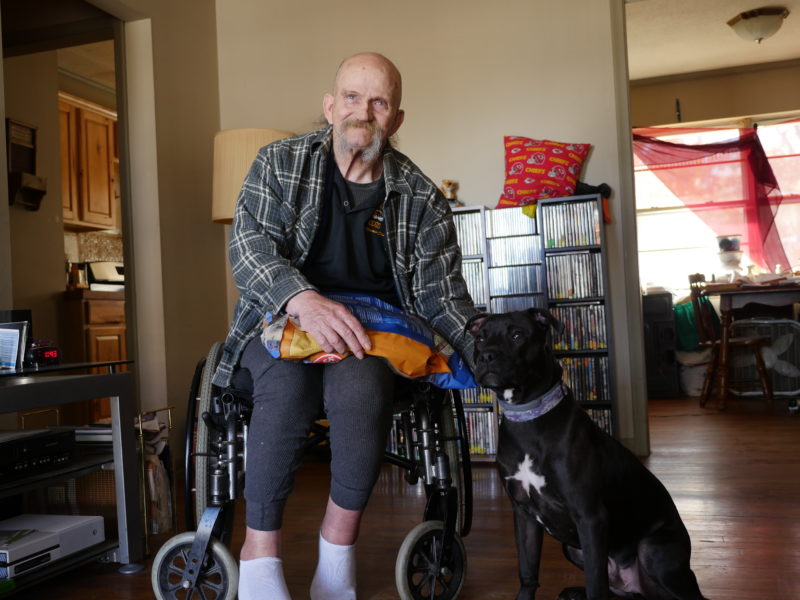 The human animal bond is the real deal
A dog or cat, as it turns out, can not only improve your quality of life, but will also help you live longer. Up to twice, in fact. And it makes sense really. When you have someone who loves  you  — unconditionally — chances are you're going to be motivated to take better care of yourself, be happier, more engaged, and feel better overall.
It's certainly working for Gary. That little awkward puppy is now a full-on, turbocharged, fur-covered bundle of crashing chaos. And love. Lots and lots of love. "He loves to snuggle," Gary says with a sparkle in his eyes. 
This is how you end pet homelessness
When Bear wiggled his way into Gary's heart, there was one problem remaining. It's one we hear regularly: "I am barely making it now, what can I do to take care of this beautiful animal?"
This is what we do … helping people and their pets (thanks to you…).
To see it in action all you have to do is drop by the PRCKC HQ any morning and watch the amazing front office and medical care staff greet each client, address each and every concern they have, then gently and professionally care for those animals as if they were their own. I'd brag on them anytime, anywhere, and to anyone. That's because they're the most dedicated, selfless group you can imagine … and they truly want to do right by every person — and pet — who walk through that front door. 
You could also ride shotgun (not literally) with our Families Better Together outreach team and see how they get out to homes and do whatever they can to make sure the animals and people who live in them are safe, happy, and healthy. (Guilty … in awe again).
It was the outreach team who started working with Gary, making sure Bear was fixed, had his vaccinations, was chipped and tested for heartworm, and would get some extra support along the way.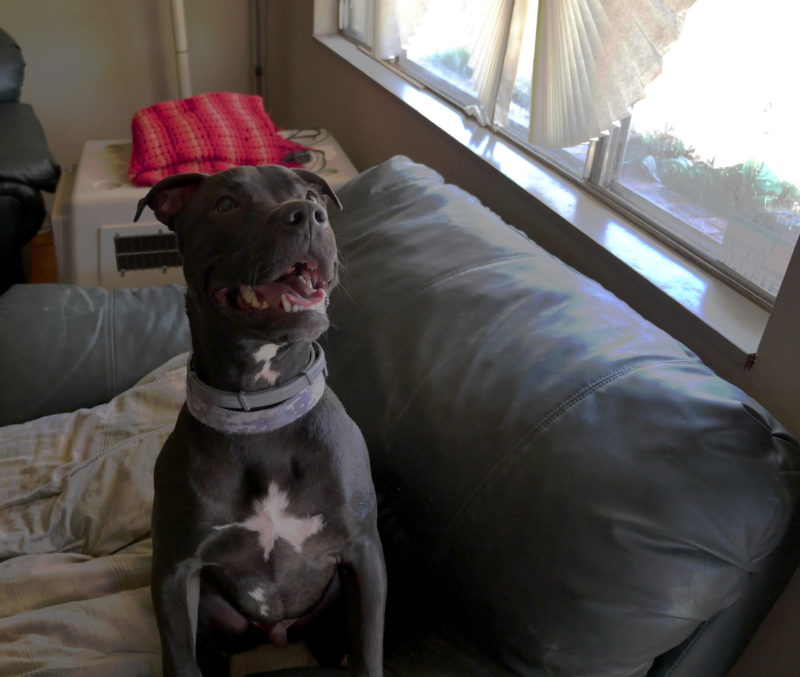 That means, instead of being homeless or in the shelter, Bear is playing a starring role in changing one man's life. Even Gary would admit that Bear is the reason he can smile again. And that beautiful pup is more than happy to do it. After all, he works for a little food, a ball, and some snuggle time.
Because that's just what dogs (and cats) do.