Our mission is to do our best for each patient who comes to see us.
That means we need a crack medical team who are capable of rolling their sleeves up and jumping into action every day. Two of our newest team members, Drs. Albrecht and Andelson, are on the job …
Q. Tell us a little about you
Dr. Albrecht – I grew up on a Nebraska farm and was lucky to be surrounded by animals at a young age. I attended University of Nebraska – Lincoln and the Iowa State veterinary program, then lived in Washington state practicing vet medicine in a mixed and small animal practice. I recently returned to the Midwest to be closer to family and am enjoying Kansas City life.
Dr. Andelson – I was born in Iowa and raised in both Iowa and Costa Rica. I went to college in my hometown, took a year off to work abroad after graduating and attended veterinary school at Iowa State University. On my days off you can find me spending time with my two horses, reading a good book or watching the latest bingeable TV show with my partner.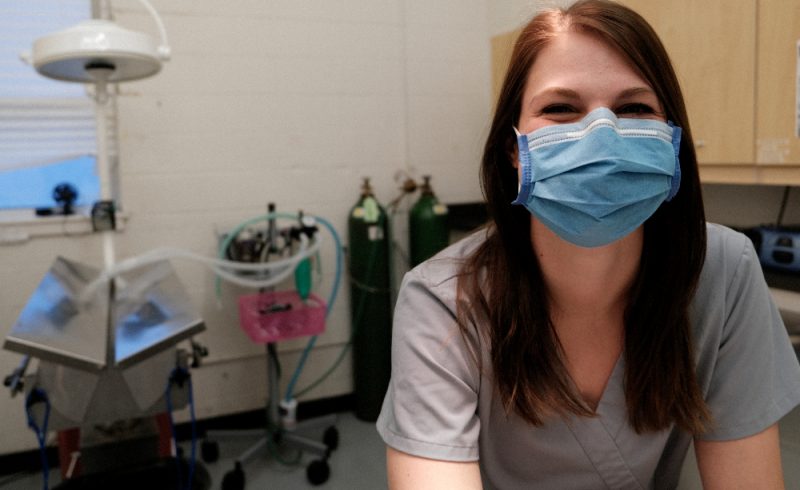 Q. Why did you become a veterinarian?
Dr. Albrecht – Growing up around animals there were many times a vet was needed. I always looked up to them as a wealth of knowledge and caring. When I was in high school, my beloved pony suddenly lost his vision. I had this pony since I was very little, learning how to ride and cart with him, but it was now past the point of being able to ride him because I was too big. We hurried him to K state, where the vet staff diagnosed him with brain cancer. It was hard news to get but everyone treated him, and me, with so much compassion. I was so thankful for the kind words and support on that tough day, that I strive to be that same rock for my clients and patients.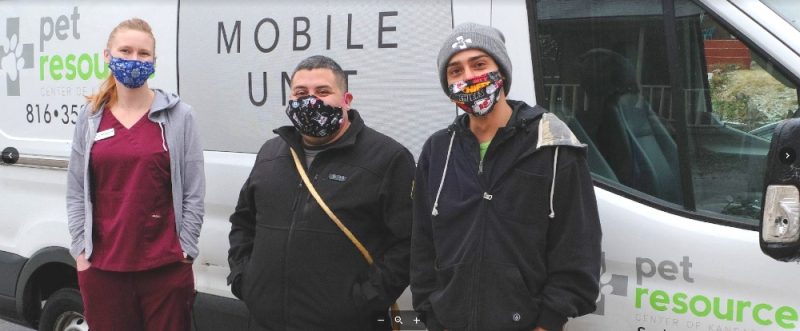 Dr. Andelson – I've always been drawn to animals and had all sorts of pets growing up. In third grade, I wrote in our daily school journal that I wanted to become a veterinarian. I can't remember ever contemplating another career!
"I want people to know that we treat your pet like it is one of ours. We truly want only the best for your furry friends!"

Dr. Albrecht
Q. What impact do animals have on us humans?
Dr. Albrecht – I find animals to be such amazing support systems to humans. They don't care what you did or didn't do in the day, just that you are home. They will listen and make you laugh, which is so important for our mental health. Also they motivate you to get up and be more active, which again is so important to our well being.
Dr. Andelson – Animals are incredibly enriching and important parts of our lives. They provide us with companionship, make us laugh, and comfort us in our times of loneliness. Their love for us is unconditional, which is a trait that is not nearly as easily found in our human relationships.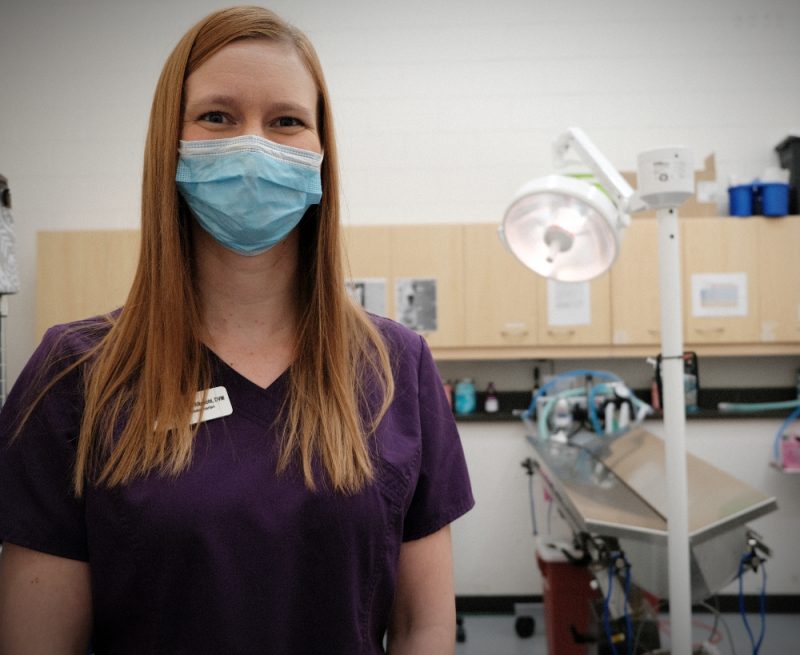 What led you to PRCKC?
Dr. Albrecht – The desire to help. I knew that through this opportunity I'd have the chance to grow while supporting my community.
Dr. Andelson – I strongly believe in preventative medicine as a way to keep both animals and humans healthy. PRCKC is really special in that it makes these services available to anyone who needs them. There is a very special work environment here that I have not found at other places. We maintain a high quality of medicine while being able to see thousands of animals per month. Despite the high volume, every day here feels fresh thanks to a great team!
Q. Why did you choose this over private practice?
Dr. Albrecht – I have worked in private practice, but this offered me the chance to grow and develop different skill sets.
Dr. Andelson – I came from general practice wanting to reach a broader client base. Working with PRCKC allows me to work with pets from households that may not have come to me in private practice. It's an entirely different daily flow here, which is a new and great challenge.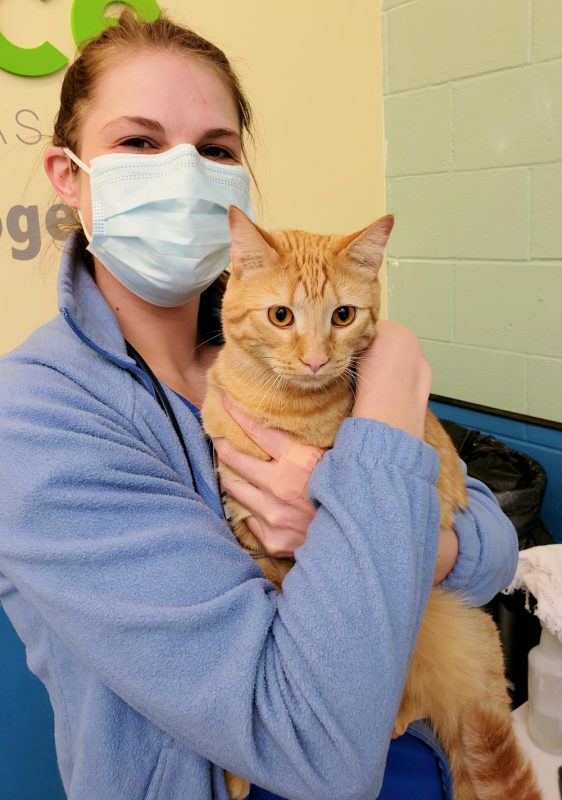 Q. What do you like about your job here?
Dr. Albrecht – The variety! Every day I get to be involved with different people and pets. Whether it's in the surgery suite, doing wellness exams/vaccinations, or out on mobile; I get the opportunity to help and touch so many lives.
Dr. Andelson – Despite the high volume of pets we see each day, the atmosphere here is relaxed and so friendly. I get to laugh and smile every day. I also get the pleasure of working with a team that wants to be here and is really good at what they do.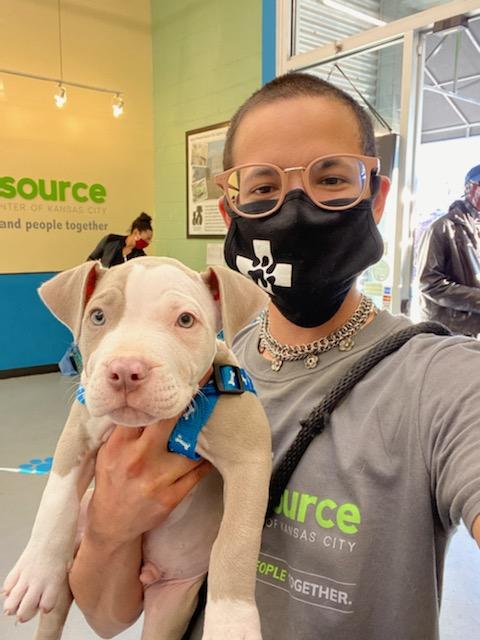 Q. What's the best part of working at PRCKC?
Dr. Albrecht
The best part is getting to see a puppy or kitten develop into a healthy, well balanced adult and knowing that I'm a part of that journey.
Dr. Andelson
I'd be lying if I said I didn't enjoy cuddling the puppies and kittens that we see! In a broader sense, the best part for me is knowing how many more pets in the community have received preventative care after just one day at PRCKC.
"We truly want only the best for your furry friends!"

Dr. Albrecht
Q. What do you want people to also know when it comes to the staff here?
Dr. Albrecht
I want people to know that we treat your pet like it is one of ours. We truly want only the best for your furry friends!
Dr. Andelson
Our primary mission is to do right by all of the pets and people with whom we interact on a daily basis. While puppies and kittens are a part of what we do, the job can be really challenging, both physically and emotionally. At the end of the day, we are all still human. Please remember that when you are frustrated and know that we are doing everything in our power to make things better for our pets and our community.