This is a story about perspective. It's about loss and pain and struggle. But what stands out is that it's also a story about unconditional love. And that friendship really matters.
What doesn't matter is how many legs those friends happen to have.
…
I first met John sitting in our waiting room. Ramona, our community cat and resource coordinator, told me about him.
John wasn't hard to identify among the chaos of the wellness clinic waiting area. Among the chairs scattered by a busy morning, the dogs tugging at leads, and people talking and laughing, John sat looking down, his belongings fanned out around him like he was taking inventory. There was a hammer, some nunchakus (Okinawan martial arts weapon made with a rope connecting two sticks), a small pad dirtied by use and time, some twine, and a neatly folded but tattered cloth. Some of it, I assumed, was for his protection from the uncertainty he surely confronted in his life on the streets (mostly … more on that later).
Despite the commotion filling the room, Leroy, John's 9-year-old Chihuahua, was drifting off in his arms. I explained to John that I wanted to tell his story because it illustrated two things that we're trying to share with others. First, that judging people based on their situation has nothing to do with how they care for their pets. And John was the perfect example of that. "I make sure he eats," John told me, "even if I don't."
I could tell that Leroy looked fit for a senior dog who lived the way John did. He was clearly well cared for and loved John very much. The feeling was mutual.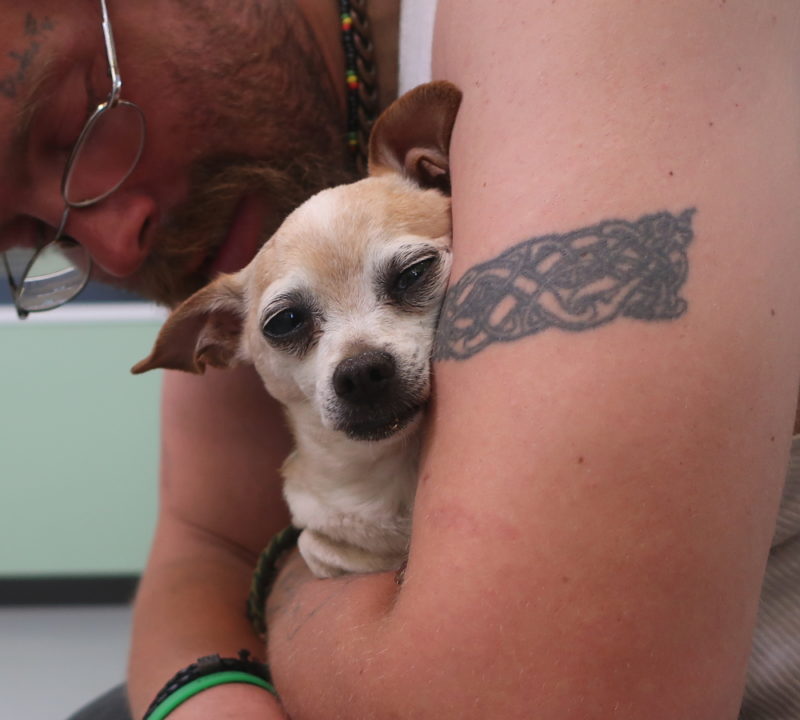 Secondly, John's story helps us talk more about the human animal bond. We've said it many times before but it bears repeating. People who share their lives with animals are happier and healthier. Sometimes, though, it really is much simpler than that … people need a family and for some, like John, a dog or cat is the only family there is. It can even be the difference between life and death. "This little dog stopped me from killing myself," John said without hesitation. "Because I care about him and he needs me."
John's words hung there and all I could do was look at the floor. When I tried to speak again, nothing would come out. I was thinking about all the trivial things that get me worked up on a daily basis. You know the ones, the things we all get anxious about but that don't really matter. Here I sat with a guy who has no family, didn't know where his next meal would come from, living on the street with a 9-year-old Chihuahua, and my life was often focused on something meaningless.
Like I said, perspective.
Background
There's more to John's story. A lot more. About how he ended up on the streets at a pretty young age, forgotten by his family, failed by the system, ignored by society. How he and Leroy hopped trains, traveled the country and crossed into Mexico. And how he's now found a place to live with another man, a tenuous arrangement at best. "I'm going to have to leave, I think," John offered. When I asked where he'd go he told me back to the streets under a bridge someplace. Or maybe the woods, he said. It's safer there and Leroy can serve as his eyes and ears, John added, especially when it's dark. "He won't let anyone near me."
For 16 years John has made his way in the world the only way he knows how, propped up – even saved – by his faithful friend, Leroy. Of course, we're glad to help people like John with the care his little dog needs. In this case, vaccinations, a little dog food, and a city license (John wanted to be in compliance with the law). We're also glad to share his story, to let people know that we're here to help anyone as long as they're willing to provide a loving home for a dog or cat.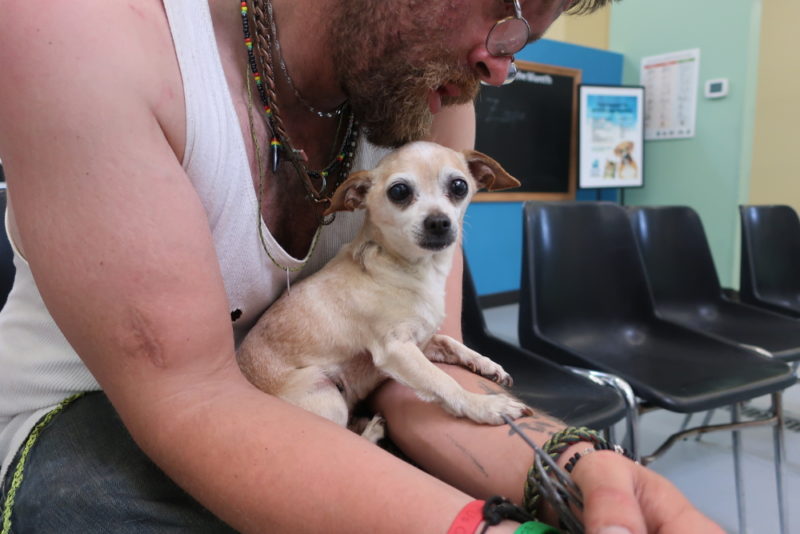 John proves one thing, for sure. That judgment of someone based on their situation doesn't tell the full story of who that person is or what they've had to live through. John also proves that someone who is mostly homeless can make a perfectly caring home for a dog … in their heart.