Mark and Jaclyn had to uproot their home and the entire life they had just begun to build by the short deadline of August 1. However, there was one thing – make that 14 things – they couldn't take with them, but they couldn't leave behind either.
After being given 60 days to move out of their home so it could be demolished to make room for more apartments near the Plaza, Mark and Jaclyn lost all hope. Not only because this move postponed their wedding plans or gave them one more thing to worry about during the global pandemic. But because it meant the cat colony they'd been caring for was going to lose their home, too.
"Leaving them was the hardest part about leaving this place," said Jaclyn as we were all huddled near the garage they'd been staying in, anxiously waiting for one of the kittens to enter the trap.
—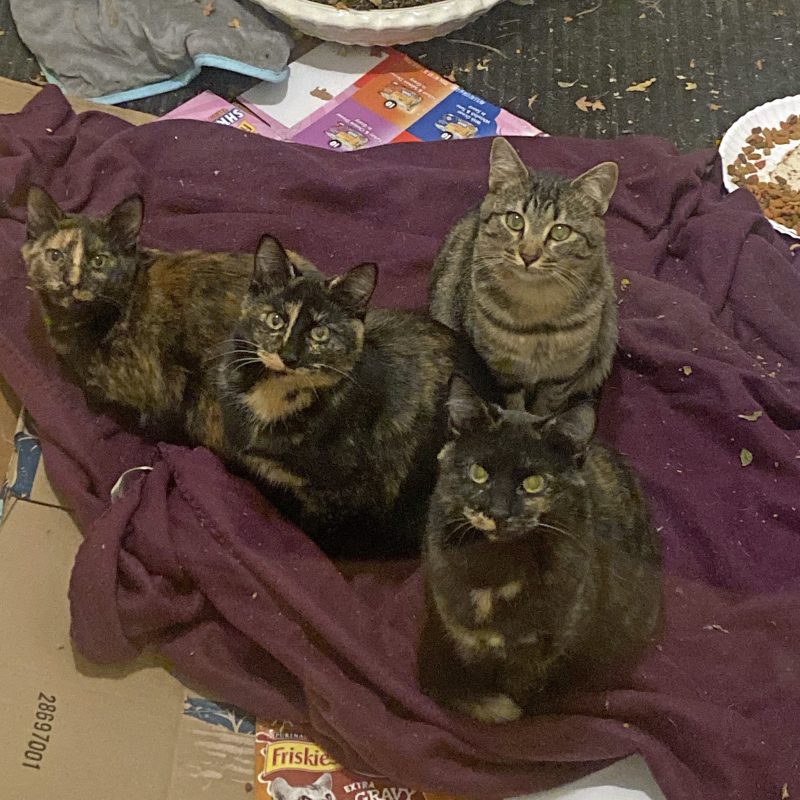 It all started with a cat they named Orion back in February of 2019. It was a winter day when Mark spotted Orion trying to catch mice on a sheet of ice outside their house. The couple began feeding her daily, and when she disappeared for a couple of weeks, they imagined the worst had happened. They were surprised and relieved to see her return, and even more so when they found out she brought four newborn kittens with her. These kittens grew up to be Orange Girl, Nice Stache, Mean Stache and Trixy.
It isn't easy building the trust of feral cats or kittens for that matter; slowly but surely they started to express more curiosity in the humans that were giving them food. Some were more disinterested or skittish than others, but Trixy grew up to be the sweetest of them all. And the same sweetheart that trusted them enough to give birth to four kittens on their back porch in April of this year.
"We weren't even sure if we would get to pet her or be around the kittens," Mark said. "But we just kept feeding them and getting closer and closer. Trixy was the first one to let me pet her."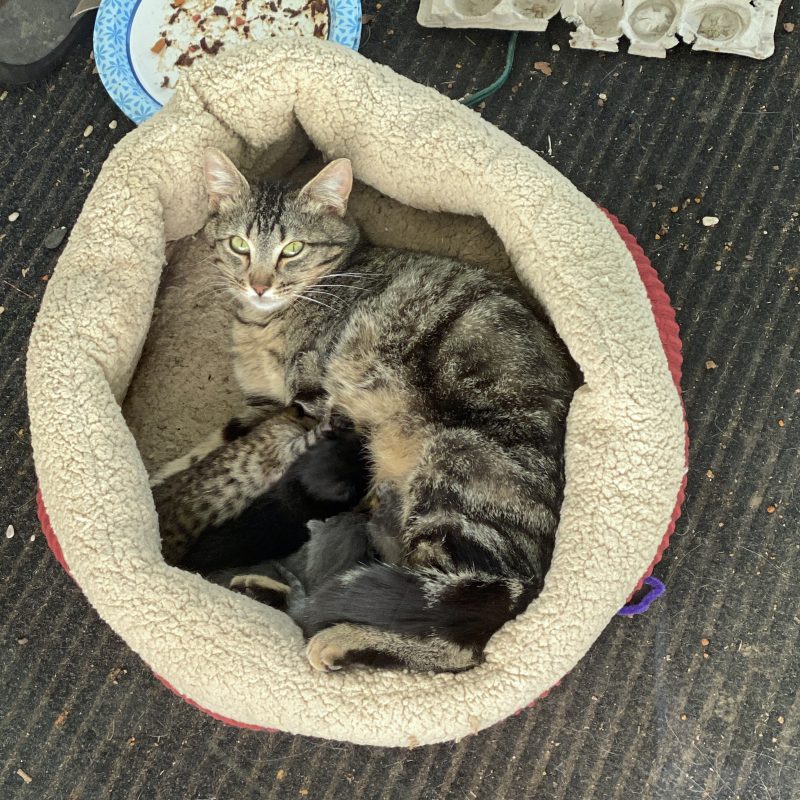 While she was raising her kittens inside the sunroom on their back porch, the two other females from Trixy's litter gave birth to even more kittens in their detached garage within weeks of each other. And before they knew it, Mark and Jaclyn had 14 little and big mouths to feed with very little notice. But they weren't going to give up on them, even if that meant buying extra food to make sure they didn't have to worry about where their next meal was coming from.
The couple didn't learn about trap-neuter-return (TNR) until recently in July after all of the females had already had their first litter of kittens. Mark said he'd been communicating with a TNR coordinator from a local rescue organization about getting the adult cats fixed and finding placement for the kittens, but COVID-19 inevitably affected their abilities to come out and help trap the cats in person.
With TNR not a feasible option at the time, it didn't take long for the kittens to settle in. The majority of them would soon be found hanging out in their kitchen, chowing down on food and even using the litter boxes they had set out on the porch. They learned to trust Mark and Jaclyn just like their moms did, and it didn't take long for their different personalities to shine.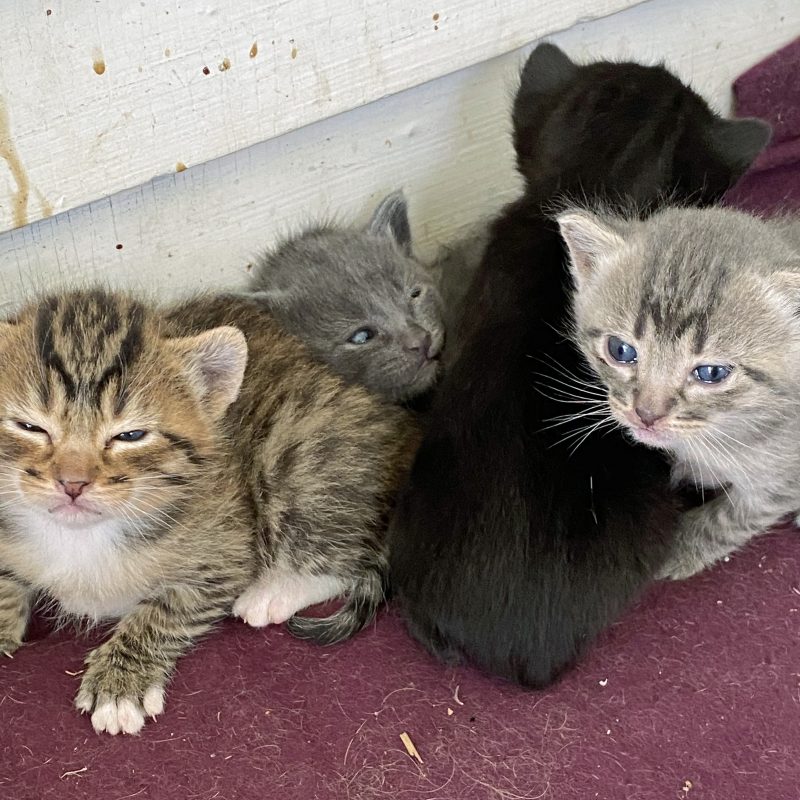 "It would probably just look like a bunch of stray cats behind a cruddy, old house by the Plaza, but they were just so much more," he said. "I was amazed at how they transitioned from feral all the way to Trixy sitting on my lap every night and me being able to pet her."
The both of them have loved cats their entire lives, but they never expected to grow this attached to every single one of the cats in their colony. And they didn't think anything differently of them in comparison to their three indoor cats. They were still their pets.
Little accidents would happen here and there that would panic any pet owner, like when one of the kitties, which they named Slick Rick, fell into a bucket of oil in the garage and they bathed him with Dawn dish soap until the water ran clear. But the moment that made them realize just how much the cats actually meant to them was when Tigey, one of Trixy's kittens, went missing for four days, and they were terrified they had lost him for good at only 5 weeks old.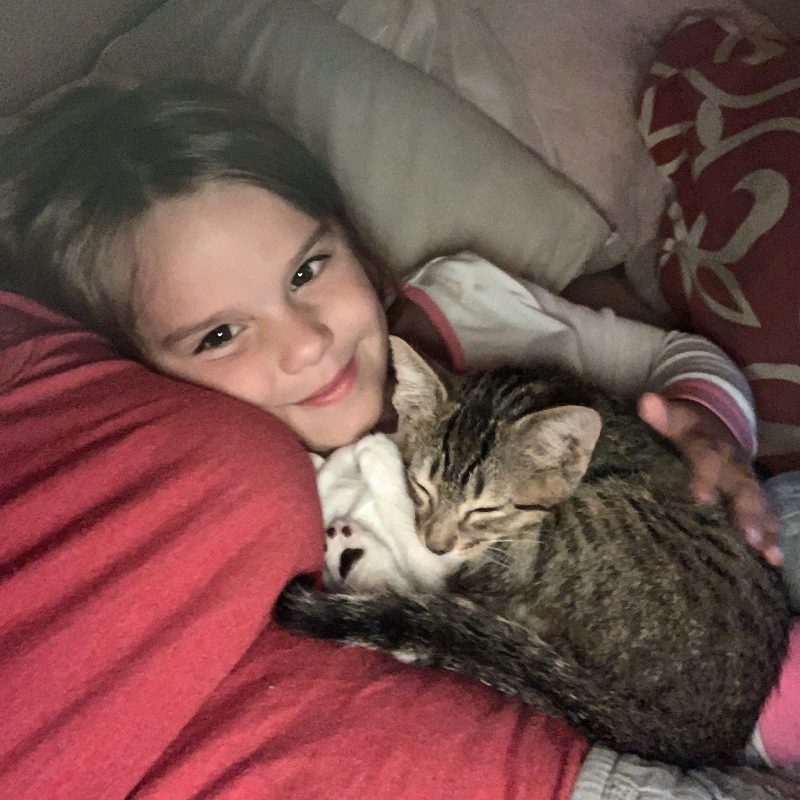 "That moment when we thought we lost him… We were all devastated," Mark said. "That was the big moment where it really kind of sunk in."
They were their family, and they weren't going to leave them behind.
—
Last Thursday, Anna, one of the customer service representatives in our call center, got a call from Jaclyn who was yearning for an answer that she hadn't found anywhere else.
She wasn't looking for placement availability in a shelter. She was looking for hands-on support. And we knew right away we wanted to help.
Within five minutes of the despairing conversation, Rae, Jaime and I were out of the door, our hands stacked high with cat traps, carriers, canned food, a net and anything else that would aid us in catching over a dozen cats and kittens in the spitting rain.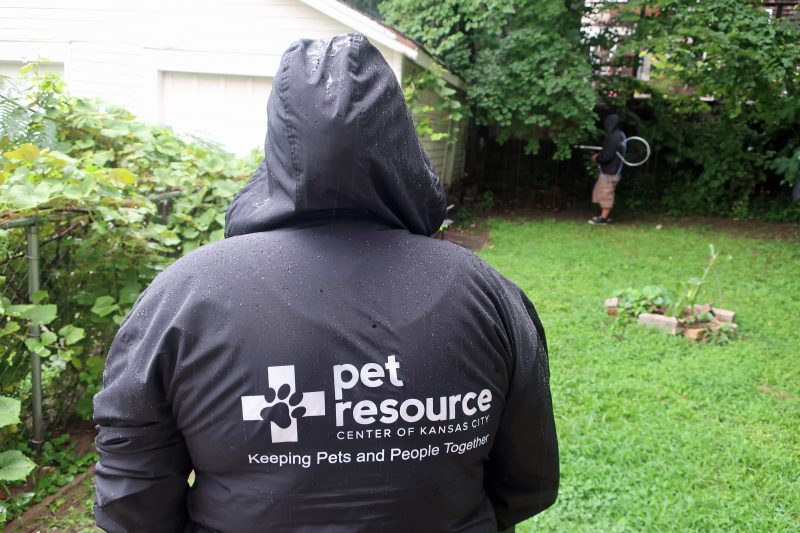 "Even if I have to tie myself to the front of the house, we're getting those cats out of there," Jaime said.
Before we showed up to help, Mark and Jaclyn told us about how they had tried to catch them on their own. But the cats, being the naturally tactical beings they are, outsmarted them and escaped before they could execute their plan, even if that meant pushing out one of the windows on their porch.
"I had a little breakdown and was just like, 'I failed. I can't do it. They're going to be in trouble. There's nothing I can do now,'" Mark recounted. "And it was just so sad… Kind of the same feeling when Tigey was missing."
But then Jaclyn got a hold of us. And soon enough, what they thought was going to be one of the saddest days ever turned out to be the most hopeful. Exhausted from spending the past week moving and worrying endlessly about their situation during their down time, it didn't take long for their smiles to return to their faces like clockwork, which was as relieving for us as it was for them.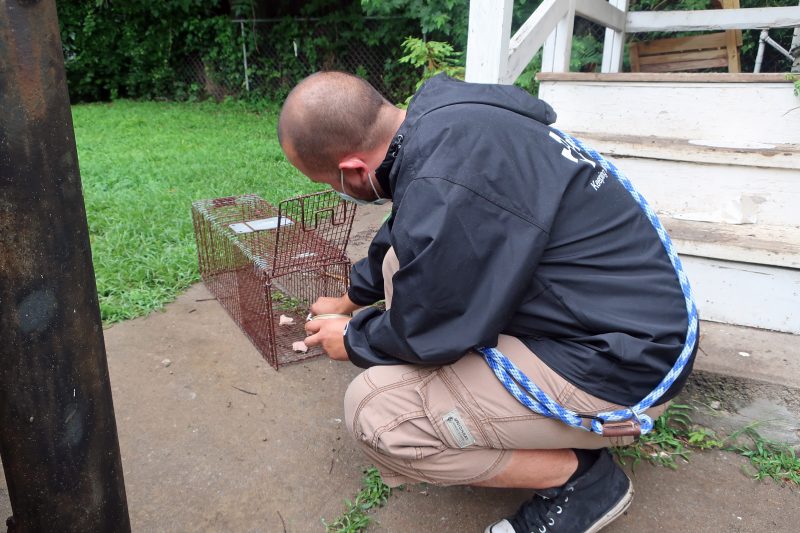 "We were just afraid they weren't going to make it," Mark said. "I knew they probably would have been fine. We just didn't want to leave them."
Catching them all during our first visit proved to be impossible, so we set three traps: one inside the garage, one outside of it and one on the back porch. And Jaime remained on call to transfer the felines back to our clinic as they were caught.
Luckily, we were able to catch 12 out of the 14 over the span of the weekend, who will hopefully find loving families to call their own very soon.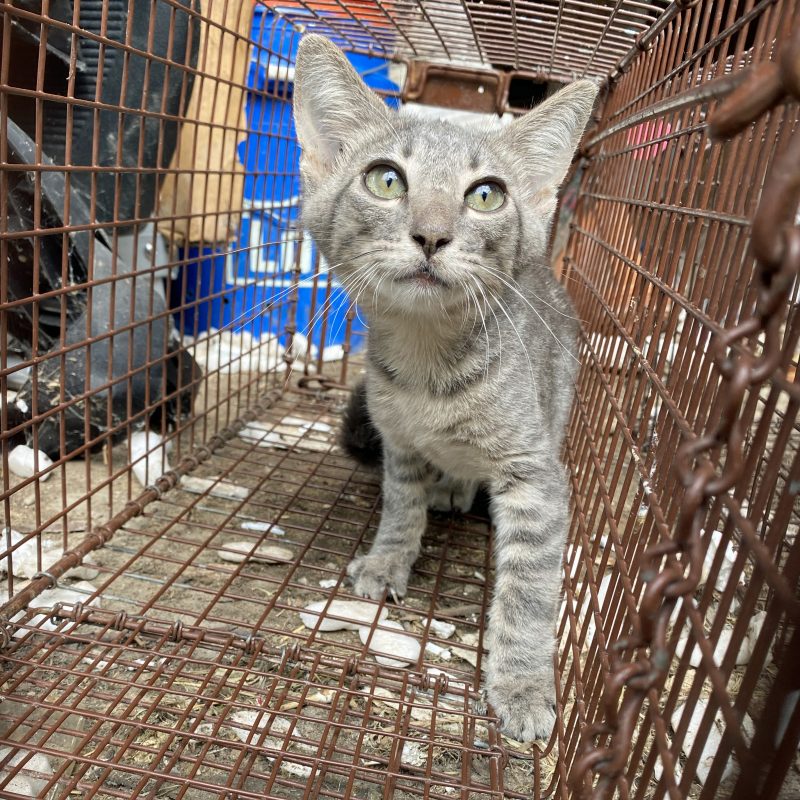 They owe it to Mark and Jaclyn for preparing them for these future homes, but the two did much more than that. They saved their lives. Now, they might argue with us and say that we did all the work, but if it wasn't for the unconditional love they have for them, they might not have called us.
In this circumstance, it wasn't so much about keeping pets and people together, which is something we always prioritize here at Pet Resource Center of Kansas City. It was about helping a family give the pets they love a new opportunity to do so.
"We'll miss them so, so much," Mark said. "It hasn't really sunk in yet because I'm still radiating with happiness from [PRCKC] doing this, but I'm sure next week it will really sink in. It's going to be sad, but it's so different knowing they'll be going to a good home instead of being on their own."