The holidays are shockingly not far away at all, and many of us will be spending the holiday with family and friends, two-legged and four-legged. If you will be traveling with your pet (by car or by plane), keep in mind these helpful tips to make the trip less stressful for you and your fur baby.
Preparing for your trip
Schedule a check-up
A week before hitting the road, schedule an appointment with your veterinarian. Pet Resource Center of Kansas City Veterinarian Dr. Naomi Lavelle says it is very important that your pet is up-to-date on all vaccinations, flea and tick prevention and has a microchip with your current contact information. If you know your pet has anxiety when traveling, discuss different remedies or medications for your pet to help keep them as relaxed as possible. For air travel, make sure to have a health certificate that was received within 10 days of travel date.
2. Keep their paperwork with you at all times
Your pet might not be too fond of traveling, so please make sure to have their paperwork and identification handy in case of an emergency. Dr. Lavelle says this should absolutely include their up-to-date vaccination records and rabies certificate, as well as proper tags and contact information attached to their collar.

3. Buy a crate appropriate for the means of travel
There should be enough room inside of the crate for your pet to comfortably sit, stand and turn around in and be properly ventilated. If you are traveling by car, a crate is ideal, but you can opt out for a safe harness that attaches to a seat belt. You can also bring along pillows or blankets to make them more comfortable and give them a little piece of home to help cure their road trip blues.
If you are traveling by plane, Dr. Lavelle advises to avoid keeping your pet in the cargo hold if you can; if there is no other option, the crate should be USDA-approved, so that your pet will be secure for the entire trip. It should be labeled with "Live Animal" and lined with newspaper in case accidents happen. Do not padlock it in for emergency purposes, but please make sure it is securely latched.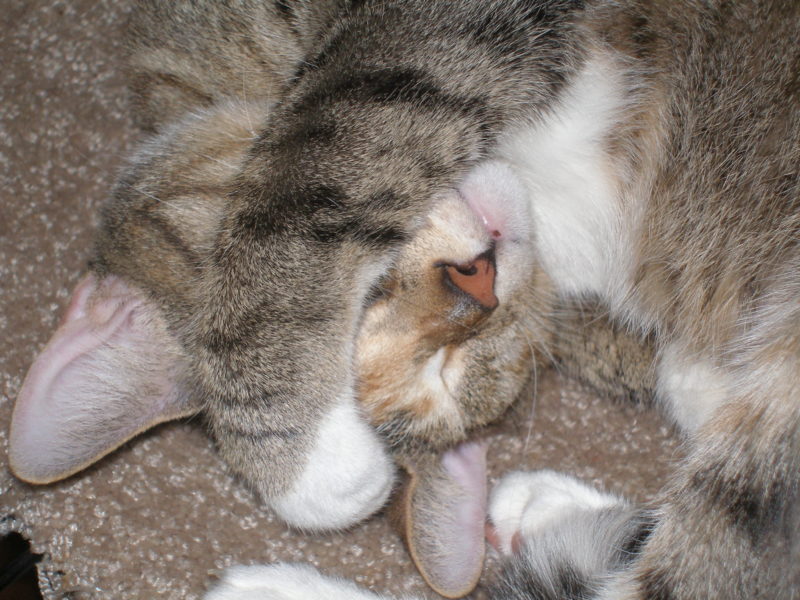 4. Double check pet accommodations
The last thing you want to encounter after a long, stressful trip is to realize that where you are staying doesn't allow pets. Whether that be at a hotel or with a family member, make sure they are comfortable with you bunking with your pet. If your animal is fearful of other pets or people, Dr. Lavelle wants to make sure you communicate that with those you encounter throughout the trip for the safety of others and your pet.

5. Wear them out before you head out
Playing with your dog or cat beforehand will help tire them out and hopefully relax or sleep for the majority of the trip. Make sure not to wear them out so much as to where they need a lot of food or water to replenish their energy before the trip. This could cause them to get sick during travel, which would not be fun to clean up.
6. Lighter meals ahead of time
Speaking of food, make sure to feed your pet smaller meals about 3-4 hours before you leave; a combination of nerves and motion sickness could make that meal come right back up. Water should be fine.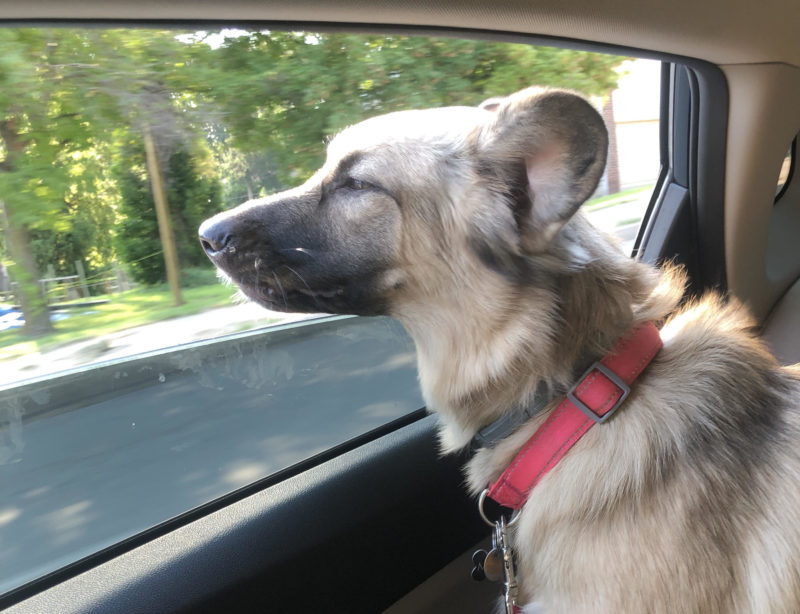 7. Build their comfort level and confidence
Just like people, traveling can make your pet nervous, too. If you are going on a road trip, start practicing car rides with your pet about a month in advance, starting with short trips around the block and building up to longer 20-30 minute trips. You don't want to overwhelm them by trying to cram it all in one week; that could make the thought and stress of traveling even worse.
During the trip

8. Prepare a travel kit
When we are preparing for a trip, we make sure to pack all of our favorite snacks, a bumpin' playlist and a cozy blanket or pillow. Make sure to bring the essentials for your fur baby, too: food, bottled water, bowls, plastic bags, medications (if applicable) and a first aid kit. Dr. Lavelle says bringing along a harness and leash is more reliable because collars can slip off. But also don't forget to bring the luxuries: blankets or beds, treats and their favorite toys (that aren't distracting for the driver). This will help them feel more relaxed and realize that traveling isn't so bad.
Same goes for your pet if you are traveling by plane. If they do need to be placed in cargo (again, being in the cargo hold is not suggested), securely tape food to the side of the crate, so workers can feed them throughout the flight. Freeze water in a bowl, so it won't cause a mess and will be all thawed out by the time they get thirsty.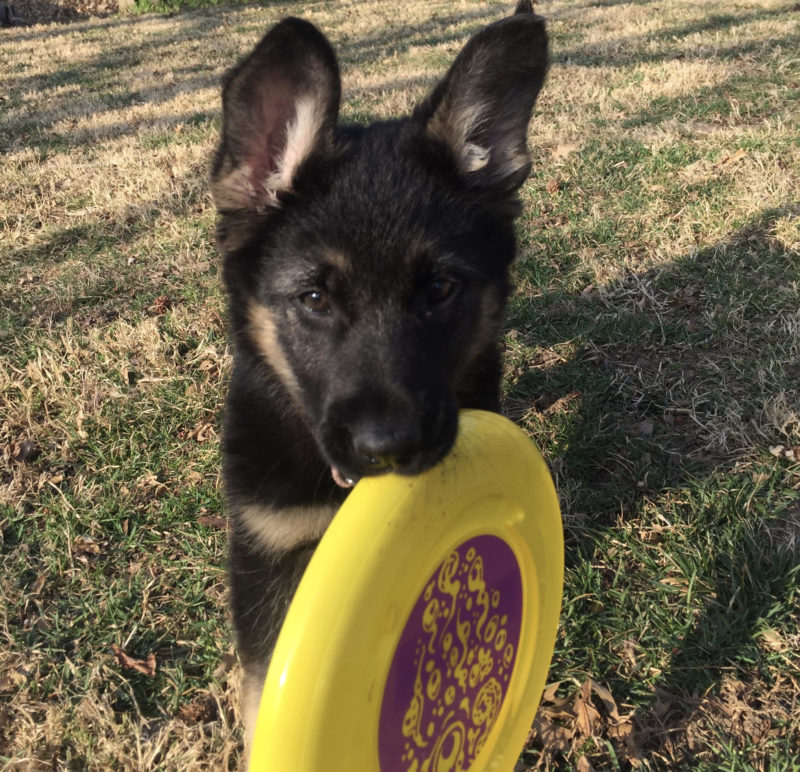 9. Make pit stops
The last thing you want is for your pet to have an accident in your car. Make sure to make pit stops along the way, letting them use the restroom and feeding them lighter meals while outside of the moving vehicle. This will also help them get some fresh air, exercise and relieve some stress.

10. Don't leave your pet in the car
This can put your pet in danger during especially hot and cold temperatures and will prevent them from accidentally shifting gears if the car is running. If your pet has separation anxiety, they could cause damage to the interior of your car.
After the trip

11. Reward them for good behavior
One of the best ways to train your pet is by rewarding them for their good behavior, especially for conquering something so nerve-wrecking like traveling. Give them a treat (or four) and lots of loving for being a good sport, so they will grow more accustomed to traveling in the future.
12. Repeat all of the above
You're halfway there! All you have to do is follow these same tips, and your trip should be a breeze.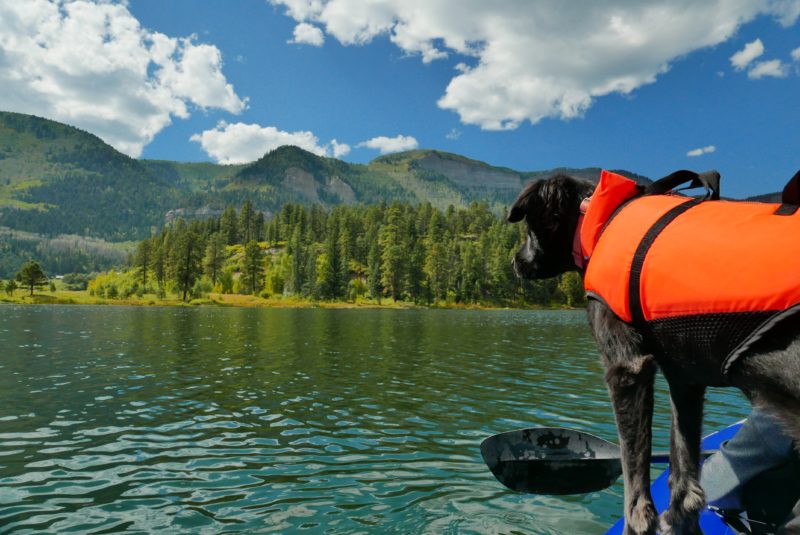 Now that you have one less thing to worry about on your stressful holiday to-do list, we want to wish everyone a safe, warm and happy holiday!

For more information regarding pet travel, Dr. Lavelle suggested to visit the USDA APHIS (Animal and Plant Health Inspection Services) or AVMA (American Veterinary Medical Association) websites.