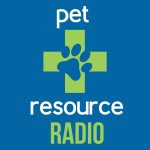 Hear ye, hear ye! This episode we're bringing you the scoop on poop!
First we chat with Jessica Friley of Pet Butler of Overland Park (Facebook) about some of the dangers of pet poop and why you might want someone to scoop for you, and then sit down with our own Dr. Marta Andelson to talk more about some of the infectious diseases pet feces contains, and what the best procedure is if you're the one doing the scooping.
Help us keep pets and people together by donating, volunteering, or buying us from something from our wish list!