You know this. That life can be tough and random and lonely.
But this is not about that. Not even a little. In fact, even with that small reminder that there's a line somewhere out there we all know about and some of us cross (willingly or not), this is about the power of love. And the power of pets.
This is about Virginia and a little guy named Butter.
…
Virginia has seen hard times. She's struggled economically, lived on her own over the years, and tried her best to avoid the untidy parts that come with life all of us know about. At one point, she started developing health issues and suffered the economic impact that those can bring on, too. And even though she manages on the income she makes now, it's always a stretch that takes her right up to the line.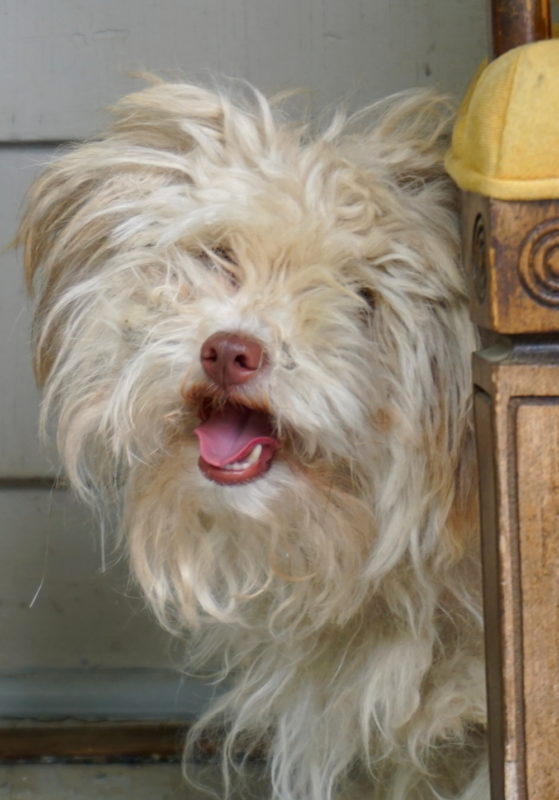 At one point, the desperation was too much. That's when she made a tough call. Maybe one of the toughest. "Economically, I couldn't afford it (to care for Butter)," she admits. "I loved him so much that, if I couldn't take care of him, I wanted to him to go where he could get the care he needed."
…
You'd expect some weariness, maybe even a little darkness to seep into Virginia's voice, especially when you hear the details of her difficulties. Instead, she's got a quick smile, a good word to share, and an ease that comes from being comfortable with where you've been … and where you're going.
Still, Virginia readily admits that when she found Butter a new place to live, the heartbreak was instant and deep. "I cried for two weeks," she says. "How was I going to take care of him when I couldn't take care of myself?"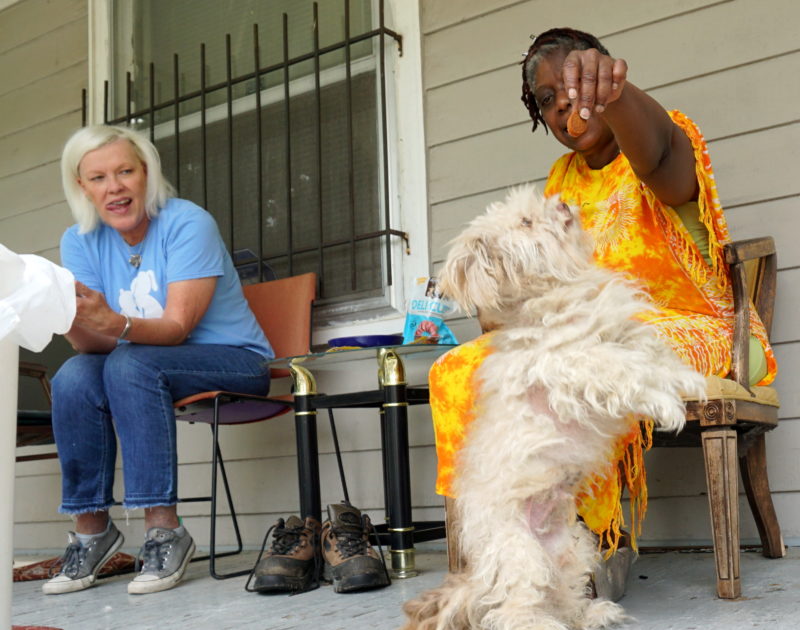 The dog she had since he was a puppy that would fit into her hand, the one she originally called Two Tone because of his dual colors, and then got re-named Butter Ball because he was round and fat like a Thanksgiving turkey, was like a child to her. "He's my baby," she says. "He's part of my family."
The emptiness of life without Butter was too much. Virginia needed her dog and he needed her. Even if things hadn't changed, the love she felt made her more determined than ever – they belonged together.
The friend who agreed to care for Butter understood and brought Butter back. "I danced and shouted when he came back to me," Virginia says now.
This, then, is the incredible, life-changing and humbling human animal bond. The thing we try to keep growing around the city as we help people like Virginia and dogs like Butter. It's why we complete nearly 10,000 spay and neuter surgeries a year, see over 12,000 pets in our wellness clinic, have our outreach team in the community every day supporting pet owners, and distribute over 30 tons of pet food each year.
It's why we exist. Because we know how powerful pets can be in making us better humans. Because we know life is always better when you have a little Butter in it.