Emily anxiously watched the sun define the city skyline before dialing the numbers 8-1-6-3-5-3-0-9-4-0 on her phone.
We didn't open until 8 a.m., but she couldn't manifest hope any longer. She left us a message at 7:45 saying the crisis hotline gave her our number and it was urgent. Her cats, Calvin and Annie Belle, were hungry, and she needed a lifeline.
"You know if a car were to just suddenly brake and stop in the middle of the interstate, and all the other cars crashed behind it? That's what happened to me," she told us.
"It's one thing if I don't have things," she was trying to push more words past the lump in her throat. "But when I don't have things for my cats … that makes me feel like a failure."
Rae, our community resource coordinator, could easily measure the love this woman had for her pets by the desperation in her voice. She knew that her being a failure was far from the truth and made sure she knew that. After telling Emily we would give her cat food and litter, as well as deliver it to her, Emily was able to wake up from the nightmare she was living.
She turns away from the phone to tell her cats, "someone is going to help us today." Their ears perked up, she said.
We come across many cases like this in our line of work, and the stories of hardship are very hard to swallow without water. Rae helps any and everyone but she does so without feeling the full weight of it. This is a wall of protection those who work in outreach develop because of how many difficult situations they deal with. It allows them to make sure the help is delivered but they don't get lost in the emotional side of things too often. Until she heard from Emily…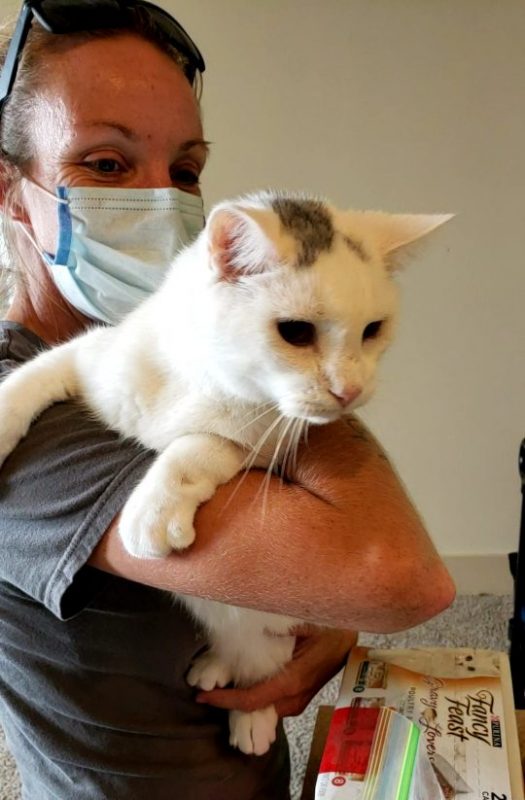 When our team arrived, they learned that back in 2019, Emily fought salivary cancer with all of the fight she had in her. And she won. However, she still has to live with the repercussions of the victory. Calvin, till this day, will still lick the battle wound that rests below her chin.
The surgeries, the radiology treatment, the headaches from dealing with Medicaid … "they just knew," she said. Annie Bell, who never usually followed her around the house everywhere she went like Calvin did, was always close by. It hurts to even imagine how much worse the physical and emotional toll would have been for Emily if she did not have her pets.
She's now disabled, without transportation and only has her two 15-year-old cats to keep her company on the third floor of a downtown apartment she lives in with the help of external support. Even if she'd taken public transportation to get assistance elsewhere, there's no way she could have lugged the heavy resources six blocks and up three flights of stairs without recruiting help.
Emily has no one except for her cats. Her friend, who usually helps her accomplish errands like these, is MIA. She hasn't been able to contact him in weeks. She would have had it delivered, but her bank account was still empty after continuously refreshing the page to see if the check her mother sent her was still pending.
It doesn't matter how much money someone has. Pets save lives. Although Calvin and Annie Belle's food bowls and litter boxes were empty, their hearts weren't. And neither was Emily's.
The lack of resources doesn't determine how much someone loves their pets. We're here to help families and pets have both.