Love Your Pet Day is one of those days that pops up, and sometimes it seems like, "Didn't we just do one of these?" There's no shortage of days celebrating pets, but what's different about Love Your Pet Day is right there in the name: show your pets some love. It's a directive. We're all busy people with lives and families and work and school and… you know, stuff. It's good to get a reminder of just how much those little sweethearts mean to us, how much they care, and how much we care about them.
So we asked the same questions of a few different PRCKC staff members to get a snapshot of the different loving families here. We asked them these four questions:
How many pets do you have? What are their names/species?
What have your pets taught you?
Why do you love your pets?
Is there something unique that one of your pets does that just gets you right in the feels every time? OR: how do you show your pet love?
And we asked them to respond either directly to the questions themselves, or to put everything together in a paragraph; whatever helped them best express themselves. Here's what they had to say.
Whitney Dixon – Customer Experience Coach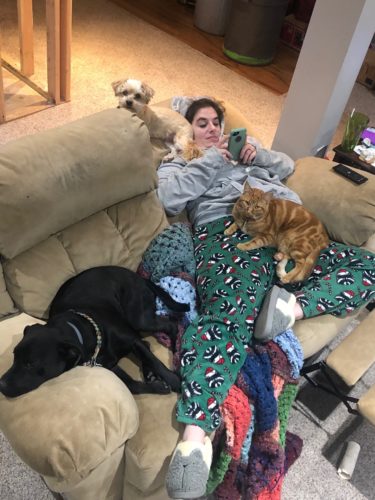 I have 2 dogs and 2 cats – Hank and Stuart are my dogs, and Wally and Dwight are my cats.
Stuart has taught me to get excited and find joy in the little things in life. Hank has taught me that sometimes you just need a good snuggle to make everything better. Dwight, my first pet as an adult, taught me to grow up and take responsibility. Wally has taught me that when things get overwhelming, sometimes it's okay to take some time for yourself until they calm down.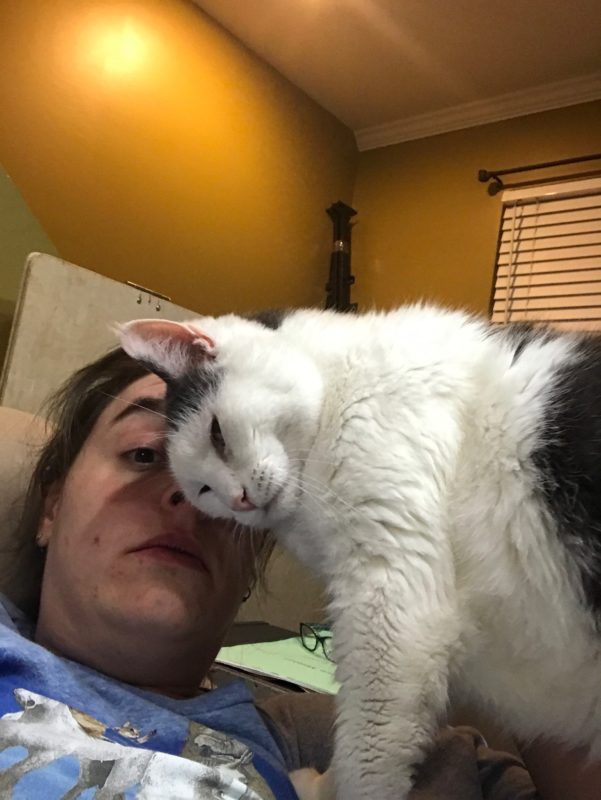 My pets are never rude, they never yell, they don't talk back, and they love me no matter what I'm doing, how I'm feeling, or how I look. What more could you ask for?
Wally, Stuart, and Hank love to cuddle under the blankets with me, and Dwight likes to sleep on my pillow. Often I'll be in bed and have all four of them right there with me, just hanging out. The fact that they willingly put up with each other's company in order to be close to me makes me feel pretty loved.
Ana Ramirez – Clinic Services Specialist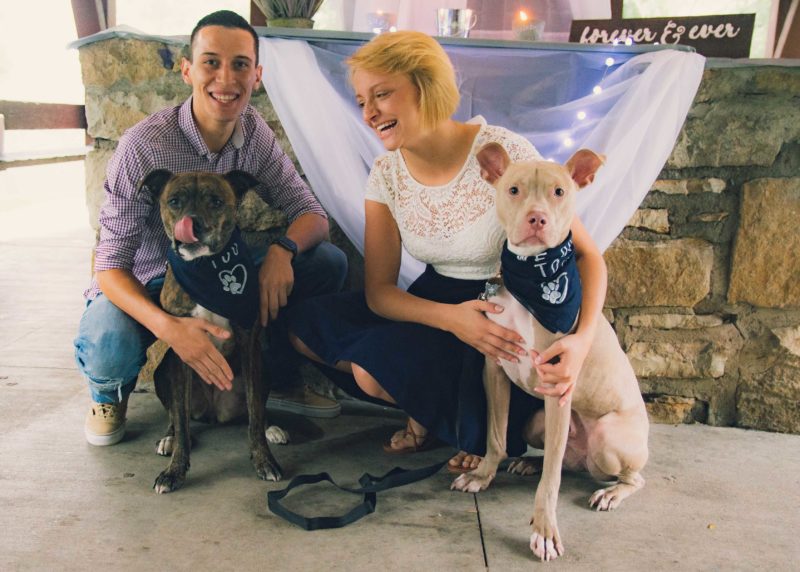 I have 2 dogs, 1 guinea pig and a betta fish. Our dogs are Zoey and Duncan. The guinea pig name is "Breep", named after the noise she makes when she's excited. And our fish's name is Horton.
I'd say, among the many things our pets have taught us, the most important is definitely to live life as lightly as it allows. Enjoy every trip to the dog park and pup cup like it's your last. And if you can, make new friends all along the way.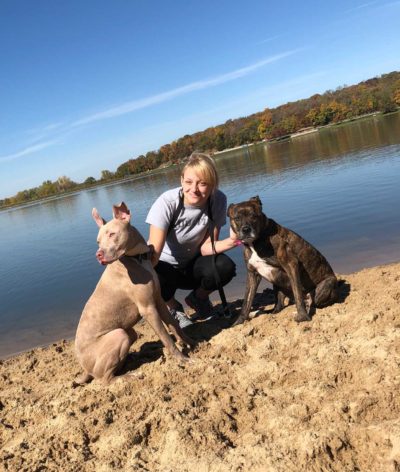 The reason I love my pets is because they give me a new reason to laugh, like, EVERY day. And there's really nothing quite like pitty snuggles.
My husband and I have brought the dogs to the lake every summer, since they were just pups. Zoey has perfected her ability to "cannon ball" off of the boat. She'll run at full speed to jump in the water after a ball, her doggy cousins…really anything and everything! She loves the water; it's pretty darn cute.
Alyx Vacca – Veterinary Clinic Assistant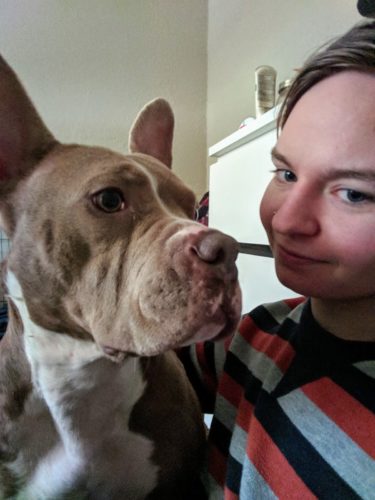 I have 3 cats and a dog. My cats are Soraya, October, and Friday, and my dog is named Sonia.
While all of my pets have made sure to teach me about patience, they've also taught me a lot about family, and just how important it is to have loved ones in your life.
My little furballs all have very distinct personalities, and just like people we all have our individual connections to each other. Friday is a little baby, she thinks everything should be her way and on her time, but is also a sweetheart.
Soraya, the eldest, acts with that responsibility, making sure that everyone is doing what they're supposed to and putting them inline. October is a classic middle child, keeping the peace and just trying to help everyone get along. Sonia is the newest to the family and is still getting used to her new siblings and them to her, but with October facilitating all the interactions, it's going wonderfully.
Sonia came to me as a scared dog off the street who spent a long time in a shelter, but I've been watching her slowly grow out of her shell and be the friendly, lively pup I knew was in there somewhere.
(author's note: Sonia is just the cutest and one day we will be friends)
Carrying it Forward
There's a theory that the reason pets have such a strong effect on our lives is because they can't speak. They have personalities, they can vocalize, but there's no human language to get in the way. Looking over the lessons my fellow staff members have learned from their pets, I've begun to think there may be some credence to the idea.
But regardless, it's easy for me to see how the dynamics and concepts that these pets bring to their lives shape who they are, how they interact with their coworkers and with clients here at the clinic. They're things that match the people I know them to be, and what better evidence is there of love than it shaping us, helping us grow into better people?