Necole has a full house. Five kids, ages 3 months to 15 years. And then there are the four dogs, including two puppies.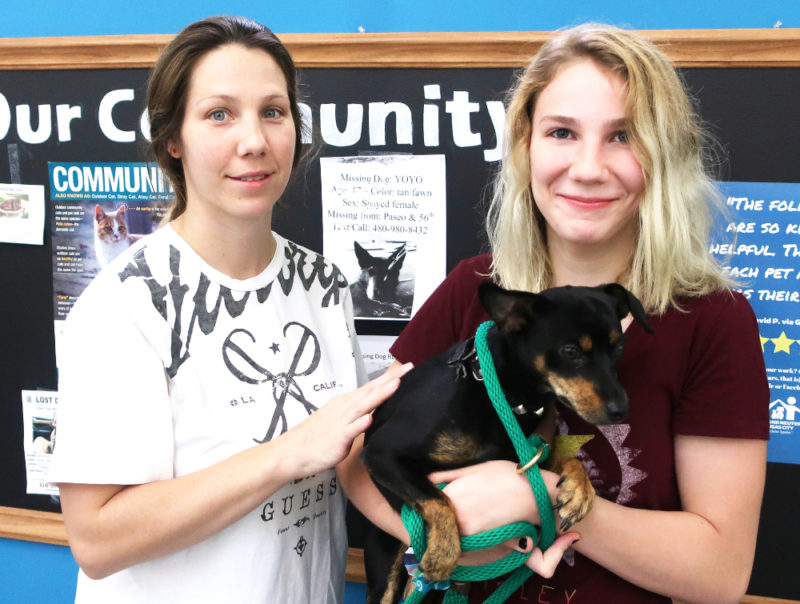 It gets crazy, she admits. But to her way of thinking, at a certain point the chaos couldn't get much more… chaotic. "Life is already crazy enough with five kids," she jokes, "why not add two puppies to the mix?"
It's one big happy family, the dogs and the kids and the conductor who's keeping the entire operation running smoothly, just like a well-timed orchestra.
Some people might think it's too much to deal with, adding two more dogs to the mix when the chore of caring for five kids can seem so overwhelming. But Necole had a very good reason to do it, a reason beyond a love of animals, giving more dogs homes, or having children learn what it's like to take responsibility for others (though all those reasons also came into play).
For Necole, it was also about consoling everyone (herself included) after a terrible loss.
—
His name was Batman. One of Necole's sons named him and the family quickly fell in love.
For three years the playful pit bull was a faithful friend, a rowdy playmate and a loving family member. One day, though, when the family left for a little while and Batman was in the fenced backyard, someone poisoned him and the family cat, Lucky.
They have no idea who did it or why; only Lucky survived. "We cried for nights and nights and nights," Necole says. "All we did was [talk] about how we missed him."
Necole was at a loss. The kids were heartbroken and didn't understand. They missed their friend and could not be consoled. But then Necole decided maybe the answer was to help fill the void Batman had left, to give the kids someone else to focus on. "We went on a trip to St. Louis and decided to adopt a puppy for my son's birthday," explains Necole.
When they came across another puppy needing a home, Necole relented. As Necole said, it was already chaos so one more pet wasn't going to change that much
"Since we have gotten the new puppies, Blue and Frank, the kids have stopped crying so much," says Necole. "Of course, we still miss Batman and nobody could ever take his spot, but this has definitely filled that void somewhat."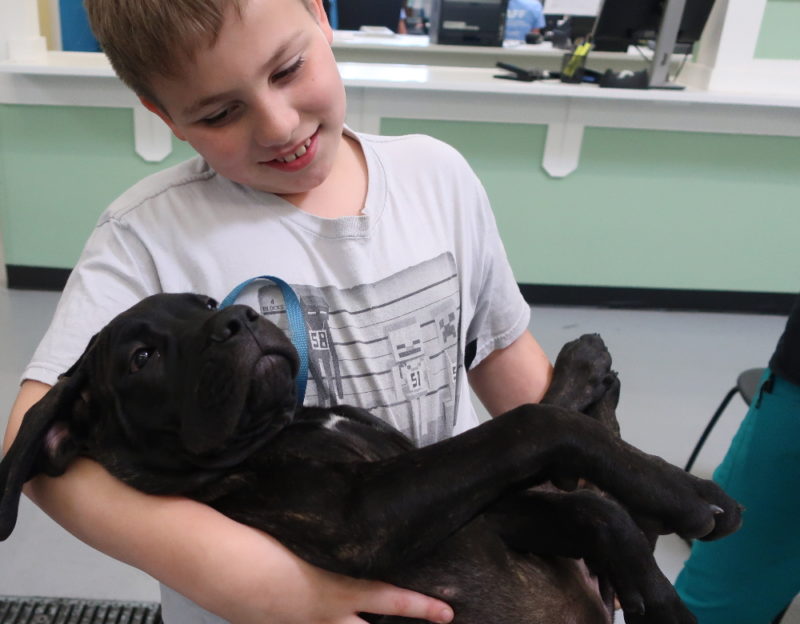 —
Who knows what motivates people to do things like this. Could've been Batman's breed. Pit bulls are often misunderstood and feared and some people believe they have no place in our homes, especially with kids around. But I can pretty much tell you we see and get to pet them every day here at the clinic and they're some of the sweetest dogs out there.
Regardless, pets deserve loving  homes and families deserve loving pets. That's why we're glad to help Necole and her children care for all four of their dogs with vaccinations, surgeries, and supplies. Just as we're happy to help thousands of others in our community every year.
"I just want to say thank you to everybody at Pet Resource Center of Kansas City for helping us," Necole concluded. "I don't know what I would do without you guys. Thank you for everything."
You can help us support Necole and her children with their pets needs by making a donation at prckc.org/donate.