Cynthia grew up with pets, has always had pets. From her childhood, when her father had cats, up through adulthood, she's always had someone there. Most recently it was a little chihuahua named Tiny, who was her dog when we first met her five years ago.

She has a cane that she can use when she needs to, but she spends most of her time in a motorized wheelchair, which was why Tiny was such a good dog for her, his little body up on the chair with her.

When Tiny passed after getting out of her son's yard and being hit by a car, it devastated her. She was candid with us about her thoughts.

"I thought, you know, maybe I don't need another pet. Maybe I'm not supposed to have any more pets." That pain, that grief; the idea of going through it again can be a strong deterrent to getting another pet. It's no different than losing a member of the family.

But it gets lonely on your own. Cynthia wasn't quite sure how to reconcile that until she saw a big, beautiful dog on Twitter. The sweetie was at KC Pet Project and was getting to do a ride-along with the KC police.

"I knew it when I saw that face," she said.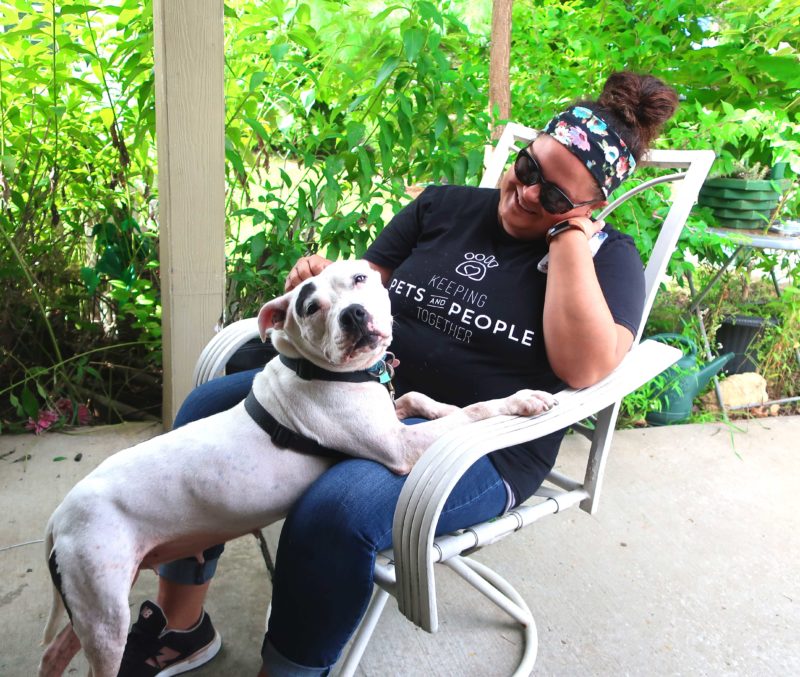 She got a ride up to KC Pet Project the very next day and took Necterine home. And she loves her. "I'd be so lost otherwise," she told us. And it's clear she dotes on Necterine.. "She's got a Chiefs blanket and I don't even have one of my own," she said.

Necterine is quite a bit larger than Tiny was, which was something she wasn't quite used to. For one thing, it meant she needed a few new resources, like a kennel that was the proper size. KC Pet Project contacted us on her behalf and asked us if we could help. We also got her signed up for our pet food pantry to help her have a little bit more stability.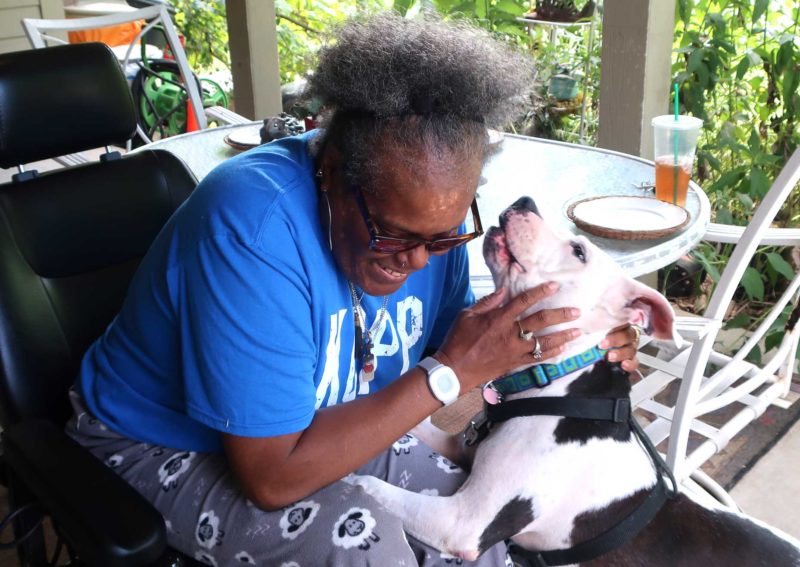 Another area in which Necterine's size was a problem was going for walks. Cynthia would take Necterine around the neighborhood, Cynthia in her chair and Necterine walking, but that pup was so strong that she would pull too hard and choke herself. Cynthia didn't really need much to be the kind of mom for Necterine that she wanted to be.

"It's important," she says of going around the neighborhood with Necterine. "For me and her both." This is key. Going around the neighborhood with Necterine means a lot to her. The gift of a harness doesn't seem like much, but to this little family, it means everything. It means more walks, more time in the neighborhood, talking with friends. It means enjoying the weather before autumn turns to winter. It means Necterine gets to explore, sniff new things, and meet new people. It is, to some extent, what allows them to be social, to have lives outside the confines of the home.

And the gift of a harness helps make that possible. This is something we can't stress enough, because we see it every day: it often doesn't take very much to turn someone's situation around.

And Cynthia knows that if they need us, we'll be there. But we have a feeling they'll be just fine. We've helped set them up for success, just by providing a few resources.

"We're tough old girls," she says.