Tom says his rescue dog, Maggie, was miserable.
"Maggie had a friend next door," he says of his puggle. "But the neighbors had to move and her best friend, Molly, left. Maggie just started moping around. She had her tail between her legs and her head was down all the time; she was so sad."
Maggie and Molly were together all the time. Morning until bedtime. Sometimes they even stayed together overnight, Tom adds. "The neighbor fixed the fence so we could remove a couple of boards to let them pass through and hang out. She had two homes and was maybe the most spoiled dog of all time."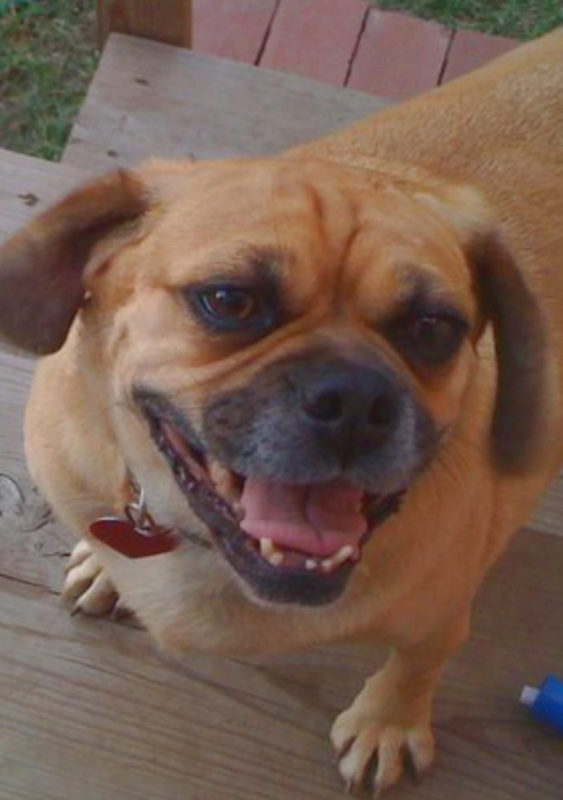 It's no secret that animals form bonds with others. And not just the people who live with them.
"Dogs both perceive and emotionally react to change and loss, as can be evidenced by increased depression- or anxiety-based behaviors," wrote Mikkel Becker in a story for Vet Street.
I've seen it in my own animals. T-Bone, my black dog mix, changed completely after we lost our older dog, Denly, to cancer. Although T-Bone is very independent and doesn't seem interested in interacting with others – human or animal – he was clearly devastated by the loss of the dog he lived with for seven years. It was a sad thing to watch him go through.
Tom felt the same way about Maggie. "I hated seeing her like that," he said.
Bubbles saves the day
Relief for Maggie came in the form of a little dog named Bubbles. She was roughly four years old and had three litters of pups before coming to live with Tom. "She jumped right in my lap," he says. "It was like it was meant to be."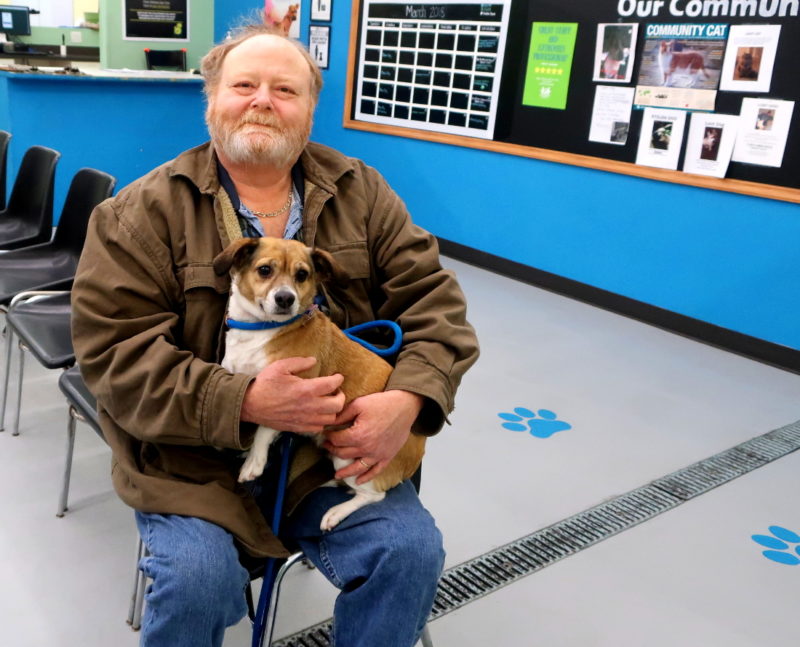 The really beautiful part, he says, is how Bubbles immediately helped Maggie. "She sparked right up," he says. "In fact, we freaked out to see her actually play. She's typically so lazy she won't even bark. We got her a buddy and now she's happy. Bubbles is happy, too."
Of course, Tom is quick to admit that Bubbles boosts his own happiness as well. But he'd say the same about all his animals, which also includes two cats. "My pets are my kids," he admits.
Tom finds their presence especially comforting since he's at home dealing with medical issues – some serious – and can't work. When his wife leaves in the morning he has his dogs and cats to keep him company.
"With her at work, I have the pets," he says. "And when I'm asleep they're with me. They also sense if I'm not feeling well and they stay nearby."
Not being able to work has put a strain on family finances, Tom says. So he's glad to have access to our services for his pets, especially Bubbles, who is finally getting fixed. It's important, he adds, for people to be able to have and keep their pets, even when they're struggling. It's something he thinks is especially critical for those dealing with health issues or who are feeling down.
"I've got Ruby but when she's at work," he says, "I have the pets. They help me out and make me feel better."
For so many of the people we work with on a daily basis, a dog or cat (or several) is more than a loving friend who doesn't judge and whose love never falters. That animal is often a lifeline … a lifesaver. And of all the great reasons for us to be here, that one tops the list.
"What you're doing in this community is so important," Tom says. "Thank you."