Not every outreach case is something huge. Sometimes what people need isn't something big; just some advice, maybe a few resources. It's knowing that we're here that makes all the difference.
This was the case with Tony, Tina and their daughter Kayla. Someone Kayla knew had a dog that had just given birth. Having fallen in love with them (and not wanting them to get split up), she'd taken in the three pups. Now named Domino, Diamond, and Dalila, they're now 8 months old and have gotten much, much bigger.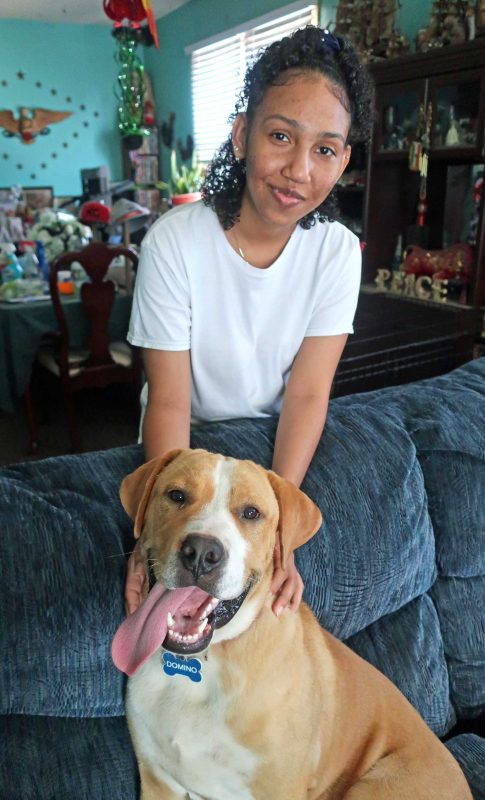 Not that they're just Kayla's dogs. "I couldn't function without them," Tony told us. He grew up with dogs and cats, and hadn't had any pets for a while. This was heaven for him. And even though Tina acts stern with the pups, she admitted that the one time someone left the gate open and the pups all got loose, she broke down in tears. These pups are part of the family, it's clear.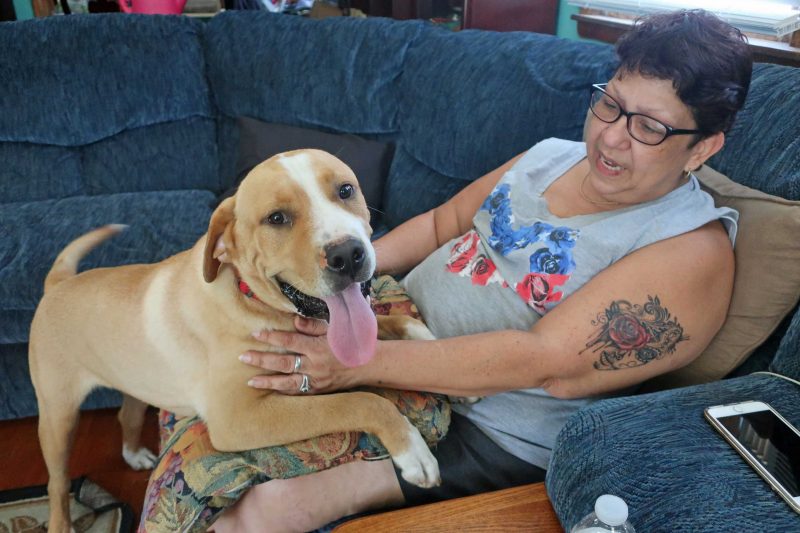 Diamond is the sweetest of the three, with a very laid back personality. She watches and waits. Domino, the only boy, is definitely the dominant one in the group, and loves people a lot. Maybe too much sometimes (just kidding, there's no such thing!) And Delilah, having been the runt of the litter, was used to having to push back against her siblings, so she's a real sassy girl.
The family's taken such excellent care of them. They got everyone's boosters finished at the end of March, but then COVID hit and there was no way for them to get surgery. And as they grew up, they grew out of the kennels, which meant more outside time for them. And more outside time, as it turns out, wasn't great for them, especially Diamond.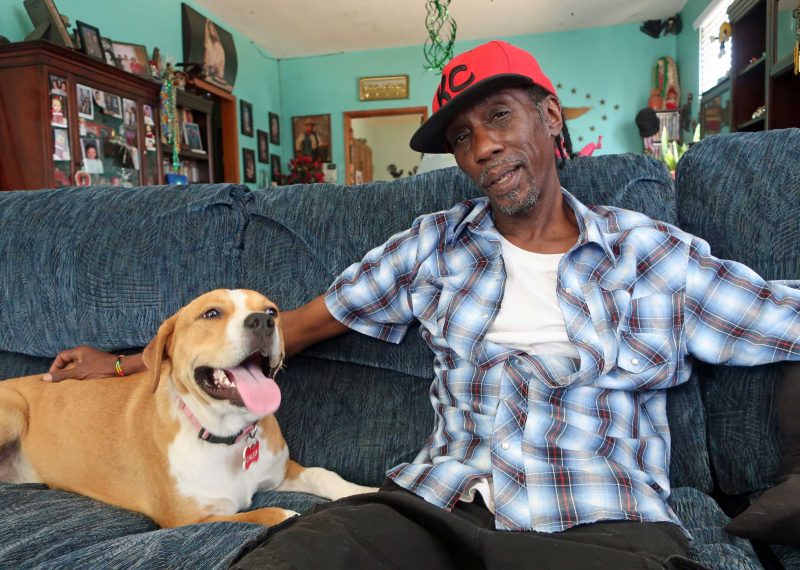 She'd gotten what they thought at first were fly strikes. They'd tried some medicine but nothing was working. And now one of the other pups had a spot, too. And the dogs were starting to mess with each other's spots, licking away the medicine they were putting on their ears to help with fly strikes. They weren't sure what to do, but they knew where to turn.
So they reached out to us. And since we were going to be in their area anyway doing mobile vaccinations, we came by to see how we could help. We brought some supplies we thought they might need, like more medicine for fly strikes, some antibiotics, etc.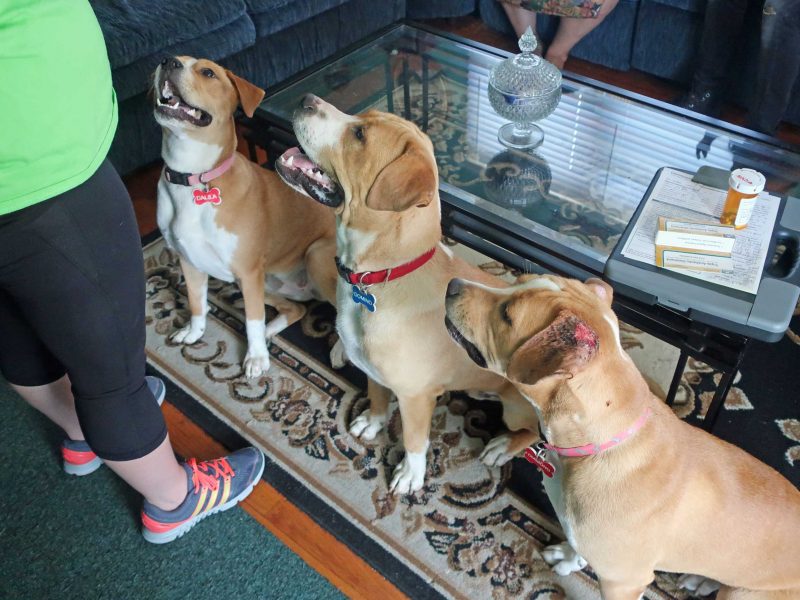 However, rather than a hot spot or fly strikes, our veterinarian determined that it might actually be sunburn from being outside. Best solution to that? No more outside time. Or at the very least, a lot less, so they had time to heal.
But that meant they needed a sustainable way to have their dogs inside. They needed some resources, which we were more than happy to help with. Some good-sized kennels we had on hand helped them keep the pups inside so that they could get a handle on the problem. We also brought a cone for Diamond so she couldn't mess with her ear anymore, at least until it healed.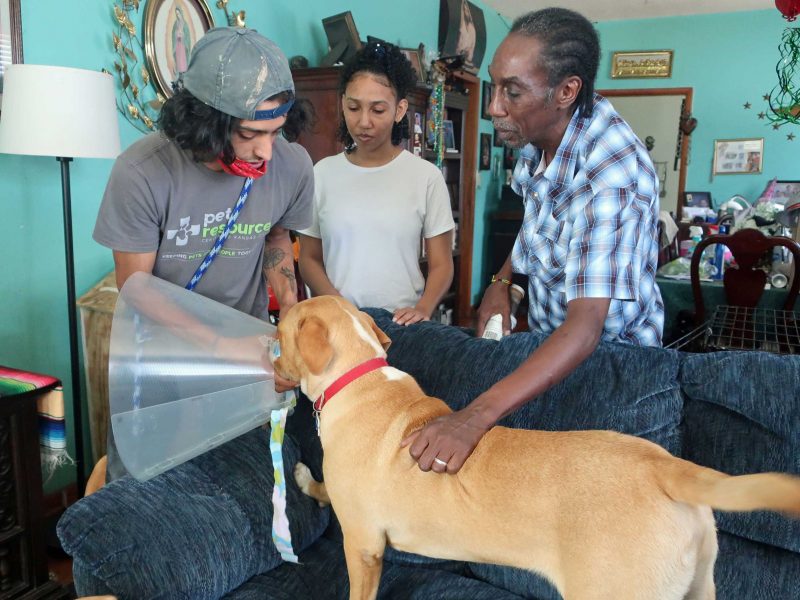 But more than that, we wanted them good and healthy so we could get them fixed. Now that we're open for surgery again, we're able to get them on the list and hopefully get surgery done before the girls go into heat. And because they got all their boosters with us, they're eligible for a free surgery, which is something we offer to make that initial investment in a new pet a little easier.
They couldn't believe we weren't charging them for our services; they thought for sure that we'd have some kind of fee. But we just want to help where we can; folks give back when they're able, because they know how much they appreciated the help we gave them when they needed it.
"We really do appreciate y'all," Tony said. And we appreciate them, too. They're such a sweet family; seeing the love they share makes it all worthwhile. That's the power of pets.